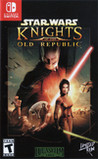 Summary:

Long before the Galactic Civil War, an epic drama begins. Engage in this saga set in the Golden Age of the Republic--over 4,000 years before the first Star Wars film, when both Jedi and Sith number in the thousands. With the Galaxy reeling from a recent conflict with the Dark Lords, the

Long before the Galactic Civil War, an epic drama begins. Engage in this saga set in the Golden Age of the Republic--over 4,000 years before the first Star Wars film, when both Jedi and Sith number in the thousands. With the Galaxy reeling from a recent conflict with the Dark Lords, the ongoing battle between the Jedi and the Sith rages on. It's up to guide your customizable and evolving characters through ten different worlds, fast-paced minigames, and locations including a Sith world, the Wookie homeworld, and the Jedi Academy. Your actions determine the outcome of this colossal galactic war--and your destiny as a Jedi.

…

Expand
Developer:

Aspyr

Genre(s):

Role-Playing

,

General

,

Western-Style

# of players:

No Online Multiplayer

Cheats:

On GameFAQs

Rating:

T
Star Wars: Knights of the Old Republic is still exceptional 18 years later, and this new Switch port is the best version we've ever played.

Overall, despite its age, Star Wars: Knights of the Old Republic is still an incredibly solid game and easily one of the best ports I've played on the Switch. If you're like me and haven't had the chance to play this title yet, I'd easily recommend doing so to any Star Wars fans who happen to enjoy RPGs, too. The Force is still quite strong with this one, and it gives Switch owners something to bide their time with while we wait for more news about Aspyr's remake!

If you've somehow managed to come this far without playing Star Wars: Knight of the Old Republic, you'll definitely want to dig into this. It's a great port of an all-time classic RPG, one that handily stands the test of time. For Star Wars fans, it may well serve as the same oasis now that it did back in 2003. Even those who have played the game before may find a return trip worth embarking upon, particularly with how nicely it plays on the Switch.

It's pleasing to see how strongly Star Wars: Knights of the Old Republic has held up and how well it fits on the Nintendo Switch, making one wonder just how many other classic RPGs will see new life on it. For those who haven't played it before, the Switch port is an ideal time to find out why BioWare's 2000s output is so highly regarded. For those who have, it's a great opportunity to recover those fond memories on an incredibly convenient platform.

Star Wars: Knights of the Old Republic is a solid evolution of the CRPG genre, and the Nintendo Switch is a wonderful way to experience this classic. For $15, it's basically a steal. I'm hoping Aspyr gets a chance to revive its sequel next, because from what I've heard that seems to take more thematic risks. I'm also glad that this version is as good as it is, because it's great for it to be preserved before the upcoming remake comes out.

It's still a good story, though, with an arc and characters that impressed 2003 Star Wars fans and RPG players hungry for more of what they loved best. Mechanically, the moment-to-moment gameplay definitely shows its age and the writing isn't as strong or nuanced as we might remember it being. There's a bit of consolation prize sadness around this unadorned, unimproved semi-museum piece coming to Switch, which won't be seeing Aspyr's remake when it's released. Knights of the Old Republic looks and plays like the exceptionally good game it most certainly was in 2003, but it's hard not to see, hear and feel all the ways in which games have moved on since.

Bioware's first RPG foray into gaming stole the hearts of myself, and I'm sure others has not aged well, and has a lot of difficulties to overcome.
Coming back to this title after nearly 20 years just felt soooo good! The memories, the characters, the sides you visit….the best Dark Lord in

Coming back to this title after nearly 20 years just felt soooo good! The memories, the characters, the sides you visit….the best Dark Lord in SW games you can have. This game is a must for every SW Fan! I came from Elden Ring and Forbidden West on the PS5, so the graphic doesn`t get you excited, but still, for this age not that bad! The combat system, the dialog system is and the story telling is legendary. This is one of the best RPG`s ever made. You see that based on this game other great Bioware titles were made. With KotoR, Mass Effect and Dragon Age Bioware build its foundation and should just stick to it. I hope the Remake adds some more content even, cannot wait to see this in current gen. Too bad that there is no KotoR2 in the store, I would just buy it straight away.
This is a masterpiece – thanks for the opportunity playing this again, actually this was my first Switch game as the kids normally use it.

…

Expand

Fantastic port of a masterpiece game. Aspyr did a great job. I would like some quality of life improvements in KOTOR Remake like area of

Fantastic port of a masterpiece game. Aspyr did a great job. I would like some quality of life improvements in KOTOR Remake like area of effect looting and better inventory. But this is as good as it get. I got it on preorder, had zero issues, played about 60 hours and finished the game on both Light and Dark side. No issues whatsoever. Rarely seen on ports. Thumbs up, will play again. And again...

And it's cheap! One of the cheapest yet best RPGs of all times.

…

Expand

As a big fan of the previous versions of this game, I am pleased to say that the Switch version of Star Wars: Knights of the Old Republic is

As a big fan of the previous versions of this game, I am pleased to say that the Switch version of Star Wars: Knights of the Old Republic is every bit as worth playing now as it was upon its original release in 2003. Not only is it a compelling Star Wars game on its own merit (along with the enhancements that Aspyr helped bring to previous Star Wars games on the console); its innovations to Western RPGs have stood the test of time. This title is well worth your time and money whether you're a fan of the original KOTOR or playing it for the first time.

…

Expand

I haven't played the game in almost 20 years since it's initial release, and it instantly sucked me in.

For those coming from the originalI haven't played the game in almost 20 years since it's initial release, and it instantly sucked me in.

For those coming from the original XBOX game it's even prettier, a few bugs fixed, and the storyline is just as magnificent. The only complaint is that on switch the game clock keeps running while in the Switch menu screen—so you won't get an accurate account of how long you've spent in game. Extremely minor complaint.

10/10.
One of the best games ever made, and a phenomenal port.

…

Expand

It's always a bit tougher with revered classics to return to them long after they were originally made, worried about whether they'll continue

It's always a bit tougher with revered classics to return to them long after they were originally made, worried about whether they'll continue to retain their classic qualities that made them shine when they were released. The great thing about KOTOR is that despite the fact that it looks a bit rough, and some of the voice acting isn't that great, the lore and storytelling were always the game's greatest strengths so what is most vital absolutely still holds up. The story takes place very much in its own time and place, helping to distance itself from the associated baggage of the Skywalker saga while still capitalizing on peoples' fascination with the Jedi and the Sith, who this confirms have been locking horns for quite some time. Whether you're eager to jump back into a world you enjoyed inhabiting quite some time ago or are simply intrigued to see what all of the accolades have been about this Switch release is a great way to enjoy the game whether on your couch or on the go.

https://www.nindiespotlight.com/2021/11/mini-reviews-november-12th-edition.html

…

Expand

A solid Star Wars game port from Aspir that is not only (almost entirely) glitch-free, but also a timeless experience in a wholly separate

A solid Star Wars game port from Aspir that is not only (almost entirely) glitch-free, but also a timeless experience in a wholly separate timeline from the movies, letting you customize your jedi or sith in any way and be immersed in this incredible story with layered combat.

…

Expand

Update: 2 months later and there is still no update. Looks like the game will have no support. I do not understand how those bizzare text

Update: 2 months later and there is still no update. Looks like the game will have no support. I do not understand how those bizzare text boxes passed through their testing. The worst thing is that almost all reviews mentioned those huge text boxes but they have not fixed it. Do not buy this game until they fix it! It is unplayable.

Looks much better than the mobile version but I would appreciate some changes related to the subtitles and the huge status pop up. Subtitles have no margin and the text is placed right next to the border. Battle status is placed in the huge pop up that takes 1/3 of the screen. Why is it that huge? I have also met several graphical issues. If they fix the text positioning and the pop up size it is gonna be a solid 9.

…

Expand