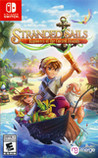 Summary:

Stranded Sails is an open world exploration farming adventure full of discoveries and quests! Along with your crew you are ship-wrecked on a mysterious archipelago. Now it's up to you to secure your survival and solve the mysteries deep in the heart of the islands – and finally escape.
Stranded Sails – Explorers of the Cursed Sails is a game that's perfect for portable play on the Nintendo Switch, a worthy gem in a sea of similar games worth the 15 or so hours it will take you to complete. It isn't grindy and retains its focus while also understanding the importance of allowing you to meander with some fishing or farming.

Once I became comfortable with the controls, cycling through all the different items in my inventory became effortless. I preferred playing this game docked rather than in handheld mode. A peaceful adventure game like this begs to be played while relaxing on the couch and enjoying the vibrant colors on a big screen. While it isn't the most gripping adventure, fans of Stardew Valley and Animal Crossing will probably enjoy it.

Stranded Sails: Explorers of the Cursed Islands puts a strong emphasis on aspects that most adventure and exploration RPGs don't touch upon, such as gathering resources, farming and cooking. If this aspect works well and gives the game a particular charm, there are other aspects where Stranded Sails does not stand out in the same way, namely its shallow combat and some repetitive moments.

Stranded Sails is an okay exploration game that rewards you for adventuring into the nooks and crannies of its tropical islands. However, it doesn't do much to stand out and has some annoying gameplay aspects that make exploring feel like a chore.

Stranded Sails: Explorers of the Cursed Islands proposes to blend farming sim elements with an adventure focused on exploration. Unfortunately, due to its simple mechanics and limiting stamina system, it falls short on both of its main purposes.

At its surface, Stranded Sails: Explorers of the Cursed Islands looks like an adorable and endearing addition to this genre, and though I so badly wanted to love it, I'd have difficulty recommending it to almost anyone other than young children. There is certainly a place in the gaming world for peaceful, low-pressure exploration and farming games, but unfortunately, I'm not convinced that Stranded Sails is one that belongs. The minute-to-minute gameplay is just not stimulating enough, the quests and actions are fairly mindless, and overall, there just isn't enough reason to pick it up time and time again.

Stranded Sails - Explorers of the Cursed Islands at its best feels soulless, and at its worst it doesn't even function. If this is targeted towards young children, it's an insult to their intelligence. This is easily one of the worst games I have ever played.
I really enjoy this game. It's a bit slow, but I find it very rewarding when I get something done. The cooking and chance discovery is a bit

I really enjoy this game. It's a bit slow, but I find it very rewarding when I get something done. The cooking and chance discovery is a bit annoying, but also rewarding when I discover new recipes. I believe some of the dialogue is a bit odd, but overall pretty good. I just have a lot of fun playing this game. I love the art style, and I love the music most of all. The music is beautiful, especially when sailing in your boat on the open sea! I bought the signature physical edition of this game. It came with pins, posters, map, huge box. This is a great game to tide me over for the next Rune Factory or decent Harvest Moon/SoS game.

…

Expand

It is a great game I have had fun playing it so far and I am loving the gameplay

This game easily gets a 9/10 from me. This game is perfect if your looking for something easy and casual to play and relax.
I enjoyed theThis game easily gets a 9/10 from me. This game is perfect if your looking for something easy and casual to play and relax.
I enjoyed the story, exploring and figuring out the recipes. They game is fun and has a lot of content for the amount you pay for.
If there was more options to customize the character I would give 10/10 It's a great game over all, perfect for casual gamers like myself or kids.

…

Expand

I love games like Stardew Valley, Rune Factory, and Story of Seasons, and I have always dreamt of a game in that genre revolving around

I love games like Stardew Valley, Rune Factory, and Story of Seasons, and I have always dreamt of a game in that genre revolving around surviving on a desert island. So when I heard about Stranded Sails, my heart skipped a beat. "Was this finally the game?" I thought.

It was not. The game is just the definition of amateur hour, nothing feels polished, the repetitive activities are tedious and far from compelling from a gameplay standpoint. Everything is either mediocre, or plain bad. The worst is the stamina management, it is so inept that it requires you to cook meals all the time that are barely keeping you afloat and are terribly obnoxious to produce.

I'm not going to write much more, because this game has already taken far too much of my valuable time. Stay away.

4/10

…

Expand