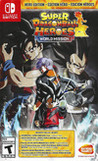 Summary:

It's a strategic card battle game featuring characters from across the entire DRAGON BALL series. Collect cards & build your deck as you play through an all-new DRAGON BALL story.
Great gameplay, lots of depth, tons of content and even more fan service. If you love Dragon Ball and you're happy to try something different, don't miss it.

It's not the most complex strategy game out there, but it will appeal to the Dragon Ball set for sure. SDBHWM offers an amazing quantity of characters, references and attacks from the Dragon Ball universe. Fan service made right.

Based on the original Japanese coin-op game, Super Dragon Ball Heroes: World Mission is a pure fan-service gem. With more than 350 characters covered and over 1000 collectible cards, there is a lot of stuff to have fun with. Even if it is a card-based game, you can still feel the signature action of regular Dragon Ball Games.

Visuals are rough, interface is clunky and the game is not really updated to the latest expansion pack, however there is a lot to love if you are a fan of the franchise and the tactical gameplay is surprisingly deep.

Super Dragon Ball Heroes: World Mission is the best version of the long-running card-battling series yet, boasting a raft of new adjustments, extra cards and fresh missions to keep you coming back for more. It's packed to the rafters with content, from a heavy-duty story mode to local and online battles, so if you're a fan of the series you're going to lap up this entry now it's finally arrived in the West. While it lacks the deeper tactical nuance of Warhammer Age of Sigmar: Champions, it's still a fun and unapologetically Japanese arcade experience right there on your Switch.

Super Dragon Ball Heroes is pure fan-service and a great adaptation of the original arcade game. Nevertheless, its visuals are out-dated and its core gameplay is soon redundant. Tolerant fans might enjoy it.

Super Dragon Ball Heroes is strictly for Dragon Ball mega fans looking to have some fun with the series canon. Everyone else should stay far, far away.
For over 9 years, Dragon Ball Heroes has been around in Japan for a very long time and never got a release in the West. Now the wait is over,

For over 9 years, Dragon Ball Heroes has been around in Japan for a very long time and never got a release in the West. Now the wait is over, thanks to Super Dragon Ball Heroes: World Mission on the Nintendo Switch, which i think is the perfect console for the game as it makes you feel like it as playing the actual card arcade game. Is it a bit expensive? Yeah you could say that, but you get a lot to do in this game, like the Story Mode, the Arcade Mode, there are over 1,000 cards and over 350 playable characters to create many teams. So please, if you have Nintendo Switch and are a Dragon Ball fan, get this game and support it. Cause if we keep supporting Super Dragon Ball Heroes, we might get the actual Arcade game in the West. Dragon Ball in Dave N Busters anyone?

…

Expand

This is one of the most addicting games I've ever played.
Let's start by addressing the obvious "flaws".
Yes, it looks like a PS1 game. AndThis is one of the most addicting games I've ever played.
Let's start by addressing the obvious "flaws".
Yes, it looks like a PS1 game. And that's exactly how I like it. I don't know why, but in the context of the world the game shows you, which is based on a Dragon Ball video game within a Dragon Ball video game, it feels fitting,
Yes, it's gacha based, but- you can't pay real money to get tons of awesome stuff. Remember this was originally a game based on random card collecting, so they wanted to implement the feeling here, but instead of paying, you complete more missions. You can also see what characters you get on certain packs, so it's not totally randomized, so if you want a specific card at least you got that to work with.
And that's it basically. Not a lot of bad stuff to say, but I assure you there are a ton of awesome stuff.
Gameplay is soooooo addicting. I can't even tell you how much. Whether you play the campaign for hours or side mission / online for a few minutes, it's a great time. Sliding things on the screen, mashing buttons and watching ridiculous Dragon Ball cutscenes never gets old. There are a lot of different mechanics to master, but the game is super easy to start and just gets better with time, and with over 1,000 cards and over 350 playable characters you can create many different teams.
The music is addicting af, I swear it was made to make me listen and think about it in a loop. Definitely a 10/10 in this front.
Story is magnificent. You're up for 40 hours of different battles, some of them can be really hard, forcing you to change tactics, swipe things like your life depends on it and pray to god that you'll get the slider in the right position. It has some insanely deep cuts to Dragon Ball lore as well as new great characters, good dialogue and so on. It's a must for Dragon Ball fans that wanna see an epic new story with their favorite characters, and I enjoyed every second of it.
The game also has a TON of different mods, and even as a person who doesn't like side modes, I really loved them this time around. Playing different Dragon Ball sagas, online battles, arcade mode, different side missions, side plots and more. All of them are just as fun as the main campaign, and can help you farm in order to get new points.
Performance is great, running on 60fps in the bigger moments in-battle.
Overall, I think this game is amazing, It's a must for every Dragon Ball fan and even people looking for a fun card game. And that's for real, because I'm not actually a huge Dragon Ball fan- I like it but I didn't even watch a whole saga. So that's how great it is, and I'm glad I got it. And you should too.

…

Expand

I only recently got into DBZ and DBZ games,
but as a huge fan of cardgames (yugioh, magic, etc) and the artstyle
this game is a gem,I only recently got into DBZ and DBZ games,
but as a huge fan of cardgames (yugioh, magic, etc) and the artstyle
this game is a gem, beautiful cutscenes, an IMMENSE amount of content (ton of arcade, long story mode, a ***ton of cards...-) certainly a time sinker
opening card packs ((all in game currency no worries)) is so satisfying and feels like a lootbox every time.
the game mechanics are neatly designed, a ton of team opportunities.
I could go on and on praising this game and go into detail,
but in short,, is this game worth the current prize? YES
hope this game sees a lot of DLC, certainly my top pick for mixed cardgame of the year

…

Expand

The game fast paced ,nerve raking, and really fun. This is best in the xenoverse franchise and that's saying a lot.

Super Dragon Ball Heroes: World Mission is a great example of how to do a port from the arcade to home systems; if maybe a bit too accurate.

Super Dragon Ball Heroes: World Mission is a great example of how to do a port from the arcade to home systems; if maybe a bit too accurate.

This game emulates the arcade pretty much perfectly. Over 300 Characters on over 1000 Cards, ridiculous concepts such as SSJ4 Broly, Cell X, Kid Buu (Demon Lord Dabura absorbed), Vegeks (Vegeta + Trunks) and sooooo many more. The game is simply a blast to play, no matter how long you play it; for short sessions or long-plays.

The game looks, sounds and plays like it would in an actual arcade, for those of you who have never played any of these games before, that's a good thing!
That being said, some elements seem a bit too close to the arcade. Those include:
-Graphics, which under-perform, especially when compared to the standard that games like Xenoverse 2 and FighterZ have set
-Specific Motion-Actions, which would easily work in an arcade, but are somewhat awkward to do in docked mode, like for example scratching your card up and down really fast or following a specific pattern
-Sound-effects, which sound like they've been lifted straight from the arcade, so much so, that they sound very low quality and just... bad

The story, if any of you are wondering, follows both a new concept as well as old villains' plans from other editions of (Super) Dragon Ball Heroes, so if you've never played them before, the story is a blast.

TL;DR
-If you love the arcade, you'll love this game
-If you love Dragon Ball, you'll love this game, though don't set you expectations to that of a regular DB game
-If you're an anime fan, go check this game out
-If you don't like strategy games, you might want to wait for a price drop
-If you're a casual, you'll want to try this game out. Easily the easiest one to get into, especially with the English Translation
-If you're a graphics whore, you're not a gamer (and also shouldn't play this game)

…

Expand

This game is almost perfect. An amazing experience that gives you the feeling of playing the actual japanese arcade game but instead of buying

This game is almost perfect. An amazing experience that gives you the feeling of playing the actual japanese arcade game but instead of buying cards with real money, you grind for tickets. The story & multiplayer could have used a face lift but the "meat and potatoes" of this game comes from the arcade mode. That is where you will be challenged and actually feel like you need to change your team for certain match ups. This game sadly didn't last as long as it should have due to the lack of support. There are a lot of cards missing in the card game, on top of the new cards that were promised to come in updates. Great game for newcomers but won't keep you there for long once you have played everything the game has to offer.

…

Expand

SDBHWM is the popular card game from Japan digitized. It blends a mix of tactical combat and RPG elements with fighting. It reminds me of the

SDBHWM is the popular card game from Japan digitized. It blends a mix of tactical combat and RPG elements with fighting. It reminds me of the Dragon Quest RPGs because of the turn-based tactical combat. Players obtain cards and create powerful decks and then place them in combat against enemy teams.

The game boasts 350 characters using cell-shaded animations from the Budokai series, and players can collect over 1000 different cards. Players can also use the custom card creator to create their own card with effects, super attacks, and transformations. Collecting cards and editing them is very time consuming, and I prefer to get straight into the fighting.

This is a huge service to mega fan boys and geeks that have to have everything Dragon Ball. Dimps knows if they slap a picture of Ultimate Gohan on a card, fan boys will buy anything. However, it is a turn-off for those who prefer pure fighters. It is basically Dragon Ball team reduced to mini-games. You press the A button and try to win a charged impact or super attack, and watch the characters perform the same animation over and over again. This is a very unimaginative way to play the game and becomes mundane after a while.

With the number of characters, Dimps could have created a really exciting and fascinating followup to Dragon Ball Z Budokai 3. Budokai 3 had better core mechanics and players could enter various punch kick combinations and then use devastating ultimate attacks. It would have been awesome to perform all the super and ultimate attacks now in SDBH in a new Budokai game. This is truly a waste of good characters.

Players have also complained that's it's tedious to move the cards around, and the controls are awkward if you're using a controller and no stylus on a PC. There's also no English dub so you won't hear Sean Schemmel's voice shouting the famous word, "Kamehameha!" If Dimps spent a little more time on the game, they could have sent it to Funmation for an English dub.

The game also comes with a hefty price tag ($60), and the anime music add-ons cost extra. It is definitely not worth the cost. I would rent the game or try to get a free copy and try it out. If you like the game, then you can take your save game and transfer it if you decide to buy later on.

On the positive side, the game is unique and it does offer a lot of replayability. Players can go back to story missions and try to complete the ultimate clear conditions to collect items. This is bound to keep fans occupied for hours.

Unfortunately, the game fails to leave a lasting impression and its easy to put down the controller on this one. I think Dimps needs to capitalize on all 350 characters, their special moves and create a really good pure fighting successor to Dragon Ball Z Budokai 3.

…

Expand