Publisher:

Nintendo

Release Date:

Sep 18, 2020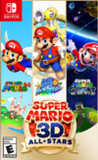 Summary:

Play three of Mario's greatest 3D platform adventures—all in one package. Play three classic games at home or on the go—all in one package on the Nintendo Switch™ system! Jump into paintings in Super Mario 64™, clean up paint-like goop in Super Mario Sunshine™, and fly from planet to planet

Play three of Mario's greatest 3D platform adventures—all in one package. Play three classic games at home or on the go—all in one package on the Nintendo Switch™ system! Jump into paintings in Super Mario 64™, clean up paint-like goop in Super Mario Sunshine™, and fly from planet to planet in Super Mario Galaxy™.

Run, jump, and dive with ease!

Make Mario move using the Nintendo Switch system's Joy-Con™ controllers. You can also pass a Joy-Con controller to a friend to play the Super Mario Galaxy game in Co-Star Mode! Mario's movements are as smooth as ever with HD resolution for each game, while still retaining the look and feel of the originals.

Listen to timeless Super Mario tunes

Listen to a total of 175 iconic tunes from all three games! Whether you want to get up and dance or take a minute to relax—this collection has music to fit your mood!

Discover (or rediscover) three of Mario's most iconic 3D platform adventures, all in one package, available on the Nintendo Switch™ system. Experience Mario's first foray into 3D platforming in the Super Mario 64™ game, originally released in 1996. Wall jump, backflip, and even fly as you explore paintings and collect Power Stars to save Princess Peach!
Soak up the sun in the Super Mario Sunshine™ game, originally released in 2002, and spray the goop away with your water-spouting pal, FLUDD! You'll need to collect Shine Sprites and clear the picturesque Isle Delfino of pollution—just look out for Bowser Jr.
Defy gravity as you explore space in the Super Mario Galaxy™ game, originally released in 2007! Help Rosalina restore her ship by collecting Power Stars and save Princess Peach. Gently shake a Joy-Con™ controller to activate Mario's Spin ability or pass a Joy-Con controller to a friend for some extra help in Co-Star Mode*.
Even when you aren't playing, you can enjoy the sounds that these worlds (and galaxies!) are so famous for. With three games, modern upgrades, and music-player mode, this collection is filled with fun for both new players and 3D platforming Mario masters. Super Mario 3D All-Stars will be available as a limited-run retail edition and a digital edition that is available for a limited time until the end of March 2021.


…

Expand
Developer:

Nintendo

Genre(s):

Miscellaneous

,

Compilation

# of players:

No Online Multiplayer

Cheats:

On GameFAQs

Rating:

E
Please enter your birth date to watch this video:
You are not allowed to view this material at this time.
Super Mario 3D All-Stars - Official Announcement Trailer
Super Mario 3D All-Stars represents the pinnacle of platforming goodness and with perfect ports, as well as top notch optimisation for the console, it's a must-buy. For newcomers, they are getting the chance to experience the timeline of how Nintendo first experimented and mastered the 3D platformer, all the way up to it improving on the formula with each iteration. For stalwarts, it's a great excuse to dive back in and revisit a childhood hero in all his hat-wearing, moustache-twirling glory. Each inclusion has perfect character and level designs, as well as an ever-increasing level of innovation that simply cannot be matched by any other gaming company in the platforming genre. To sum up Super Mario 3D All-Stars in one word? Unmissable.

Overall, it's safe to say that Super Mario 3D All-Stars is a compilation worth its weight in gold. Not only have the games stood the test of time, they remain some of the best 3D platformers of the late '90s to early 2000s in existence. Between its visual resolution upgrades to the sheer flexibility of ways to play, Super Mario 3D All-Stars is the triple threat of the Nintendo Switch games' library – well, until 31st March.

It is disappointing that Nintendo chose not to update the titles in Super Mario 3D All-Stars for 2020, as some of the blemishes in the design of the three games are made more obvious so many years after their initial releases. That being said, the games are still excellent, with Super Mario Galaxy feeling like a perfect game.

It is undeniable that Super Mario 64, Super Mario Sunshine and Super Mario Galaxy are 3 titles that border on excellence. However, as a compilation, Super Mario 3D All-Stars is far from perfect.

Super Mario 3D All-Stars contains three of Mario's very best adventures, now redesigned to work optimally on the Switch. Being able to carry these classics is a joy, and all the titles have been spruced up compared to their models. In terms of gameplay, the games have aged with dignity and hold up surprisingly well in a post-Super Mario Odyssey world. However, we do miss Super Mario Galaxy 2.

Even Super Mario Galaxy alone is a big reason to buy this pack.

The standalone games themselves of course deserve higher scores, but the way this bundle is published seems very frugal, especially considering the 60 euro price tag that comes with it. In that manner, Nintendo could learn from the honorable and generous ways in which companies like Activision re-release their classics.
Bien. Estos juegos por si solos, cada uno merecen un 10, ahora junta a los 3. Ves, no es por se fan, pero estos jugos lo merecen por su

Bien. Estos juegos por si solos, cada uno merecen un 10, ahora junta a los 3. Ves, no es por se fan, pero estos jugos lo merecen por su calidad y su cantidad. Tal vez si, crash bandicoot hizo un mejor trabajo con su insane trilogy, y a mejor precio, pero ellos en realidad se estaban arriesgando ya que no pudes comparar a un Mario con un crash. Por popularidad mario le gana y de sobra y ellos saben que van a vender y tal vez por eso hicieron menos trabajo. Claro, hay cosas que Nintendo pudo haber hecho mejor, y eso no lo duden, pero es innegable que crash se esforzó lo máximo para asegurar ventas y aun asi bajaron el precio después de su salida. Que no hayan realizado grandes cambios en el Mario 64 es porque habían problemas técnicos al hacer la pantalla panoramica, incluso en los emuladores se notaba el poping y problemas que daban a entender que este juego no estaba hecho para jugarse en este formato, ya que en sus tiempos de salida tenian muchas limitaciones y hacian lo que fuera para reducir los requisitos del jugo. En cuanto a la remasterización, esto depende de cada quien, esto se debe a que el publico al que va dirigido este producto es a nostálgicos que realmente quieren revivir experiencias y jugarlo lo más cercano y legal a como era entonces (sin pagar la fortuna que valen los cartuchos o discos de las consolas respectivas, ya que son de colección básicamente). También va dirigido a los que nunca tuvieron la oportunidad de jugar estos juegos y hoy en día quieren vivir esas experiencias. Para concluir, si de verdad odias esta colección, tú no eres el público al que va dirigido, entonces vete a criticar este juego a donde de verdad te presten atención o a alguien de verdad le importe tu opinión, exprésala pero con argumentos y con respeto. Nota: si vas a ver a Amazon cuanto cuesta cada uno de estos juegos individualmente se te volverán las ganas de comprar esta colección en ves de pagar la fortuna que ahí se te ofrece pagar. Saludos.

…

Expand

Only bad things i'd agree with this collection is the aspect ratio for 64.
That's it.
64 didn't get "uPsCaLeD tExTuReS" they were originalOnly bad things i'd agree with this collection is the aspect ratio for 64.
That's it.

64 didn't get "uPsCaLeD tExTuReS" they were original textures remade and/or retrieved from the original textures and materials without being downscaled.

And everything else? Galaxy feels, sounds and plays 10 times more better than the original, and while i barely played Sunshine on my gamecube as the game got too hard quickly, now that i've given it a try i can say as a hard game lover that sunshine is an amazing game.

With 64, while i've already finished it various times before, i never really 100% it, so doing it was really satisfying.

Some people might complain "they didn't rework ###" no **** this is an emulated collection, not a remaster/remake. WHERE exactly does it say "we made the games easier to break the immersion they originally gave."?

…

Expand

Great purist ports of some of the most important and fun platformers of our time.

Excelente, he deseado que Mario Galaxy esté en la consola hibrida y estoy satisfecho por ello.

what could have been a really great celebration of Mario's 35th anniversary, turned out to be a mediocre one unfortunately..

this is such awhat could have been a really great celebration of Mario's 35th anniversary, turned out to be a mediocre one unfortunately..

this is such a huge missed opportunity. the omission of Galaxy 2 is bad enough, but there's really nothing extra to this compilation - it's as bare-bones as it possibly could get. 3 old games with enhanced resolution - that's it!

what about some cool concept art, or something other extras, how about actually updating Mario 64's visuals to at least the standards of Galaxy 1 - I would've been more than pleased with that. but no, Nintendo is all about maximum profits, for minimum efforts - as usual..

…

Expand

For years i've been craving to play super mario sunshine on the go...and I did get my wish, albeit in the most barebones sense possible. It is

For years i've been craving to play super mario sunshine on the go...and I did get my wish, albeit in the most barebones sense possible. It is pathetic that Super Mario 64 runs WORSE on the Nintendo Switch while the Nintendo DS (see DS, as in the original one) ran this game slightly revamped without a single issue.

As others have said already, it's such a lazy cash grab. Yes the games themselves are great, but there could have been done so much more with this. I don't understand why Nintendo just didn't give this the same treatment as they gave Ocarina of Time & Majoras Mask on the 3DS all those years ago. Instead, we get a lazy barebones super package for the "35th anniversary". Which sucks since Mario is their "biggest" franchise and in turn does not bode well for the anniversary of both Legend of Zelda and Metroid next year.

…

Expand

First of all Nintendo of Europe ran out of physical copies and sent me a download version instead and refused to swap it later when they came

First of all Nintendo of Europe ran out of physical copies and sent me a download version instead and refused to swap it later when they came back in stock or refund. (even though I cancelled the preorder 7 days before release).

The actual game.

Positives - Its Mario 64, Odyssey and Galaxy.

Negatives - 30fps for 64 and Odyssey.

…

Expand