Publisher:

Nintendo

Release Date:

Feb 12, 2021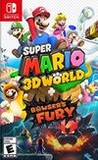 Summary:

The cat's out of the bag, Super Mario 3D World is on to the Nintendo Switch system. Pounce and climb through dozens of colorful stages! Mario (and his friends) can use power-ups like the Super Bell, which grants catlike abilities, like climbing and scratching. Work together locally or online

The cat's out of the bag, Super Mario 3D World is on to the Nintendo Switch system. Pounce and climb through dozens of colorful stages! Mario (and his friends) can use power-ups like the Super Bell, which grants catlike abilities, like climbing and scratching. Work together locally or online with up to three other players to reach the goaland to see who can get a high score. The Super Mario 3D World + Bowser's Fury game features the same great co-op gameplay, creative levels and power-ups as the original game, but also so much more.

…

Expand
Developer:

Nintendo

Genre(s):

Action

,

Platformer

,

3D

# of players:

Up to 4

Cheats:

On GameFAQs

Rating:

E
Please enter your birth date to watch this video:
You are not allowed to view this material at this time.
Super Mario 3D World + Bowser's Fury - Official Overview Gameplay Trailer
With some of the cleverest level designs and a boundless sense of joy, Mario 3D World + Bowser's Fury is essential playing for any Mario fan. Super Mario 3D World might be almost eight years old, but time hasn't dulled this cat's claws. And while Bowser's Fury is short, it's full of so much potential for Mario's future, making this the most easily recommended port-and-repackage of the Switch's lifecycle so far.

To be clear, I'd still wholly recommend this version of 3D World even without Bowser's Fury.

Super Mario 3D World + Bowser's Fury is a sensational package. It reintroduces the world to an often forgotten (or straight-up missed) classic Mario platformer, while lays the groundwork for a new type of Mario experience, one that, with some further refinement, could be one day looked back upon as yet another defining moment in perhaps the most decorated franchise in the industry.

Near-perfect platforming, gorgeous visuals and a joy-filled soundtrack make Super Mario 3D World + Bowser's Fury one of the best Mario titles of all time, and an essential purchase for all Switch owners.

Multiplayer gripes aside, Super Mario 3D World + Bowser's Fury easily earns its place on Nintendo Switch. As a port of an already exceptional game, it elevates itself to new heights with the inclusion of online multiplayer and a whole new add-on. While it may not be perfect, it's undoubtedly one of the best Super Mario games in franchise history, worth replaying time and time again.

Super Mario 3D World has aged quite well. It is still a very enjoyable adventure, updated in its rhythm and different enough from Super Mario Odyssey for those who came to Switch without going through Wii U to discover it. The big surprise is Bowser's Fury, which transcends the concept of simple DLC and adds mechanics and novelties of epic dimensions.

Super Mario 3D World + Bowser's Fury packs a tonne of engaging gameplay, but neither component comes together as elegantly as it might have done. This is a solid option if you're craving more Super Mario for your Switch, but it's not the moustachioed must-play I was hoping for.
This has stood the test of time. This game is a must buy for all Switch owners, ESPECIALLY anyone who missed it on the Wii U. The game is

This has stood the test of time. This game is a must buy for all Switch owners, ESPECIALLY anyone who missed it on the Wii U. The game is fantastic and I highly recommend it.

…

Expand

bowser's fury is a lot of fun. reminds me of odyssey. worth buying even if you own 3D world on wii u

This is an Amazing game! I absolutely love each level, they are filled with unique ideas and charm. I have never owned a Wii U so I am

This is an Amazing game! I absolutely love each level, they are filled with unique ideas and charm. I have never owned a Wii U so I am extremely happy to be able to experience this game. Bowser's fury is quite great as a bonus game, but to me personally Super Mario 3D World is the best out of both. I preferred the stars from this one than odyssey's moons because I actually felt as if they were attainable as their isn't as much than the insane amount of moons in Odyssey. ( But that is just me ) also find this game much more appealing because of all the amazing playable characters that you can be- instead of just Mario. The multiplayer experience is awesome but it can sometimes get quite chaotic especially in the cake level with the red and blue switch blocks;). I love this game, you should try it and see all the amazing content that this game has to offer, the multiplayer but single player experience are phenomenal and fleshed out to give you hours of entertainment. A must buy and my favourite video game, I love Super Mario!

…

Expand

It's Mario, so I guess you can already tell it will be amazing. One of the best 3D Mario games with very colorful and visually amazing stages,

It's Mario, so I guess you can already tell it will be amazing. One of the best 3D Mario games with very colorful and visually amazing stages, great controls and very good platforming variety from easy to challenging stages. On the top of it though, here comes Browser's Fury which is the most fun I had with an open world 3D platforming except Mario Oddysey even though it's not far at all from its level, but it feels like a testing project which is going to be a game some day (without having any problems or bugs of course). I really loved the idea and I hope they make something more complete in the feature like a game itself because this one felt like a DLC. I believe it's a must play even if you have, or not, played it before.

…

Expand

I, like many others, didn't like 3d World when it first came out, but in retrospect, this game is great!

It's rather linear and restrictiveI, like many others, didn't like 3d World when it first came out, but in retrospect, this game is great!

It's rather linear and restrictive when compared to the more open ended nature of the previous games, but that's not really a bad thing, because the game is filled to the brim with creative ideas and it's linearity allows it to channel it in a focused manner.

Maybe it isn't as great as some of its predecessors, but it's never bad either. It's a consistent flow of inspired and creative platforming through a series of linear obstacle courses, and is almost 100% perfect in this regard.

If you didn't like this game at first, I'd encourage you to play Mario Odyssey first, and play this one after that. It helped me appreciate the game much more, and maybe it'll help you do the same.

…

Expand

This is a great collection of 2 similar yet vastly different experiences!
Dont sleep on Bowser's Fury!
I enjoyed it more than 3D worlds!

es un ctrl c ctrl v de el de wii u pero con BOWSER'S FURY por 60 dolares no vale nada la pena