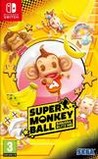 Summary:

"Hold onto your bananas, because Super Monkey Ball: Banana Blitz HD is rolling your way! Experience the magic of one of the most beloved titles in the series, now remastered in HD!

Head back into the fantastical world of Super Monkey Ball and take back your bananas from the space alien"Hold onto your bananas, because Super Monkey Ball: Banana Blitz HD is rolling your way! Experience the magic of one of the most beloved titles in the series, now remastered in HD!

Head back into the fantastical world of Super Monkey Ball and take back your bananas from the space alien pirate king, Captain Crabuchin. Race through over 100 colorful stages and challenge your friends and family to 10 fan-favorite Party Games! Feeling like the fastest, most maneuverable monkey around? Try out Time Attack mode or the grueling Decathlon endurance run! Will you make it onto the scoreboard?"

…

Expand
Developer:

Sega

Genre(s):

Miscellaneous

,

Party / Minigame

# of players:

No Online Multiplayer

Cheats:

On GameFAQs

Rating:

E10+
Super Monkey Ball: Banana Blitz HD is a very good remaster, in addition to being an excellent game. It's beautiful, fluid, has very interesting gameplay, almost flawless controls, and a rather dense content. In other words, it's an almost perfect experience. We highly recommend all veterans to replay this gem on recent platforms and all neophytes to go discover Super Monkey Ball with this opus. In the end, after seeing everything the title offers, we would still like to have a longer and more extensive "Main Game".

Super Monkey Ball Banana Blitz HD promises the old and trusted gameplay we know and love, but with an all new graphic layout that promises hours of fun.

Banana Blitz HD has a game proposal that caters to a 5 to 11 year old audience and is good for family play. Even with simple gameplay, the game fails due to the lack of camera control in classic mode and the absence of a local multiplayer in decatlhon mode.

Not the entry fans of the series would have preferred to see get ported, but Banana Blitz HD is worth checking out for anyone that never played it on Wii, or those that just couldn't deal with the motion controls back then. It isn't the best example of what Super Monkey Ball is all about, as the unnecessary difficulty of the stages, additional random elements and terrible boss battles can really hamper the fun, but as a party game, it still hits the spot. If you really miss playing with monkeys in balls, this is your best option right now, but let's hope SEGA sees fit to bring the superior first two games over in the near future.

While it's welcome to see one of Sega's most original IPs return to modern consoles, Banana Blitz HD is far from the series at its best and one that purists will find wanting.

After spending time with Super Monkey Ball: Banana Blitz HD, I'm still confused as to why this specific game was the pick to revive the franchise. The 10 mini-games included aren't that strong and the main game is mediocre at best, dragged down by the motion-focused level design and abysmal boss battles. On one hand, I was happy to play Super Monkey Ball again, but on the other, I wish I could play a better Super Monkey Ball game.

I wanted to love Super Monkey Ball: Banana Blitz HD so much, but ultimately, I walked away with a bitter taste in my mouth. The Super Monkey Ball franchise is one that deserves to thrive again, and it's sad to say that I think today isn't the day that happens.
It is really good maybe to easy at the start but world 7-8-9-10 were very hard; on switch it is 1080p 60fps docked and 720p 60fps undocked; It

It is really good maybe to easy at the start but world 7-8-9-10 were very hard; on switch it is 1080p 60fps docked and 720p 60fps undocked; It is very good to have a portable super monkey ball game in HD; because monkey ball GBA,3DS,PSVITA were good (3ds no) but now it is HD

…

Expand

Sooooo this game will have you spending hours on it, and just good old classic fun for everyone. Also I love that sonic is in the game with

Sooooo this game will have you spending hours on it, and just good old classic fun for everyone. Also I love that sonic is in the game with the full aesthetic (he's part of the advertisements lol)

Controls could be slightly better but overall perfect

…

Expand

Super monkey ball has been a franchise that has some great and ok games, and after hearing that a new super monkey ball game was coming out, I

Super monkey ball has been a franchise that has some great and ok games, and after hearing that a new super monkey ball game was coming out, I was excited. I was able to get the demo on the switch, and it worked well, the controls were alright, and the stages would make you nervous since there are places without protection like rails or walls, but the game had some problems to it, but it's an alright game.

…

Expand

It's perhaps ironic how hard SEGA dropped the "ball" on this one.

The return of the Monkey Ball franchise in a big way has been longIt's perhaps ironic how hard SEGA dropped the "ball" on this one.

The return of the Monkey Ball franchise in a big way has been long overdue, the games are still popular and the idea, while perhaps beginning to show its cracks, is still fresh and unique. Unfortunately, this particular entry in the series is very poor indeed.

The choice to remake Banana Blitz was already a strange choice, being one of the weaker entries in the franchise it was a strange decision. But this "remake" is significantly worse than the original, already weak game. The visuals are pleasing and pop making the game a joy to look at, unfortunately actually looking at the game will likely cause nausea.

The camera, or lack thereof, really makes this game bad. The redesigned levels are almost universally for the worse. The music is worse as well. Minigame selection is worse. Really everything is worse.

Unless you desperately want to play as Sonic in a Monkey Ball game, do yourself a favour and play the original on the Wii. Or the better games on Gamecube.

2/10

…

Expand

This **** not good thats all i needa say................................................................

What a hot oil of trash. Growing up with Super Monkey Ball 1 and 2 for GameCube was a highlight of my childhood. This is not those games.

What a hot oil of trash. Growing up with Super Monkey Ball 1 and 2 for GameCube was a highlight of my childhood. This is not those games. There are 90 stages that are oversimplified because they were originally designed to play with motion control on Wii... And 10 bosses that are hard because of poor controllers and not actual difficulty. The party games are also hot trash, as there is no solo way to play any one game, so you have to hook up a 2nd controller just to play. Why they didn't remake super monkey ball 1/2 into one game is beyond me. I regret my purchase 100 percent and Nintendo gives no refunds.

…

Expand

In my eyes, the absolute best part of Monkeyball is it's flexibility. Back on the gamecube, you could play any mode with any number of

In my eyes, the absolute best part of Monkeyball is it's flexibility. Back on the gamecube, you could play any mode with any number of players. Play by yourself for some casual fun, or get some friends over and bust open some beers.

The difficulty had all sorts of features. Some levels were easy. Some had a secret trick. Some were just brutally hard to the point that it was hilarious. Others, like Monkey Target, were very skill based and separated the pros from the rookies.

This game has none of those things and for no good reason. You cannot play the story mode levels as multiplayer like you could on the Gamecube, and you cannot play party games alone, like you could on the gamecube. Monkey Target is no longer physics based. And the story levels are so easy that my wife beat half the game in one night.

The reason this is a 0/10 is because I feel that the things I have mentioned ARE the Monkeyball brand. They are the reason people with such different tastes, like me and my wife, consistently play the gamecube version still. Who in their right mind would expect a home console version of Monkeyball to not have multiplayer options that existed in the past? I feel like I was tricked with a bait-and-switch. Especially because I know how easy it is to implement the features that I so sorely miss from a programming standpoint.

…

Expand