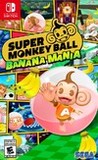 Summary:

Go Bananas with your favorite monkey gang in the ultimate Super Monkey Ball adventure. Roll through wondrous worlds with AiAi and friends as you race to stop monkey mad scientist Dr. Bad-Boon from blowing up Jungle Island! Join the all-star monkey team of AiAi, MeeMee, GonGon, Baby, YanYan

Go Bananas with your favorite monkey gang in the ultimate Super Monkey Ball adventure. Roll through wondrous worlds with AiAi and friends as you race to stop monkey mad scientist Dr. Bad-Boon from blowing up Jungle Island! Join the all-star monkey team of AiAi, MeeMee, GonGon, Baby, YanYan and Doctor as you bounce, tilt, and roll your way across hundreds of delightfully crafted levels and mazes. It's monkey business for the gang - play solo or with friends as you take down Dr. Bad-Boon and steal back your beloved bananas!
Features:

The ultimate Super Monkey Ball Experience – More than 300 stages from Super Monkey Ball, Super Monkey Ball 2 and Super Monkey Ball Deluxe.
Go Bananas with 12 fun minigames including Monkey Racing, Monkey Soccer, Monkey Bowling, Monkey Baseball and much more!
Challenge your friends as you compete for top banana on the online leaderboards!
Assemble your all-star monkey team of up to 4 friends and work together to save Jungle Island with 4-player local co-op.
Immerse yourself in the Super Monkey Ball world with creative comic book-style story telling in Story Mode.
Want to be the coolest monkey on the block? Customize your character and Super Monkey Ball to make it your own!



…

Expand
Developer:

Sega

Genre(s):

Party / Minigame

,

Miscellaneous

,

Compilation

Cheats:

On GameFAQs

Rating:

E10+
Please enter your birth date to watch this video:
You are not allowed to view this material at this time.
Super Monkey Ball Banana Mania - Sonic & Tails Reveal Trailer
Yes, Banana Mania is essentially just the kind of Super Monkey Ball game that you'd expect. I just didn't realize how much I've missed this series. The single player levels present a challenging and creative experience, while the minigame offerings make this collection essential to anyone who likes to play local multiplayer.

Nintendo Force Magazine

Nov 8, 2021

It is glorious. Maybe not perfect, but still very good. It has everything I loved from Banana Blitz HD, and little of what I didn't. I highly recommend checking it out if you're new to the series, or if you just want to see a Dreamcast in a ball. [Issue #56 – November/December 2021, p. 71]

Difficulty spikes and a wonky camera will occasionally have players throwing their controllers across the room. Still, this otherwise compelling remastered package demonstrates why Sega needs to make Super Monkey Ball one of its premier franchises.

Super Monkey Ball Banana Mania is a bumper remaster package that has clearly been made with love by Ryu Ga Gotoku Studio. It contains all of the best levels from the series' most beloved entries, a fleshed-out ranking system for the most ambitious players and a dozen party games to extend its lifespan. With cute crossover characters, rewarding puzzles and an absolutely banging soundtrack, you'd be foolish to skip this one if you're yet to engage with the Super Monkey Ball franchise.

Super Monkey Ball Banana Mania is a blast for veterans and newcomers, featuring plenty of appealing content, though I was slightly split on multiplayer. But with so much sheer monkey madness and unbridled fun, I'm very glad SEGA didn't drop the ball.

Ultimately Banana Mania is a lot of fun, and a solid starting point to those new to the series. Long term fans might find the changes to accommodate a wider audience just too bitter a pill to swallow though.

Another sub-par remaster of Super Monkey Ball that ruins the precision and elegance of the originals and replaces it with janky, unpredictable controls and shoddy presentation.
This is undoubtedly the best SMB experience. Full with the challenges from the past og series, retouched graphics and the GOOD mechanics that

This is undoubtedly the best SMB experience. Full with the challenges from the past og series, retouched graphics and the GOOD mechanics that BB-HD didn't hit, i recommend it for the whole Single and Multiplayer experience locally. Definitely will keep you attached or busy trying to complete all the levels. From a all-time SEGA and SMB average enjoyer.

…

Expand

"I'm really glad that Sega didn't mess up Banana Mania. It has a new lick of paint, with some tweaks and additions that help make this an

"I'm really glad that Sega didn't mess up Banana Mania. It has a new lick of paint, with some tweaks and additions that help make this an excellent return to form. Despite some gripes with the challenge modes and Monkey Target, there's a massive amount of content that should keep any fan of the series happy. With the series director now gone, I just hope that future games can live up to this standard."

https://theeliteinstitute.net/2021/10/22/super-monkey-ball-banana-mania/

…

Expand

While I had some difficulty as a newcomer to the series, I very much enjoyed the game and I highly recommend to anyone whose new to this

While I had some difficulty as a newcomer to the series, I very much enjoyed the game and I highly recommend to anyone whose new to this series. It's a good place to start!

…

Expand

Super Monkey Ball Banana Mania
This game will drive you bananas.
Super Monkey Ball is a collection of over 300 remastered stages fromSuper Monkey Ball Banana Mania
This game will drive you bananas.
Super Monkey Ball is a collection of over 300 remastered stages from Supermonkey ball, supermonkeyball, 2 and super monkey ball deluxe.. howere unless im missing it you don't get to specifically choose each game, its all merged into one giant package…
Theres a great amount of content here, from its story mode, to its charcters you can unlock from complete in game challenges, to mini games you can play with up to 4 players.
I loved banana blitz, so I was excited to go back and see how it all started.. and well.. it started with tears…
Banana Mania will have you raging.. this game is ridiculously frustrating to play through.. most courses in fact just seem down right unfair.. which is my biggest gripe with this game.. its more frustrating than it is fun.. I didn't want to play over and over and over because I neverfelt like oh I almost had it, Instead I was mashing my head against the wall trying to get lucky… now there is a helper option here that highlights a path and you can make things go slowmo, which is very hepful in a handful of levels, but for the majority its pretty useless… thankfully you are able to spend your ocins on not only charcters, cosmetics, and even the ability to jump if youd like as there is no defaut jumping.. you can instead spend 2000 coints to skip a level… coins aren't all too easy to come by though, this is about 8-10 levels completed worth of coins to be able to just skip one… and trust me yall, I was skipping… I was frustrated for most of my time here.. but I get it, that's what monkey ball fans love, and to them I say – enjoy
Theresa also12 minigames you can play here again either solor or with up to 4 people.. from racing compelte with 12 tracks and item drops to minigolf, tennis, soccer.. and theyre okay.. nothing amazing here.. you may have fun for a day or two with a friend.. but you wont be itching to play.. as all the modes just have a weird clunkyness to them that never make them feel quite fair or enjoyable while playing..
Overall if you love punishing yourself, rolling a ball with a monkey inside through a hoop, youre in luck..
But if youre looking for some casual fun time, look elsewhere
I give Super Monkey Ball Banana Mania
a 6.5/10

…

Expand

Super Monkey Ball was always fun, and Banana Mania brings 300 of the finest stages in the series' history and 12 great minigames. It is

Super Monkey Ball was always fun, and Banana Mania brings 300 of the finest stages in the series' history and 12 great minigames. It is recommended and enjoyable for all ages.

…

Expand

I was VERY excited for Super Monkey Ball Banana Mania going into this game releasing, but it ended up being extremely disappointing. In the

I was VERY excited for Super Monkey Ball Banana Mania going into this game releasing, but it ended up being extremely disappointing. In the main game, they've changed a lot of the music and the physics all feel wrong. It's a 60 FPS game, but feels like 30 FPS part of the time, not because of actual frame rate drips (the frame rate is actually pretty good) but because the physics are that bad. It's still very playable and can be fun at times and I think if this was someone's first Monkey Ball game, they might not mind, but in comparison to the original release it's a major disappointment.

Speaking of the original release, the party games were one of the most important aspects of these games back during the Gamecube/PS2/Xbox Era. All those games are still here, but they've all been held back in one way or another, usually due to the physics or just bad game design. The most noticeable is Monkey Target, which in comparison to the original is almost unplayable. If Monkey Target is your main reason for buying this game, I'd stay away completely until perhaps there is a patch to fix it because as it is right now, I can't even get my monkey to fly half way to the target.

The extra characters are nice, it's it's clear that the developers did care and put a lot of work into this game, which is what makes it even more disappointing how subpar the results are. I know Sega is capable of putting out better games than this and I'm not sure what went wrong in development, but it seems like they would have just been better off doing direct ports of the older games instead of trying to remake them from the ground up. I was super disappointed with my purchase of this game and if I thought there was any chance of me getting a refund, I probably would.

…

Expand

Felt the need to create a Metacritic account so I could warn people how badly this game currently performs on Switch. I got the Digital Deluxe

Felt the need to create a Metacritic account so I could warn people how badly this game currently performs on Switch. I got the Digital Deluxe edition and was able to play this on October 1st and was so excited. Sadly, it was so inconsistent in its framerate and glitchy that this is the first-ever game I've refunded. Even AiAi's face during the load screen is oddly in a low resolution. Other reviewers have complained that the game does not have the exact physics of the originals, but it's not like Sega promised a perfect recreation. What Sega did promise was 60 FPS on Switch during the main game, but obviously didn't deliver. If you want to play this on a console, play it on anything but the Switch, I expect it to perform better on a Playstation or Xbox device.

…

Expand