Publisher:

Nintendo

Release Date:

Dec 7, 2018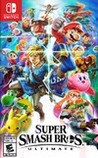 Summary:

Inklings from the Splatoon series, as well as returning Smash characters like Mario and Link will be making appearances in this classic Nintendo franchise's Switch debut. Faster combat, new items, new attacks, new defensive options, and more will keep the battle raging whether you're at home

Inklings from the Splatoon series, as well as returning Smash characters like Mario and Link will be making appearances in this classic Nintendo franchise's Switch debut. Faster combat, new items, new attacks, new defensive options, and more will keep the battle raging whether you're at home or on the go.

…

Expand
Please enter your birth date to watch this video:
You are not allowed to view this material at this time.
Super Smash Bros. Ultimate - More Fighters Trailer
This is the ultimate Smash Bros. How will they ever top it? [Issue #37 – January/February 2019, p. 65]

Don't ask me how Nintendo managed to put more than 35 years of experience and love into one product, but they succeeded. Smash Ultimate is not only the ultimate Smash game, the ultimate fighting game, the ultimate party game, and the ultimate collection of videogame nostalgia: it's the ultimate video game. I will continue to play this forever. At least, until Nintendo delivers another sequel.

This is the ultimate Super Smash Bros. With an abundance of fighters, stages and modes there is always fun in fighting friends. Even when you're playing by yourself thanks to Classic Mode and World of Light if you play the second one in bite-sized chunks.

For the first time, we could almost say that the Nintendo brawler has reached the saturation point, beyond which it is really difficult to think about what future episodes might hold.

An inconsistent online mode and situational downers don't stop Super Smash Bros. Ultimate from shining as a flexible multiplayer game that can be as freewheeling or as firm as you want it to be. Its entertaining single-player content helps keep the game rich with interesting things to do, as well as bolstering its spirit of loving homage to the games that have graced Nintendo consoles. Ultimate's diverse content is compelling, its strong mechanics are refined, and the encompassing collection is simply superb.

Super Smash Bros. Ultimate is more than best-of-hits collection of Smash games past. It's a tightly woven experience that deftly combines the old with the new and manages to meet the lofty expectations placed on it. It's incredibly easy to pick up and play, with enough depth and nuance to keep players engaged. It's the best Smash Bros has ever been.

Super Smash Bros. Ultimate is equal parts greatness and lacking. The sheer wealth of content and great gameplay is commended but there are big holes in what could be a great game.
The best smash bros game so far, combines everything for casual and competitive game. Without a doubt this is the best work of Sakurai.

Yeah, the title doesn't lie, this is the ultimate fighting game. If you own a Nintendo Switch and don't have this game, what the hell are you

Yeah, the title doesn't lie, this is the ultimate fighting game. If you own a Nintendo Switch and don't have this game, what the hell are you doing? This is the best in the series, and is as close as you can get to perfection for a fighting game. It is so well balanced, easy for casuals and core gamers to pick up, and its just fun. I have logged over 530 Hours of playtime since December 27, 2018 when I first got the game, and I plan to log even more because there is infinite replay-ability here. You NEED to play this game before you die, trust me! If they could just clean up some bad stages like Great Cave Offensive, this would be my favorite game of all time.

…

Expand

The best SSB, and the best game in NS, A lot of characters, a lot of everything... this game remember me why Nintendo is Nintendo

Okay, my first review in over two years, where I've grown older and wiser. Smash Ultimate is possibly the best in the series. Every previous

Okay, my first review in over two years, where I've grown older and wiser. Smash Ultimate is possibly the best in the series. Every previous character EVER plus a handful of varied newcomers (including the clone-like-but-not-exactly Echo Fighters). Let's go over my thoughts on this game in a nutshell:

+As mentioned before, the roster largely consists of every fighter in Smash HISTORY.
+The long-awaited Ridley and King K. Rool are part of the selection of newcomers, and they're A BLAST to play.
+We get Adventure Mode in the form of World of Light, where you constantly fight unique opponents with kinda-Sticker items called Spirits, which are PNG's of characters across Nintendo's history and then some with unique abilities.
+Classic Mode has been revamped in a way; each fighter has a unique path that ends with a boss. Some fighters battle Marx from Kirby Super Star, others fight Rathalos from Monster Hunter, etc.
+Some long-missing stages have returned, like Kongo Falls, Great Bay, and FOUNTAIN OF DREAMS, just to name a few out of over 100 stages!
+The DLC characters so far are really fun! I am HYPED to see what Banjo's like when he comes in the fall.
+There are nearly 1,000 music tracks to play, including over 100 new remixes. Just take a listen to Gangplank Galleon, Divine Bloodlines, Guile's Theme, Beneath the Mask, etc.!
+Piranha Plant. Just Piranha Plant.

-The AI is practically a Mary Sue sometimes. When it's not a perfect little muffin who can read your mind, they just kinda…give up when recovering.
-Some of the remixes are just…bad. Mostly it's just remixes of songs that already had (much better) remixes in Smash 4 THAT ARE EVEN IN THE SAME GAME.
-The graphic quality is kinda weird. Most of it looks beautiful, while others, like Bowser's model, looks just butt-ugly. Bowser's the only example I could think of off the top of my head, though.
-Some of the victory themes are either cut short (like the Ice Climbers') or changed needlessly, like Ness and Lucas's. Theirs has to be the worst Smash victory theme I've heard in my life.
-The Legend Spirits can go die in a hole and never come out (not that they'd be able, since they're DEAD).
-A lot of modes were cut because of WoL (Target Test/Smash, Home Run Contest, etc.). Stage Builder is back through an update, though, so maybe Home Run Contest will too?
-The way Classic Mode ups its difficulty ruins the concept. The only you can do so quickly is to rush the stage and take little damage. Even when you do it PERFECTLY, in 5 seconds, you just get a .6 for your troubles.

I don't have an online subscription for the online matches, so I can't really comment on THAT front. But simply put, despite its flaws, Smash Ultimate is possibly the best game in the SERIES!

…

Expand

Great game with pretty bad online, still worth every cent. The amount of content is huge

Score: 8
-----------------------------------------------------------------

Poor online and toxic gaming community. For a game meant to be played with other the the player base is the biggest problem. Too many toxic players.
We rank the 40 best console-exclusive games available on current generation hardware (PlayStation 4, Xbox One, and Switch).

Published:

January 2, 2019

We reveal the best games for each platform in 2018 and see how releases for each console compared last year.