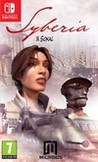 Summary:

For the young Kate Walker, an ambitious lawyer, the Voralberg toy company acquisition seemed like a textbook case--a quick stopover to a small alpine village in France to buy-out an old automaton factory, then straight back home to New York. But her journey across land and time throws all

For the young Kate Walker, an ambitious lawyer, the Voralberg toy company acquisition seemed like a textbook case--a quick stopover to a small alpine village in France to buy-out an old automaton factory, then straight back home to New York. But her journey across land and time throws all she values into question, and the deal she set out to sign turns into a pact with destiny. Follow Kate through a magical world of automatons, amazing characters, and mysterious environments. This puzzle-driven adventure blends logical problem-solving with a complex and involving storyline.

…

Expand
Developer:

Koalabs Studio

Genre(s):

Adventure

,

3D

,

Third-Person

# of players:

No Online Multiplayer

Cheats:

On GameFAQs

Rating:

T
Please enter your birth date to watch this video:
You are not allowed to view this material at this time.
Syberia for Switch is a beautiful game with a great story. While this game sometimes looks dated, this is a classic that you should play.

Microids has done an excellent job of porting the classic point-and-click adventure to Switch. Kate Walker's epic first adventure in Syberia is every bit as gripping today as it was 15 years ago when originally on PC, and it fits perfectly on Nintendo's system, boding well for the impending releases of Syberia II and Syberia 3. Hopefully this is the first of many point-and-click adventures brought across to Nintendo Switch.

Syberia is the game that we know, but has been adapted for Nintendo Switch with almost the same graphics and few options for the touch panel. However, it has a deep story, lovable characters and great gameplay for a 15-year old game.

Syberia is a game that is perfect for the winter. It has a nice, roughly, 10 hour story and is not a high action title that makes you have to have quick reflexes to win. There are no guns, fights or scary scenes, just a good adventure with some engrossing puzzles. For me, it was best played in handheld mode on the Switch, not that it was bad in any way when docked, but it just felt better as a mobile game. I am interested in seeing where Kate goes next, which makes this great, as both the sequels are also already on Switch as well.

A good adaptation to Nintendo Switch with graphics improvements of a game that is still fabulous.

Syberia on the Nintendo Switch is a reasonable yet inconsistent port of an enchanting genre classic. This is an absorbing, intricate story filled with melancholy, eccentric characters and mystery demands and deserves attention, even if the game shows its age technically in some places and demonstrates a lack of care in the porting process in others. For fans of the genre, or those willing to dive in and forgive some inconsistencies, there's an endearing and worthwhile adventure here.

Syberia is the first in a trilogy of puzzle / adventure games. It delivers a Victorian charm backed up with great music and images with a simplistic puzzle-solving approach. Though I'd like to recommend it, the price of the game means that you're better off looking on other platforms.
I loved it. Great puzzle solving game. The characters too are great. Very excited to play the rest of the series

This game is really enjoyable and relaxing and I recommend it to anyone that's looking for something laid back with an interesting story and

This game is really enjoyable and relaxing and I recommend it to anyone that's looking for something laid back with an interesting story and puzzle solving.

Most of the time you are running around and finding items or completing puzzles. The story is good and so are the music and voice acting. At times it may feel like you are just playing through a filler, which is probably my only complaint about the game. It also feels a bit unrewarding to finish the game because it feels like the story has barely started. I bought this game in a bundle with the second one so I could just jump into the second game immediately and it felt like a smooth continuation, but I can imagine it feeling unrewarding to finish the first game if you don't already have the second one.

…

Expand

Great way to play this game if, like me, you hadn't played it before. Graphics are a little bit enhanced for this port (character models and

Great way to play this game if, like me, you hadn't played it before. Graphics are a little bit enhanced for this port (character models and shadows) and get the job done, but backgrounds are ugly to look at while docked in the TV. In portable mode, the game looks way better and touch screen controls great.
Story and sound (even voice acting) stays top notch.
The worst thing? it's price

…

Expand

A classic point and click adventure with some beautifully designed environments that does show it's age. The gameplay mechanics are pretty

A classic point and click adventure with some beautifully designed environments that does show it's age. The gameplay mechanics are pretty much outdated. Think a crossover between King's Quest and Myst. You have to be a really patient person to enjoy it because of slow progression and constant backtracking. Regular walking speed is also very slow but luckily there is a button to run a bit faster. The story, characters and pre-rendered single image environments are the best part of the game. The gameplay not so much. If you you can handle the clunkiness and it's slow pace then there's a great story with plenty of atmosphere and charm to be found. Sokal is an excellent graphic novel artist and for the time the gameplay was fine too. But time has moved on and so has game design

…

Expand

Despite having a nice steampunk atmosphere, especially in the first part of the game, and an interesting enough story, Syberia lacks good

Despite having a nice steampunk atmosphere, especially in the first part of the game, and an interesting enough story, Syberia lacks good puzzles and game mechanics in order to be considered a great adventure game.
You will find only essential and very simple interactions making the whole game feel empty. You will find yourself running in big, static, prerendered scenarios trying to solve trivial pretestuos puzzles only to fill the gap between the first part of the story and the last one, because all that is in between feels useless.
The voice acting and the music is not bad.

…

Expand

A well-written game in the old style of things. The story keeps alive the feeling of mystery that we used to have when we were kids, when it

A well-written game in the old style of things. The story keeps alive the feeling of mystery that we used to have when we were kids, when it was possible to believe there may be a mysterious land full of adventure hidden somewhere deep in Siberia. In that way, it's a great game. The writing carries it.

But it's a very old game, and it has not aged well. It was made for a large screen, and if you're playing handheld (like my wife and I did), some objects on the ground are almost impossible to see, so at some points you'l have to use a walkthrough because you won't know that you won't know something. In addition, some dialogues and written pieces are painfully long. This was more common back in the day, but today, it sticks out.

All in all, we had a positive experience, but I don't think I would recommend this game to anyone else. It takes too long to sift through the foibles of its age, and the competition with other similar games has grown too stiff.

…

Expand

Incredibly painful game to play. Taking in to account how old this game is - it's still very, very, poorly designed. The story is great.

Incredibly painful game to play. Taking in to account how old this game is - it's still very, very, poorly designed. The story is great. Voice acting good. Artwork pretty good for the time. But the game design and puzzles are absolutely atrocious. I can't count how many times I entered a screen just to end up running back to the same screen I just left because of poor directional design on travel. The puzzles are all stupid easy, or stupidly difficult because they poorly to communicated a basic premise - at best they are "go fetch" puzzles. And don't get me started on hidden areas, I often had to run in all possible directions of every, single, area screen to find the next place to visit.

…

Expand