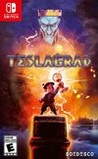 Summary:

Teslagrad is a 2D puzzle-platformer, where you play as a young lad who suddenly finds himself embroiled in an ancient conflict that will shake the foundations of his entire existence, and bring a gruesome truth to light.

The game revolves around the use of electricity and magnetism, andTeslagrad is a 2D puzzle-platformer, where you play as a young lad who suddenly finds himself embroiled in an ancient conflict that will shake the foundations of his entire existence, and bring a gruesome truth to light.

The game revolves around the use of electricity and magnetism, and your ingenuity will be put to the test as you employ the amazing technology of the Teslamancers to traverse the abandoned Tesla Tower. The game is completely devoid of both text and dialogue, and prefers to tell the story purely through visual means.

…

Expand
Developer:

Rain Games

Genre(s):

Action

,

Platformer

,

2D

# of players:

No Online Multiplayer

Cheats:

On GameFAQs

Rating:

E
If the whole games as art thing is close to your heart, you are looking for a puzzle platformer or semi-Metroidvania experience or you simply want something a little a different after finishing Doom, Mario Odyssey or Xenoblade Chronicles 2, Teslagrad is one of the best options available on the Nintendo Switch.

Teslagrad is an experience any puzzle-platformer fan won't want to miss. Even for someone who isn't a Metroid-Vania fan, it was hard to force myself to go to bed. I ended up playing the final hour of the game at 2am because it was too exciting to leave for the morning. It was a perfect ending to a fabulous game. If you're new to the indie scene and looking to get your feet wet this is the perfect game to get you started.

Teslagrad is an excellent platform inspired by the classics of the metroidvania genre, with focus on exploration and puzzles. There are some minor shortcomings, such as some uninspired boss fights, but the title from Rain Games is still a worthy addition to the rich roster of indie games on Switch.

From the moment Teslagrad begins you are instantly filled with the feeling that you are about to play something pretty special. The world around you is truly beautiful and the platforming puzzles are great fun to ponder over. A few difficulty spikes – particularly in the game's boss fights – distracted us slightly from the game's hypnotising ways but we had a wonderful time nonetheless.

Teslagrad is a fun little adventure that works well on the Nintendo Switch. Its forgettable story is easily forgiven since smart puzzles, a well-designed map, and carefully hidden collectibles extend the life of the game. Frustrating bosses and the occasional poorly designed level bring down the experience, but not enough to quell Teslagrad's electromagnetic current. Fans of Metroidvanias looking to work their brain and reflexes should enjoy what Teslagrad has to offer.

Teslagrad takes the single premise of magnetism and stretches it out through a good three to four hours of gameplay. The main character's abilities to manipulate the environment pave the way for incredibly clever puzzles. Controlling the boy and moving objects aren't always predictable or intuitive, making some challenges feel artificially difficult. Nevertheless, the title has made a positive jump over to the Nintendo Switch and is recommended for fans of 2D Metroidvania platformers.

Teslagrad is a fun puzzling experience from Rain Games and one that seems perfect for on-the-go play thanks to the numerous puzzles and the regular auto-saving checkpoints, meaning it's perfect for pick up and put down style play. The graphical style has transitioned fantastically to Switch, too, looking absolutely stunning in portable mode. This is definitely a pleasing addition to the Switch's extensive port library.
This review contains spoilers

, click expand to view

. Sinceramente, poucos sabem, mas sempre fui louco por jogos indies. Se pensarmos bem, games como Sundered, Cuphead, Hollow Knight e The Wonder Boy and The Dragons Trap sempre saem de estúdios pouco conhecidos e se tornam um sucesso tamanho que fica difícil acreditar em tanta qualidade. Claro que nem todas as ideias de desenvolvedoras independentes se tornam algo tão bom quanto o esperado, mas há alguns jogos que, mesmo trazendo uma série de elementos comuns, conseguem chamar nossa atenção por algum detalhe. Teslagrad, originalmente lançado em 2013 para PC e Mac, também foi lançado para PS3, Nintendo Wii U, PS Vita e PS4. O Switch foi o último console a ganhar o joguinho e é nele que fizemos os testes para essa análise.

Para começo de conversa, apesar de ser mais puzzler do que necessariamente plataforma, também há elementos de aventura. Os cenários são muito bem produzidos e parece que estamos em uma Inglaterra vitoriana. As mecânicas são básicas e semelhantes a maioria dos títulos de plataforma. O início se passa de uma forma mais plataforma do que puzzler. Estamos caminhando em telhados escuros em uma cidade europeia envelhecida, sombria e envolta numa espessa neblina de fumaças. Alguns guardas aparecem e tentam nos impedir de chegar à torre Testla. Chegando nela, vemos um mapa com indicação das câmeras, corredores e elevadores, e não temos ao nosso dispor um ícone que marque o exato ponto onde nos encontramos, nem indicação de pontos de interesse que tenhamos visitado. Parece ser a intenção dos produtores em evitar expor o conteúdo desnecessariamente forçando a famosa exploração.

Estamos diante de um título, diga-se de passagem, norueguês, desenvolvido pela Rain Games. Esse estúdio sempre almejou fazer jogos simples que possuíssem cenários criativos, desafiantes e originais. Hoje em dia, a maioria das pessoas leva muito em conta as horas gastas em jogos altamente complexos independente se este tem gráfico de última geração ou é um simples jogo indie que possa divertir.

Apesar de um jogo indie, Teslagrad tem seu foco principal nos Puzzles. Aqui você controla um jovem garoto que encontra armas com tecnologia TESLAmanacer - e que são eletromagnéticas, e por este nome estranho das armas, parece que há uma certa homenagem do jogo à Nikola Tesla. Quem fez a revolução elétrica no mundo? Aposto que você diria Thomas Edison, certo? Mas não, não foi ele. Quem realmente inventou esta e muitas outras coisas que se atribuem ao eletro-magnetismo foi Nikola Tesla, o mesmo homem que possui uma unidade de medida para medir a densidade do fluxo magnético, uma cratera na lua, um asteroide e o maior prêmio de engenharia elétrica do mundo. Este foi um famoso cientista que teve muitas contribuições importantes para o campo do eletro-magnetismo e poucos sabem disso. Então acredito que o nome do jogo seja uma singela homenagem ao físico.
Uma destas armas tecnológicas é o uso de uma luva magnética com opção de atração ou repulsão, os efeitos criam situações de união e afastamento de plataformas ou objetos, gerando traçados para os quebra-cabeças que estão à sua frente. Como tudo que utiliza de magnetismo, há cargas negativas ou positivas. As leis básicas são válidas: cargas idênticas se repelem, cargas opostas se atraem. É com essa luva que acaba acontecendo a magia do jogo passível de tamanha imersão quando o assunto é interação, e até a forma de combate contra poderosos inimigos de fase se torna algo encantador. Hoje em dia, títulos desafiantes são convidativos. Veja o caso de Sundered e Cuphead. Aparentam ser jogos fáceis de terminar, mas devemos combinar são um pé no saco em certos momentos, correto? É aí onde a Rain Games apostou suas fichas em um sistema de dificuldade progressivo, de modo que os puzzles e os vilões vão ficando mais inteligentes com o passar do tempo. Parece que esse emaranhado de campo eletromagnético envia uma certa mensagem ao próximo boss ou quebra-cabeça. Tipo, se seu personagem derrota um boss aqui, aparentemente ele encaminha uma mensagem ao próximo chefe de fase do tipo: ''Eu fui derrotado assim, não caia nessa também", e aí, se tentar a mesma mecânica para derrotar o segundo boss, vai ter muito o que repensar em suas ações. Dificilmente há combates em Teslagrad. Na maioria das vezes, seu personagem apenas estará tentando sobreviver, e não necessariamente com foco em derrotar os inimigos.

Teslagrad é muito melhor do que o esperado. Apesar de um mero jogo 2D, possui qualidades tão distintas que deixará muitos jogadores de cabelo em pé. Mesmo que nossa análise tenha sido efetuada no Nintendo Switch, não sentimos problemas de performance ou quedas de framerate.

…

Expand

Captivating history, beautiful graphics, intelligent mechanics and the desire to always want to play more and more to learn more about the

Captivating history, beautiful graphics, intelligent mechanics and the desire to always want to play more and more to learn more about the game universe....this defines what Teslagrad is. A great indie game, and another great metroidvania for those who enjoy the style.

…

Expand

Simply draws you in kind of fun. Unique in it's atmosphere and style with solid interesting mechanics based around some nifty magnetism and

Simply draws you in kind of fun. Unique in it's atmosphere and style with solid interesting mechanics based around some nifty magnetism and worth getting for that alone. This is the type of game perfectly suited to being played on the Switch when on the go as you can pop in and out easier than the other popular titles which feel like they need to be played in the dock.

Only detractors are the odd lack of polish on some boss fights which betray this game as the indie title it is. That said, I've spent much more time playing this than other highly praised Switch release titles which just didn't grab me the way this did. Games above all should draw you into a world of fun and on that count I'm agreeing with the critic reviews and giving this the high score it deserves.

…

Expand

Great atomospheric world with some genuinely decent platforming challenges. Love the sci fi / soviet vibes and the controls are tight. Very enjoyable.

It's an ok. After a while the fun wears out a little. It has mediocre controls. Jump button doesn't respond well. Also some mechanics, boss

It's an ok. After a while the fun wears out a little. It has mediocre controls. Jump button doesn't respond well. Also some mechanics, boss fights and/or platforms are very very tedious. Doesn't hold your hand at all. You can get lost not knowing where to go or what to do.The story is a mehh! The Art , visuals and music/sound are great. But what makes a game great is its performance and in this game is lacking a lot. Good ideas , bad execution.

…

Expand