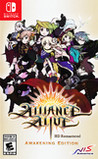 Summary:

An age of darkness has befallen the world. The Dark Current, a cataclysmic event caused by the Daemons' emergence, has decimated the population and divided land into separate regions, leaving the survivors to be subjugated by Daemonic overlords.
Developer:

Cattle Call

Genre(s):

Role-Playing

,

Japanese-Style

# of players:

No Online Multiplayer

Cheats:

On GameFAQs

Rating:

E10+
Nearly two years on from its initial release, The Alliance Alive HD Remastered proves to be a perfectly competent port of an already fantastic handheld game. A well-written story, a smartly interwoven and complex system of gameplay mechanics, and a distinctive visual style makes this a no-brainer for anybody looking for a consistently high-quality RPG experience on their Switch. It may feel a little simple, given its origins on the 3DS, but don't make the mistake of passing up on The Alliance Alive HD Remastered, it's well worth your time.

I love The Alliance Alive HD for so many reasons that the laughably simple gameplay was a non-issue. The characters are vibrant, the world is fascinating to explore, the aesthetics are gorgeous, and the game perfectly straddles that line between indulging in nostalgia and modernising what it needs to to retain relevance. It's the kind of game that looks like it would be easy to dismiss or overlook as being something too indebted to yesteryear, but in truth it deserves much greater respect than that.

A great 3DS JRPG title gets a crispy clear remaster. Higher Definition simply asks for appreciation, as The Alliance Alive brilliantly implements its cute style into the game world. Great mechanics, music, and characters, make this a classic you should at least try now when it's available on more than one platform.

Despite the flaws in story and system, overall The Alliance Alive HD Remastered was compelling from start to finish, and I have a feeling I'm not done with it yet. Two separate new game plus modes let you keep trucking, but there's plenty of content I had left untouched. While you can blast through the main story in under 30 hours, this is the kind of game where fanatics might double their playtime. Players looking for something classic, yet new, will love this game, but it won't satisfy everyone. The Alliance Alive HD Remastered is just a few tweaks away from being amazing, but it's the perfect example of a rainy day JRPG.

A mediocre remastering of a remarkable JRPG video game that, after passing through 3DS in digital format, tries again on PS4 and Nintendo Switch.

For better or worse, The Alliance Alive is the very definition of a mid-tier RPG. The visuals and story fall under the line of "good enough" that they don't necessarily have to aim for greater heights, while the content is practically bursting with customizable features and mechanics that will drive stat-lovers into a joyous frenzy, even though the time it takes to reach to the juicy center is a bit on the long side. It's an overall solid experience and yet another badge to pin on the Nintendo Switch for its outstanding service of the RPG genre.

While there's nothing terribly wrong with The Alliance Alive, there's nothing particularly right with it either. Those who want some JRPG gristle to chew on will find it adequate, but anyone who missed it last time can skip it without regret this time, too.
For the life of me, I honestly don't get the average to low review scores for this game. It's hands down one of my favorite JRPG's and ranks

For the life of me, I honestly don't get the average to low review scores for this game. It's hands down one of my favorite JRPG's and ranks right up there with Persona, Final Fantasy, Bravely Default, etc. I loved the characters, story, environments, combat, and music. I was hooked from the start and constantly impressed by every aspect of the game. The random nature of leveling up and gaining new skills was fresh and was never a problem for me. Admittedly, I wasn't sure at first if I'd like it, but I quickly grew to love it and stat increases and new skills came frequently enough for me to begin to prefer this system. On top of that, the option to choose your parties combat formation added an extra layer of depth to strategy that I absolutely loved. This game literally made me, for the first time, appreciate using characters whose primary roles and weapons were shields and defending. Additionally, the combat and grinding could be sped up and was never an issue.

There's several difficulty spikes throughout and the lack of voice acting was admittedly strange during cutscenes — definitely felt lacking. But the OST, gorgeous art work and character design, and emotional and interesting story more than made up for that. I loved this game. I took my time with it and by the end felt super accomplished, sad to part ways with the characters I'd grown to love, and so happy I took a chance on it.

…

Expand

This remastered edition shines on the Nintendo Switch. Graphics are crisp and clean and especially the sound is remarkable. There is this aura

This remastered edition shines on the Nintendo Switch. Graphics are crisp and clean and especially the sound is remarkable. There is this aura around the whole game, that makes it all feel like a dream. Well recommended!

…

Expand

The Alliance Alive HD Remastered me ha encantado, siendo una gran sorpresa. Es un JRPG que me ha parecido especial. El sistema de combate,

The Alliance Alive HD Remastered me ha encantado, siendo una gran sorpresa. Es un JRPG que me ha parecido especial. El sistema de combate, aunque tiene sus carencias, engancha y es muy gratificante. Los gráficos, son bonitos, pero se nota que es un remaster de 3DS. La música, el rendimiento y los controles son buenos. La historia es entretenida y me ha gustado. Tengo que destacar los personajes y el sistema de reclutamiento. Me ha parecido una propuesta muy original, y me he divertido mucho reclutando todos los secundarios y distribuyéndolos por los diferentes grupos. Si te gusta este género, me parece una propuesta muy entretenida y diferente. Muy recomendable.

…

Expand

Como remaster mejora varios aspectos con respecto a la versión de 3ds que hacen el juego mucho más atractivo. Una pequeña mejora en la nitidez

Como remaster mejora varios aspectos con respecto a la versión de 3ds que hacen el juego mucho más atractivo. Una pequeña mejora en la nitidez de los gráficos, un turbo MUY necesario en las batallas (que creo que el original no tenia)...
Sin embargo, el juego sigue siendo un juego de 3ds. Podrían haberse añadido cosas como voces en las escenas ya que resultan bastante sosas, y incluir nuevas melodías, cosa que es uno de los puntos más débiles del juego.
Los puntos negativos aparte de lo dicho: "la música, no hay música de batalla como tal, ni de victoria, acabando en muchas situaciones como un continuo que acaba cansando. Las mazmorras comienzan siendo interesantes, pero acaban convirtiéndose en algo muy lineal, una progresión pasillera de luchar contra los mismos enemigos una y otra vez. El sistema de evolución de personaje es el típico de "SaGA", si te gusta disfrutaras este juego, si no te gusta... aún así es una buena opción ya que es de los mejores juegos con este sistema. Hay muchísima parte opcional fácil de perderse debido a tener que revisitar todas las localizaciones una y otra vez cada dos por tres ya que no hay ningún tipo de indicación por las que deba aparecer algo. La dificultad del juego resulta también desequilibrada, en parte por el sistema de evolución.
Como puntos positivos, si te gusta el sistema de combate y evolución de "SaGa" este es de los mejores juegos al respecto. La historia esta bien y los personajes también aunque no sean nada rompedores. El juego tiene una tremenda rejugabilidad, con dos modos de Juego Nuevo +.
Es un buen juego pero debes valorar tus propios gustos para saber si es para ti o no. Eso sí, considéralo como un juego de 3ds, no de switch.

…

Expand

A solid, but mediocre JRPG without any exceptional highlights, but quite a few shortcomings.

On the plus side, there's a lovable cast and aA solid, but mediocre JRPG without any exceptional highlights, but quite a few shortcomings.

On the plus side, there's a lovable cast and a quite engaging story with some (sadly sometimes foreseeable) twists.
Visuals are technically solid and the style fits well, the music however is on the lower end and often feels quite off.

The gameplay systems work okay for the most part. but promise a large amount of tactical depth which they simply can't deliver. Apart from a handful of story-forced situations, there's no incentive to switch between the members of the fairly large cast, exploration is seldom rewarded, equipment upgrades feel lackluster, the talent and ability systems are imbalanced and grindy, formations are fun, but you're actually punished for experimenting with them, as your character's abilities level up separately for each of the 3 positions.

Combat is okay-ish, with speed-up and auto-battle (which btw has glaring oversights that make it near unusable in non-trivial situations - healing spells don't remember on whom they were cast and are instead always cast on the caster themselves - and not being able to see your party's status while auto-batlle is active doesn't help either), but often feels meaningless from a challenge standpoint, as you're auto-healed after each battle (apart from some special situations). Overall the difficulty is rather low, apart from a few situations where it suddenly spikes into nearly one-shotting your party. I already mentioned balancing problems, did I?

All in all, I don't regret playing it, but I definitely won't bother with any of the new game + modes. If you really like JRPGs and don't mind the balancing issues give it a try when it's on sale, otherwise, don't bother.

…

Expand

I really wanted to like this game but there are just too many glaring flaws.

Graphics - 7.0 Nice art design. Probably the best part of theI really wanted to like this game but there are just too many glaring flaws.

Graphics - 7.0

Nice art design. Probably the best part of the game.

Music - 5.0 Not one track that was memorable. Story- 6.0 Not bad by any means but nothing stood out as really well done either. I did enjoy the cast of characters.

Gameplay - 3.0 the most important part of any game. Terrible design choices and one of the worst progression systems I've ever encountered. Too many enemies to wade thru when you're just trying to get from point a to point b. Lack of direction adds to this.

Overall - 4.0 A highly forgettable RPG on a system that has plenty of excellent choices. Pass on this one.

…

Expand