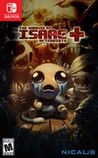 Summary:

The latest expansion to The Binding of Isaac: Rebirth features: 55+ new items, new final chapter with boss and ending, new playable character, greed hard mode, daily greed runs, 5 new challenges, loads of new achievements, new bosses and other little editions, plus new dev tools! so you can

The latest expansion to The Binding of Isaac: Rebirth features: 55+ new items, new final chapter with boss and ending, new playable character, greed hard mode, daily greed runs, 5 new challenges, loads of new achievements, new bosses and other little editions, plus new dev tools! so you can design, edit and play and endless number of mods, features and whole new games that the community will no doubt eventually design.

…

Expand
Developer:

Edmund McMillen, Nicalis

Genre(s):

Action

,

Shooter

,

Shoot-'Em-Up

,

Top-Down

# of players:

No Online Multiplayer

Cheats:

On GameFAQs

Rating:

M
The final chapter of the Isaac series has arrived, and what a wacky, bare-buns ride it's been. [Issue #27 – May/June 2017, p. 69]

The Binding of Isaac: Afterbirth+ is my favourite version of the game having played it across literally everything it has released on.

The Binding of Isaac Afterbirth+ on Switch isn't just a brilliant port - it's arguably the best way to enjoy a modern roguelike classic.

I think the game is supremely enjoyable, but it's not for everybody. Now if you'll excuse me, I have to travel through Mom's Scarred Womb and destroy what appears to be a giant fetus before taking on Satan. Toodles!

Too weird and repellent for a mainstream audience, too brilliant for any serious gamer to ignore, The Binding of Isaac has found a surprisingly natural home on Switch. It's ideal for short bursts and longer sessions of handheld play, and the sort of title that only gets richer and more interesting the more hours and effort you put in. Edward McMillen's cult classic isn't for everyone, but if it's for you there's no better way to play it.

The Binding of Isaac: Afterbirth+ is the most updated console version and features two-player co-op. With both Joy-Con, there is a lot of game here to play with someone friendly. With over 10 endings and a seemingly endless amount of unlockable content/features, expect to get far beyond 100 hours logged in. For its price, The Binding of Isaac: Afterbirth+ pretty much has it all and more thanks to the Switch hardware. For some it may become a grind, and others may never be able to get past Edmund McMillen's wonderful sense of humour. Those who get beyond those quibbles will have one of the most addictive and creative indie games in their pockets and on their TV.

The points that makes the game special are the endless ways to reinvent it and the many forms to take a walk on your own path of chaos. This Nintendo Switch Version is a good way to upgrade "the Binding of Isaac Experience" which brought us Edmund Mcmillen 6 years ago. Perfect for those who never played it or who just simply want to have fun anywhere.
This is the ULTIMATE version of The Binding of Isaac and has all the DLC and expansions. The pre-order version or first 2,000+ copies have an

This is the ULTIMATE version of The Binding of Isaac and has all the DLC and expansions. The pre-order version or first 2,000+ copies have an instruction booklet, stickers, and a reversible box sleeve/artwork. The game is amazing fun and with all the random dungeons, will provide hundreds of hours of gameplay. Having this on a cartridge (which is how I purchased) helps save space on the internal memory. The expansions are simply more of the original and add quantity to the experience. As an indie game it feels big budget. With Best Buy's GCU discount, I got it for $31+tax. Well worth it for a boxed version with cartridge and limited edition instruction manual. Reminds me of gaming in the early 90s.

…

Expand

This game is awesome. Edmund McMillan made perfect DLC. I love how this game feels. There's a lot of modifications, and other interesting

This game is awesome. Edmund McMillan made perfect DLC. I love how this game feels. There's a lot of modifications, and other interesting stuff... Random generation, a lot of monsters, unique story idea, bosses, different endings. I played it a lot, and i still having fun by playing it.

…

Expand

The Binding of Isaac: Afterbirth is on my top 10 games of all time. There is so much game packed into this small cartridge. There are

The Binding of Isaac: Afterbirth is on my top 10 games of all time. There is so much game packed into this small cartridge. There are secrets, an abundance of items, bosses, and secret bosses galore. When I check my playtime, I've literally put 110 plus hours into this game and about 90 plus into Breath of the Wild. Isaac keeps pulling me back with the various potential power up synergies, then you have the daily challenges and Greed Mode. The fact that we have this portable, plus all the official expansions, not even the PSVita was up to snuff to allow for the expansions. I cannot and will not stop playing this game. When all is said and done I'll probably have a total of 500 plus hours into Isaac. This game is totally worth the price of admission. To be honest I bought both the physical copy because of the packed in goodies and the digital copy because I constantly go back to this game and never wanted to switch out cartridges.

…

Expand

The Binding of Isaac is a game that has escaped my attention over the years. I knew of its existence, I knew it had a significant following

The Binding of Isaac is a game that has escaped my attention over the years. I knew of its existence, I knew it had a significant following and was popular - but something about it never grabbed my attention and, despite having already picked up the game for my PS4 some time ago through PSN plus, I have never given it the time it deserved ... for that, I whole heartedly apologise!

When I realised this game was coming to Switch I decided to give it the chance it deserved, and purchased the game through the Nintendo Store the moment it became available.

Nearly 200 hours of playtime later, I am completely and utterly hooked.

The concept is simple ... Anyone who has played games as long as I have can immediately see the apparent influences on this top-down dungeon crawler ... ... you will have played games with similar mechanics at some time in your life ...

Initially, this game does not require any further explanation beyond the doodles you see on the floor of the first room you enter ... "move", "shoot", "bomb" ... dont let that fool you, though. Every hour spent in this game you will encounter something surprising.

Several hours in you will begin to see the real beauty behind this game. The way the various items you collect can improve or ruin your run ... how the various items can interact with each other to give each run a unique feel. The hidden secrets, such as multiple endings, unlocks, secret levels, bosses, and the like.

As I am slowly reaching the point that I feel I have seen all I want to see, I left with the realisation that this is not a game that is ever going to leave me. I know that, from time to time, I will pick up Binding of Isaac and lose a few hours to see what the game has in mind for me at that given time.

This is a true classic ... and I am just ashamed it has taken me this long to realise it despite having access this game for longer than I care to admit.

…

Expand

The definitive way to play The Binding of Isaac. A great way to pass the time, for a long time too considering the amount of content in this

The definitive way to play The Binding of Isaac. A great way to pass the time, for a long time too considering the amount of content in this game. Easily recommend this game to a wide variety of gamers.

…

Expand

My first introduction to a Rouge-like game and I'd have to say i was impressed. I loved the dungeon crawling feel to the game. A LOT of

My first introduction to a Rouge-like game and I'd have to say i was impressed. I loved the dungeon crawling feel to the game. A LOT of different power up combos to try out keep you coming back for that one run you know you will get that is either super fun or OP so you can beat the game/run with confidence. I thoroughly enjoy the time i put into this game and it doesn't feel like wasted time. This game makes me want to try other Rogue likes.

…

Expand

After several hours of playing, I wanted to stab my eyes out. The fact that the layout changes after you die makes it feel pointless and

After several hours of playing, I wanted to stab my eyes out. The fact that the layout changes after you die makes it feel pointless and futile. Too much like real life. Add to that the fact that this is basically an Adobe Flash game that costs $50 and I just don't get why people rave about it. I made the mistake of buying the digital edition from the Nintendo Store, so there's no way to return or sell it. Now it is forever stuck on my home screen reminding me of my poor life choices.

…

Expand