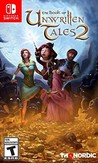 Summary:

A new adventure from KING Art, the creators of The Book of Unwritten Tales, The Critter Chronicles and The Raven - Legacy of a Master Thief.

- A fantasy story with over 20 hours of pointing and clicking - The trademark BoUT-humor, lovingly spoofing LotR, Game of Thrones, Harry Potter,A new adventure from KING Art, the creators of The Book of Unwritten Tales, The Critter Chronicles and The Raven - Legacy of a Master Thief.

- A fantasy story with over 20 hours of pointing and clicking
- The trademark BoUT-humor, lovingly spoofing LotR, Game of Thrones, Harry Potter, Discworld, The Hobbit, WoW and more
- Hundreds of weird, yet oddly logical puzzles
- The well-proven 'Multi-Character-Gameplay'
- An ensemble of quirky characters, both well-established and brand-new
- Projection Mapping technology unites the merits of 2D and 3D styles and technique
- An epic soundtrack with all the classics and many new compositions
- The established four playable characters Wilbur, Nate, Ivo and Critter

…

Expand
Developer:

KING Art

Genre(s):

Adventure

,

Point-and-Click

# of players:

No Online Multiplayer

Cheats:

On GameFAQs
Humorous and silly, yet deep and logical in its themes and puzzles, The Book of Unwritten Tales 2 remains one of the best adventure games of the new wave that has led the comeback of this genre in the latest years.

The Book of Unwritten Tales 2 is a laugh-filled adventure game that'll have you chuckling away at its parody of the fantasy genre. It might sometimes stay too faithful to its point-and-click forebears, but its world and characters are utterly charming.

A classic point'n click adventure that works pretty well despite some control issues.

Returning to Aventasia was a delight. I revisited all the sights I loved and caught up with the good folk who made my last foray into their lands such a joy. The fact everything looks exactly like it did all those years ago was a comfort, but I couldn't help but think they really should have given the place a bit of a spruce up after all this time.

The Book of Unwritten Tales 2 becomes the perfect temporary title for those looking for games with different experiences. An indispensable offer for fans of Point & Click classic games like Grim Fandango or Monkey Island.

The Book of Unwritten Tales II feels like a game from another time and place, with some dated humor and needlessly frustrating gameplay moments, but there is an endearing charm to the story and some smart (if occasionally illogical) puzzles to solve. If you are hungry for a return to the days of games like The Secret of Monkey Island and Simon the Sorcerer, then you can't go wrong with The Book of Unwritten Tales II.

The Book of Unwritten Tales 2 deserves a lot of praise for its top notch humour coupled with references to fairy tales and contemporary pop culture, as well as for its defying (and frustrating) puzzles, well-written plot and art style. The game would rank even higher if it featured touch screen controls, a flaw that clearly stands out in a point and click game, and if its selling price was closer to versions of the same game in other platforms. Despite these factors, this is easily one of the most fun games that the Nintendo eShop catalogue has to offer.