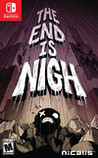 Summary:

The End Is Nigh is a sprawling adventure platformer where the player takes control over Ash, one of few "things" that have "survived" the "end of the world." Follow Ash as he flops his way through a future of pain and suffering. Feel his stress levels rise as you throw him into an endless

The End Is Nigh is a sprawling adventure platformer where the player takes control over Ash, one of few "things" that have "survived" the "end of the world." Follow Ash as he flops his way through a future of pain and suffering. Feel his stress levels rise as you throw him into an endless swarm of decaying, mutant animal-like creatures and help aid his final epic quest...to simply make a friend (out of pieces of people he finds along his journey). [Nintendo]

…

Expand
Developer:

Nicalis

Genre(s):

Action

,

Platformer

,

2D

# of players:

No Online Multiplayer

Cheats:

On GameFAQs

Rating:

M
Please enter your birth date to watch this video:
You are not allowed to view this material at this time.
The End is Nigh - Gameplay
Nintendo Force Magazine

Jan 7, 2018

It's a perfectly designed game. [Issue #31 – January/February 2018, p. 24E]

The End is Nigh is a marvelous and challenging game, and is both familiar but also somewhat alien for fans of both Edmund McMillen and Tyler Glaiel's past works. Its excellent level design and numerous hidden secrets and challenges will offer those willing to take it on hours upon hours of grueling, satisfying gameplay.

It's not for everyone. My feeling is that if you got through Super Meat Boy, you'll also enjoy The End is Nigh. It scratches the same itch, but it feels like a harder game. I enjoy figuring out how to get through any given stage, but making it happen is where the challenge is. It's a great feeling when you come to a stage and say "how in the world…" and then beat it a few minutes (and several dozen deaths) later. Personally, I love this game to death even if it does feel like beating my head against the wall sometimes.

The End is Nigh is chock-full of content that any hardcore platformer will enjoy. There are hundreds of tumours to collect, and over a dozen game cartridges to search for, along with nonlinear paths that require some exploration to find. The controls are wonderful, and besides a minor adjustment period, feel precise and responsive. Complete with multiple environments and hundreds of levels, the journey to unite Ash with friends and his favourite video games is a rewarding one that is definitely worth checking out.

Like a spiritual successor to Super Meat Boy, The End is Nigh takes form as a similar 2D side scrolling platform game. By adding an interconnected world to the mix, it encourages exploration, while still delivering that same hardcore and challenging experience.

It's really tough to follow-up Super Meat Boy, but Edmund McMillen and Tyler Glaiel did it nonetheless with a dreary challenging platformer.

If Super Meat Boy is Edmund McMillen's gold medal then The End Is Nigh receives a bronze at best. With repetitive gameplay and unintuitive progression, you won't be missing out on much by not playing this 2D platformer.
My god where to start, Ed you hit this one out of the park it is a awsome but brutal 2d platformer that is a dream to come back to and

My god where to start, Ed you hit this one out of the park it is a awsome but brutal 2d platformer that is a dream to come back to and speedrun or find collectables often. The multiple cartridges add smaller bonus challenges some of which are way too hard for me and are barriering me from passing 99% but this foes not change anything and it is my favourite 2d platformer of all time beating the likes of mario world, mario 3, sonic 1-3 and even celeste for me I've poured my life into the switch version and it runs amazingly with no slowdown. In typical ed fashon this game is dark setting place in the end of the world where you play as a sentient blob called ash who plays games on his bootleg nes, getting tired of the lonliness and monotony of daily life he sets out to "make" a friend by finding a head body and heart to put together to literally make his own friend. Next this game is a dream to play ash responds immediately to your inputs and plays so simply but with practice you can get him to do some really cool things. As for collectables there are the main collectables called tumors 1 of which can be found in each level of the first half of the game and bonus bundles of 5 can be found by exploring the world to find them all. There are also cartridges that you can use to play on your console at ashs house that play recreations of the world in an 8 bit format with new more challenging levels and bonus missions for each. To wrap up this game is an underrated gem that you should definitely pick up and lets hope ed makes that dlc he mentioned.

…

Expand

Muito melhor que Super Meat Boy. Parabéns ao desenvolvedor pelo trabalho. Com um história muito interessante e com níveis quase impossíveis, o

Muito melhor que Super Meat Boy. Parabéns ao desenvolvedor pelo trabalho. Com um história muito interessante e com níveis quase impossíveis, o jogo te vicia muito rápido.

…

Expand

me parece demaciado épico, lleno de secretos que buscar y muy rejugable. una historia entretenida.

This game is a must play if you like 2D platformers for a pure platforming experience. If you do not like these games, I would NOT recommend

This game is a must play if you like 2D platformers for a pure platforming experience. If you do not like these games, I would NOT recommend playing this game. It's very difficult. The music, however, is some of the best in any game I've ever played.

…

Expand

This game is a masterpiece. It's the challenging, spiritual successor to Super Meat Boy. I have never been good at games like Super Mario Bros

This game is a masterpiece. It's the challenging, spiritual successor to Super Meat Boy. I have never been good at games like Super Mario Bros nor did I very much like them. I found them repetitive and literally the same thing but with new items and such (I liked the 3d games, though). But Super Meat Boy. Oh boy. That came around and I loved it. I didn't actually beat Super Meat Boy until last year, though. I really am not good with platformers. And I still haven't beaten The End is Nigh. But there are so many reasons I stick with it. For instance, the music. The music is definitely one of the best parts of the game. Being the spiritual successor to Super Meat Boy, they needed to also have very good music. Despite the music being by completely different composers, they are kind of similar. The end is nigh doesn't have original music, instead it has remixes of 19th and 18th century music. It can go anywhere from insane to calm, loud to quiet, etc. My favorite song? SS Exodus. It is based off of Tchaikovsky's Marche Slave. And they made it so much better. And the platforming, oh my! A section may make you think "HOW IS THAT TUMOR POSSIBLE TO GET?!?!?", well, you learn in this game. You will remember levels by memory and can beat a level on your first try at some point when the first time you did it, it took you more than 50 tries. I could say so much more about this amazing game. But I'm not gonna. You should try this game out yourself.

…

Expand

Snappy Game Reviews - So close, yet so far

The End is Nigh is a brand new hardcore adventure platformer by Edmund McMillen, the man behindSnappy Game Reviews - So close, yet so far

The End is Nigh is a brand new hardcore adventure platformer by Edmund McMillen, the man behind such classics such as Super Meat Boy and The Binding of Isaac. In this game, the player takes control of a one-eyed blob named Ash who's one of the few beings to survive the end of this world. Tired of feeling lonely, Ash decides to venture out into what remains of this world in the hope to build (yes, build) himself a friend from other people's remains.

This post-apocalyptic world is broken into over a dozen different themed zones, each comprised of single-screen levels for you to master. Since Ash is missing any kind of limbs he can only rely on two core abilities, jumping and hang on to ledges by his eye socket, yes, the fact that the main character is missing an eye is integrated into the gameplay. The more limited array of moves makes for an overall more cautious and methodical approach to each and every platforming challenge which felt quite refreshing.

This was far from my wrongly preconceived notion that The End is Nigh was going to be more of the same Super Meat Boy style of gameplay with a sombre tone. Each screen felt like a little self-contained puzzle in the grand scheme of things and more often than not I would find myself analyzing the whole stage, looking for ledges that I could grab on to and learn enemy patterns before making the first move. This doesn't detract from the complexity of the level design, in fact, I'd go as far as to say that the ones in this game felt more well balanced, cohesive and fun to me than the ones in Super Meat Boy while retaining the same high pedigree platforming and tight controls.

With that said though, the game is still quite the endeavour. Aside from the first world that serves as a tutorial to get things going than anything else, The End is Nigh will put your nerves to the test with extremely tricky platforming bits and insane enemy placement. Throughout my 10 hour playthrough though none of the stages felt cheap or unfair. In fact, deaths felt more like a slap in the hand than a punch to the gut due to how short each level is and how fast the game respawns you back into the action, giving you that urge to give it one more go in the hopes that this time you'll finally be able to make it through. This feeling was especially true while playing the game outside of the house during lunch breaks, every time I had 10-15 minutes to spare I'd grab my Nintendo Switch and beat a couple of stages before getting back to work making this version the definitive way to play this game. Besides the staggering amount of levels, more than 600, there are also some goodies for those that master the game such as retro mini-games with in-game achievements of their own and a couple of alternative endings.

In terms of presentation, we have a very simple but polished artistic design that takes us for a ride in this grim, brooding world with very few colours and filled with bizarre-looking creatures regardless of whether you decide to play it on the go or docked on your big TV. This more simplistic design choice not only functions as a way to instantly immerse you in the game but is also used in tandem with shadows to conceal secrets such as tumours, the main currency in the game, in unpredictable places. Another highlight is the stupendous soundtrack that borrows many classical music themes known to all and remixes them in a surprisingly catchy way while staying true to the overall theme of the game.

The End is Nigh is without the shadow of a doubt a must-own for anyone who's thoroughly enjoyed any of Edmund's previous work and a perfect fit for the Nintendo Switch. It masterfully encapsulates the grim overtone of The Binding of Isaac with the tip-top platforming of Super Meat Boy while still having its own identity.

…

Expand

I usually enjoy platformers but didn't get too far with The End is Nigh.

Pros: - Controls were good Cons: - Atmosphere was tooI usually enjoy platformers but didn't get too far with The End is Nigh.

Pros:
- Controls were good

Cons:
- Atmosphere was too minimalist for me
- Game was too difficult for me
- Had to go through entire chapters again to get to a certain stage

…

Expand