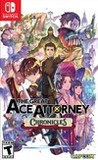 Summary:

With all the fun and drama of the Ace Attorney series set against the backdrop of Victorian-era Britain and Japan, there's sure to be no "Objection!" to the adventures of Ryunosuke Naruhodo as he turns the courtroom upside down. Featuring an intriguing overarching mystery spanning across two

With all the fun and drama of the Ace Attorney series set against the backdrop of Victorian-era Britain and Japan, there's sure to be no "Objection!" to the adventures of Ryunosuke Naruhodo as he turns the courtroom upside down. Featuring an intriguing overarching mystery spanning across two games, it promises to be the most engrossing story in the series yet. [Capcom]

…

Expand
Developer:

Capcom

Genre(s):

Miscellaneous

,

Compilation

# of players:

No Online Multiplayer

Cheats:

On GameFAQs

Rating:

T
Please enter your birth date to watch this video:
You are not allowed to view this material at this time.
The Great Ace Attorney Chronicles - Official Launch Trailer
The Great Ace Attorney Chronicles isn't just a reminder of why the series as a whole is beloved, but also a reaffirmation that video games can be capable of so much more as an entertainment medium. Straddling the line somewhere between book and interactive movie, The Great Ace Attorney Chronicles takes players through case after case packed with wonderful characters, stories, and clever brain teasers. Although adventure games/visual novels aren't everyone's cup of tea, if you've been looking to try one for the first time or give them another shot, this is the game. The Great Ace Attorney Chronicles is a blast.

The Great Ace Attorney Chronicles is the best game in this beloved series, and you owe it to yourself to play it.

The Great Ace Attorney Chronicles is well worth your time, offering one of the most compelling stories on the Switch. It's refined, charming, and engaging, and a great experience for newcomers and fans of the Ace Attorney franchise alike.

Two of the best entries in this excellent series finally make it to the West, even if its missing the translation to other languages like Spanish.

Although it can be tough at times to jump into an era that you're unfamiliar with, The Great Ace Attorney Chronicles masterfully offers all of the gameplay you'd hope for without leaning on other iterations for story content.

This is an impressively complete story. By the end of Resolve, I felt like all of the plot threads had been tied up; that questions that had lingered, some for almost 80 hours, had been answered. While Chronicles moves too slowly at times--especially during the Adventures half--the payoff at the end is worth the wait.

Franchise fans should be psyched to get the two Great Ace Attorney games, and in a polished package. It won't change your mind about these titles one way or the other, unless you have a strong feeling about the period-piece setting. But it does what it sets out to do.
Objection! You don't want to miss this game! Finally after waiting 6 years we have the english dubbed version. It's honestly the best game to

Objection! You don't want to miss this game! Finally after waiting 6 years we have the english dubbed version. It's honestly the best game to get on the switch this year. It's witty, charming and full of mysteries waiting to be solved. The price is perfect for the two games you get. A 10/10 visual novel & adventure game.

…

Expand

It is game is pice of art. Imho, it is the best game in an ace attorney series. The stories, the characters, animations and music are all awesome.

Objectively, the game is a 10/10. It has groundbreaking mechanics that I wish I had seen in later Ace Attorney games (considering they were

Objectively, the game is a 10/10. It has groundbreaking mechanics that I wish I had seen in later Ace Attorney games (considering they were implemented in 3DS before 2 other sequels). The cases are fun, and the mysteries interesting, since you can see that there is a bigger plot, something that in the first trilogy was distributed in all the games in one or two cases, and that felt fragmented and left out.
In this game, the cases are much longer, and that made me a bit tedious, but as a game, honestly, he is the best Ace Attorney. Maybe the crossover with Professor Layton will just outweigh it, but it's a crossover, and it borrowed a ton of ideas from The Great Ace Attorney.

You should ignore most of the negative comments that only criticize the difficulty of the game (which is very good, albeit with a somewhat annoying tutorial).

…

Expand

This is the best game of the series, The story is so good. The soundtrack is one of the best in the series. The writing, the Case, and the

This is the best game of the series, The story is so good. The soundtrack is one of the best in the series. The writing, the Case, and the dubbing is so good. This is the best game that I have played it

…

Expand

Great characters and engaging story makes it one of the best entries in the Ace Attorney series.

They are great games with great soundtracks and you are getting two for the price of one.

Se que es seguro un juego divertido y que me compraria de salida, pero mi voto bronca es porque un juego con tantos dialogos que no pueda

Se que es seguro un juego divertido y que me compraria de salida, pero mi voto bronca es porque un juego con tantos dialogos que no pueda seleccionar español de idioma me parece una pereza de los desarrolladores. Cuando este en español cambiare la nota y seguro lo compre, mientras tanto no..

…

Expand