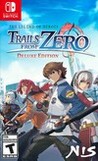 Summary:

The Crossbell State, located in western Zemlya--

Once the site of fierce territorial battles, it has since developed into one of the continent's leading trade and financial centers. However, pressure from the Erebonian Empire and the Calvard Republic is steadily increasing. While corruptThe Crossbell State, located in western Zemlya--

Once the site of fierce territorial battles, it has since developed into one of the continent's leading trade and financial centers.

However, pressure from the Erebonian Empire and the Calvard Republic is steadily increasing. While corrupt officials from both sides remain locked in political disputes, the mafia and underground criminal organizations are preparing to start a war.

In the midst of all this chaos, the Crossbell Police Department has lost the trust of its people.

Among them are Lloyd Bannings, a rookie agent,
Elie MacDowell, granddaughter of Crossbell's mayor,
Tio Plato, a young sorcereress who wields an orbal staff,
and Randy Orlando, a former security guard.

The foursome are assigned to a new department, the Special Support Section, where they are left with no choice but to join forces in the face of adversity.

This is a story about four unlikely heroes fighting to overcome the walls defining their way of life.

…

Expand
Developer:

Falcom

Genre(s):

Role-Playing

,

Japanese-Style

# of players:

No Online Multiplayer

Cheats:

On GameFAQs

Rating:

T
Please enter your birth date to watch this video:
You are not allowed to view this material at this time.
The Legend of Heroes: Trails from Zero - Story Trailer
As one chapter in something that is almost experimental for video games – a genuine epic, spanning decades of game development, a half dozen consoles, and a dozen titles – Trails From Zero is a very fine entry indeed. The rich complexities of the narrative engage the brain, while the charming writing and characterisation also make for an entertaining experience. The story is everything to this series, so it's just as well that is spot on, though thankfully the combat is enjoyable in its own right, and it's all backed by excellent aesthetics. If you are new to The Legend Of Heroes, this isn't a bad place to start. If you're a veteran of the series you must surely love how one of the best games in the series has finally got the full localisation it always deserved.

Trails From Zero is an exceptional JRPG that feels like it's cut from the same cloth as the golden era of the genre when games like Chrono Trigger and Final Fantasy VII were released. Its deep and complex narrative has a strong sense of mystery and isn't afraid to dive into tough topics, all of which make the setting of Crossbell feel that much more realistic. An integral part of this experience is the translation work from the fan group The Geofront, and it's easy to see how the success story of Trails From Zero could serve as a blueprint for bringing even more forgotten JRPGs to the West.

Nintendo Force Magazine

Nov 9, 2022

If you're a fan of JRPGs, enjoy deep interconnected stories and interesting characters, give Trails from Zero a try. There are no more barriers in your way! [Issue #62 – November/December 2022, p. 71]

As a franchise newcomer, I found my entry point with The Legend of Heroes: Trails From Zero utterly fascinating, tantalising, and enjoyable. Within are some of my favourite blending of mechanics and tidbits within turn-based combat I've seen yet. It's a comfy RPG that you can lose plenty of time to, sinking into the moving character narrative, all set within the colourful world of Crossbell. Character models will occasionally show their age and menus are a little funky. Still, it's easy to forgive and just hang out with Lloyd and friends, saving the better part of humanity. Team SSS forever.

The Legend of Heroes:Trails From Zero comes to the west for the first time since its original release on the PSP in 2010. A great remaster work covers textures, sprites, aspect ratio, frame-rate pop-in and obviously resolution. The game is smooth to play and gameplay aids help users to bypass long dialogues and accelerate battle encounters. A deep crafting system and a great story make this classic still enjoyable nowadays.

The Legend of Heroes: Trails From Zero takes us back to the formation of the SSS, an organization Switch gamers will know from the Trails of Cold Steel games. It also takes us back to a relatively simpler system that's perfectly sized for JRPG adventuring on the go.

Redeeming a fantasy metropolitan police department is a strangely pedestrian setup for a JRPG. Forgettable plot aside, Zero features some of the best writing and character narratives in the genre.
Mi prota de trails of favorito.
Si no has jugado Trails from Sky aún podrías disfrutar este juego, pero te aporta mucho porque hay un cierreMi prota de trails of favorito.
Si no has jugado Trails from Sky aún podrías disfrutar este juego, pero te aporta mucho porque hay un cierre de trama en este juego correspondiente a los juegos anteriores.

Si es tu primer RPG de Trails Of
Batallas por turnos divertidas
Trama divertida, es decir, se toman en serio lo que deben tomarse en serio, pero tiene sus momentos cómicos, bien aplicados, es un anime hecho videojuego, pero sin abusar, hay temas oscuros que podrían olvidarse, pero genuinamente esta pasando cosas oscuras detrás de su portada linda y soleada.

Trails of es la mejor SAGA Rpg, ningún juego es malo, y todos están conectados, como saga es imprescindible.

…

Expand

Es un agrado ver por fin los capítulos de Crossbell en occidente, ademas de ser un gran punto de partida para quienes se animen a entrar en la serie

Excellent game. Durante and his team went off and did a fantastic job helping with the official translation. The Switch version is especially

Excellent game. Durante and his team went off and did a fantastic job helping with the official translation. The Switch version is especially beautiful, on the go or docked, a good mix of modern and old school vibes. Can't wait for the next edition of this series, one barrier at a time!! :'))

…

Expand

Worth every penny you spend on it . Just like the other Trails series the battle system is nice . The story is rich and the graphic style of

Worth every penny you spend on it . Just like the other Trails series the battle system is nice . The story is rich and the graphic style of the game is great for any one who played JRPGs back in the day of PS1, PS2 and other handheld system . For any one new to JRPGs you won't be disappointed.

…

Expand

With "The Legend of Heroes: Trails from Zero", fans get a good remake of the series on the Nintendo Switch. The story is exciting and the

With "The Legend of Heroes: Trails from Zero", fans get a good remake of the series on the Nintendo Switch. The story is exciting and the cutscenes are particularly impressive. In addition, there is an interesting battle system and a great sound throughout the game. The various tasks and missions are also fun nowadays and drive you pleasantly through the game. On the whole, The Legend of Heroes: Trails from Zero is a good remake of the series.

…

Expand

this game its not good. too much anooying and the soundtrack is terrible. insane