Publisher:

Nintendo

Release Date:

Sep 20, 2019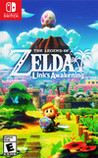 Summary:

[*Reviews will go up on September 19 at 5am Pacific] 26 years after its original release on Game Boy, The Legend of Zelda: Link's Awakening will be reborn as a new experience on Nintendo Switch. Buffeted by a storm, Link washes ashore on the mysterious Koholint Island. In order to return

[*Reviews will go up on September 19 at 5am Pacific] 26 years after its original release on Game Boy, The Legend of Zelda: Link's Awakening will be reborn as a new experience on Nintendo Switch. Buffeted by a storm, Link washes ashore on the mysterious Koholint Island. In order to return home, Link must overcome challenging dungeons and battle against fearsome monsters. This new version of the classic adventure includes many unique elements that appeared in the original Game Boy release, such as 2D platformer-style rooms and appearances from characters outside of The Legend of Zelda series.

…

Expand
Developer:

Nintendo, GREZZO

Genre(s):

Action Adventure

,

Open-World

# of players:

No Online Multiplayer

Cheats:

On GameFAQs

Rating:

E
Please enter your birth date to watch this video:
You are not allowed to view this material at this time.
The Legend of Zelda: Link's Awakening Remake - Official Announcement Trailer
I found playing through a modern imagining of this classic to be almost perfect. While it doesn't reinvent the franchise or break convention, it never acts like it wants to. There's something comforting about returning to a world like this: to know its every corner, to recognize its colorful cast, to feel truly lost in the experience.

Updating the look but never losing the feel of the original, Link's Awakening is a masterclass in remaking a classic.

The Legend of Zelda: Link's Awakening manages to feel new, but still maintain the essence of the amazing original. This is peak old-school Zelda, and it's never looked better.

The Legend of Zelda series is known for its quality across both consoles and handhelds, with the latter often standing out for their uniqueness within the franchise as a whole. The Legend of Zelda: Link's Awakening was a shining example of that on the Game Boy and once again proves why it deserves to be talked about among the best in the series with its remake on the Nintendo Switch.

Link's Awakening still is one of the most interesting Zelda games, even with all its limitations and simplifications.

A game that feels like its 20-year old predecessor, but with improvements and additions that truly make a difference. Despite a constant sense of déjà vu, the shortcomings of the game's newest playable mode and the framerate issues, Link's Awakening is a game coming straight from our dreams.

Unless you find this one on sale, do yourself a favor and grab Link's Awakening DX instead. You'll have the same game, minus the Chamber Dungeon, and updated graphics and still have plenty left over to get some other excellent titles.
Siendo un super-fanático-enférmo de PlayStation, debo reconocer el gran trabajo de Nintendo creando este Remaster, sin duda una gran obra.

A truly remarkable statement of why Nintendo is the # 1 publisher of this and any other generation of video games. The games are just classics

A truly remarkable statement of why Nintendo is the # 1 publisher of this and any other generation of video games. The games are just classics and timeless...

…

Expand

This must be one of THE best Zelda games i ever played. Dont look at the 60 dollar price, just buy it. it is worth every penny.

Un maravilloso viaje al pasado con una actualización acorde a los tiempos para uno de los mejores Zelda.

Fantastic Zelda game, and just made better here with some tweaks and enhancements. Anyone saying this is a "6 hour" game is either lying or

Fantastic Zelda game, and just made better here with some tweaks and enhancements. Anyone saying this is a "6 hour" game is either lying or has beaten this game multiple times before. The only real issue I've run into is framerate dropping when entering new zones, otherwise this is basically Link's Awakening perfected.

…

Expand

Great game! I enjoyed every minute of it.

Pros: Cute graphics Great soundtrack The game does a good job of grabbing your attentionGreat game! I enjoyed every minute of it.

Pros:

Cute graphics
Great soundtrack
The game does a good job of grabbing your attention

Cons
The dungeon arranging is not what it could be and adds nothing to the game. It needs to be expanded.
Not too much new--this is an old game remade and in my opinion that means it can't take full advantage of the new features designed to enhance gameplay.

Yes, the overworld's edges are blurry, but after the first five minutes of play, I stopped noticing it. Yes it's a short game (I beat it in fifteen hours and it was my first time playing the game), but it's meant to be a separate experience from BOTW. It compliments BOTW well. While it doesn't have the depth in gameplay or customization as BOTW, it has a memorable soundtrack and compelling characters that BOTW lacks. The sounds in Link's awakening are surprisingly satisfying--I don't recall ever enjoying hitting moblins as much as I did in this game.

I would not want more games like this even though I'm a huge Zelda fan. I enjoyed Grezzo's work, but I've heard people asking for Game Boy Color games to be remade into these graphics. While I wouldn't be averse to having ports of those games to the Switch, I'd sooner have a new handheld-based Zelda game because of the price of the game.

Again, it's a fun game and I would recommend it.

…

Expand

Litterally the same game i bought as a kid with a ridiculous content of 7hours and no replayability for 80 bucks what a shame for nintendo...

Litterally the same game i bought as a kid with a ridiculous content of 7hours and no replayability for 80 bucks what a shame for nintendo...

Rester loin de ce jeu quelle arnaque pour le prix attendez qu'il soit à 30$ max et encore quelle honte...
Les nostalgiques l'ont tout simplement surnoté je déteste faire ça mais je suis obligé de sous noté pour compenser...

…

Expand