Publisher:

Nintendo

Release Date:

May 12, 2023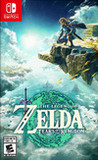 Summary:

An epic adventure across the land and skies of Hyrule awaits in The Legend of Zelda™: Tears of the Kingdom for Nintendo Switch™. The adventure is yours to create in a world fueled by your imagination. In this sequel to The Legend of Zelda: Breath of the Wild, you'll decide your own path

An epic adventure across the land and skies of Hyrule awaits in The Legend of Zelda™: Tears of the Kingdom for Nintendo Switch™. The adventure is yours to create in a world fueled by your imagination. In this sequel to The Legend of Zelda: Breath of the Wild, you'll decide your own path through the sprawling landscapes of Hyrule and the mysterious islands floating in the vast skies above. Can you harness the power of Link's new abilities to fight back against the malevolent forces that threaten the kingdom?

…

Expand
Developer:

Nintendo

Genre(s):

Action Adventure

,

Open-World

# of players:

No Online Multiplayer

Cheats:

On GameFAQs

Rating:

E10+
Please enter your birth date to watch this video:
You are not allowed to view this material at this time.
The Legend of Zelda: Tears of the Kingdom – Official Gameplay Trailer #3
Breath of the Wild's concept was described by Nintendo as "creating a game through multiplication", but after playing The Legend of Zelda: Tears of the Kingdom, its predecessor almost feels like a prototype. Not only are the amount of possibilities that Tears of the Kingdom's level of multiplication offers so much more diverse, its field was designed to put those into practice to a much greater extent. Never before was the vast land of Hyrule packed with this amount of well-designed gameplay. Without a doubt, this is the best game in the series.

Ultimately, the lore isn't the main attraction, and isn't the reason the Zelda series has endured for almost half a century. What's more compelling is the game's nod to the collective story of how human imagination pushes us through our toughest challenges, and sometimes sends us soaring to heights unseen.

Tears of the Kingdom is one of the most creative, satisfying and rewarding games we've ever played, all within a familiar Hyrule.

Thanks to the addition of the Ultrahand ability, Tears of the Kingdom becomes a kind of all-round friend to every kind of gamer. Those who want to can create, puzzle, cook, unwind and enjoy the scenery. But just as well experience adventures, fight and encounter pretty tough challenges that will take even the most seasoned gamer quite a while. It is highly exceptional for a single game to personify the desiderata of all these personas.

Tears of the Kingdom captures and improves upon everything it's predecessor was. The sky was they limit and they certainly reached it.

Gigantic open world adventure, packed with tasks and secrets, but lacking the novel magic of its predecessor.

If you've yet to step foot into the open world of Hyrule, Tears of the Kingdom is the best way to experience it, with just enough new ground to keep things interesting. But if you didn't gel with the 2017 release, the story alone might not be worth the second attempt.
El Breath of the Wild fue una introducción, TOTK superó toda mi expectativa. El final es impresionante, emotivo, nostálgico. No entiendo a

El Breath of the Wild fue una introducción, TOTK superó toda mi expectativa. El final es impresionante, emotivo, nostálgico. No entiendo a tanto hater de PS y XBOX en los User Scores; la mayoría entra a dejar su Review cuando ni siquiera han terminado el juego. TERMINEN el juego, después vengan a opinar. Es increíble, lleno de sorpresas y la variedad de enemigos agregados se agradecen, gran aventura incluso para jugadores veteranos.

…

Expand

The least someone could say of Breath of the Wild is that it was a risky shot at a new Zelda engine which landed in many ways and missed in

The least someone could say of Breath of the Wild is that it was a risky shot at a new Zelda engine which landed in many ways and missed in others. Tears of the Kingdom is a perfection of that risky engine with a polished sheen that (necessarily) outshines its brilliant predecessor in nearly every capacity. Odds are, if you played Breath of the Wild and enjoyed the adventure but had some qualms about it, Tears of the Kingdom addresses your misgivings innovatively and delivers more than is asked for. It has unique puzzle-solving mechanics, a gorgeous art direction, a fantastic soundtrack, and an enormous map that manages to stay thoroughly engaging despite its size.

A central idea behind Breath of the Wild was that you, the player, have the freedom to avoid anything you don't personally find fun. If the game offers you something that doesn't tickle your fancy, it is almost certainly completely optional. Tears of the Kingdom also believes this philosophy and provides hundreds of hours of content for you to decide what it is you find fun and to jump all the way into that. Fan of exploration? This is your game. Prefer side quests? Plenty of those too. Rather spend your time fighting enemies? Combat is diverse, satisfying, and engaging. Want to enjoy a story that rewards fans of the series? It has that too. Pretty much anything you could ask for in a video game can be found in Tears of the Kingdom without looking too far.

There are essentially 3 types of people who won't like this game: people who don't enjoy games with an encumbrance of freedom, classic Zelda fans who want the series to return to its roots, and people who find its admittedly unorthodox control scheme too tedious to adjust to. If you are one of these people, you probably will still find lots to enjoy during a playthrough, but you'll see the reviews and think it is undeserving of its inordinately high praise. To that end, I think an objective viewer of this game's merits would come to the same conclusion many of us have which is that Tears of the Kingdom delivers extreme quality despite personal preferences.

It's worth mentioning that whether the game is worth $70 or required its full 6-year development time is irrelevant in terms of reviewing its quality. As a finished piece of art isolated from outside considerations, this game is as good as it gets.

…

Expand

The perfect game, loads of mechanics and incredible creativity Definitely the game of the year

Un juegazo con todas sus letras, el increible Hyrule de Zelda BOTW multiplicado por 3 literalmente, el sentido de exploracion por todas partes

Un juegazo con todas sus letras, el increible Hyrule de Zelda BOTW multiplicado por 3 literalmente, el sentido de exploracion por todas partes ademas de unas hermosas mecanicas y fisicas con las cuales hacer el explorar mas entretenido de lo que ya es, una historia con una narracion sin precedentes, mucho mas inmersiva y compleja que la de Botw, quisas en lo unico que carece es en potencia, pero eso no es culpa del juego si no de su despositivo la switch consola hibrida, pequeña de 2017, que aun asi corre semejantes maravillas

…

Expand

L'univers de Zelda est bien respecté. Le Gameplay est rapide à prendre en main

No other games even comes close to comparing. There's so much to do in this world around every corner and the mechanics are mind-blowing. The

No other games even comes close to comparing. There's so much to do in this world around every corner and the mechanics are mind-blowing. The more you use them the more crazy uses you find and it's just fun to sit there and expirement. This is the greatest game of all time.

…

Expand

Un sacco di problemi, una noia mortale sempre a fare le stesse cose senza contare che si è costretti più di prima a dover fare sacrari e

Un sacco di problemi, una noia mortale sempre a fare le stesse cose senza contare che si è costretti più di prima a dover fare sacrari e perdere tempo per potenziarsi.
Sequel o no niente e nessuno impedisce in un gioco fantasy la possibilità di cambiare la mappa come si vuole, ho finito il gioco il prima possibile per quanta noia mi ha fatto provare durante ogni singola missione, la storia principale viene allungata in ogni missione in modo inutile e senza senso. La sola cosa carina e la possibilità di fondere le armi per il resto sono molto meglio le abilità del primo capitolo, ormai questo tipo di giochi per la switch sono fatti con poco impegno perché sanno benissimo che vendono senza problemi dato che la maggior parte delle persone ha iniziato a giocare ieri con la switch senza mai giocare a titoli seri o ben fatti. 70€ sono troppi se potete prendetelo usato a 30/20€ armatevi di moltissima pazienza e di un sacco di calma perché la noia del viaggio è le costrizioni del gioco sono veramente pesanti e presenti in ogni singolo istante, la libertà di cui si parla in zelda non è altro che il costruire che si ha su minecraft, girare per una mappa vuota (come nel primo capitolo) non vuol dire avere libertà ma vuol dire aver preso una grossa fregatura da un titolo che un tempo era ben fatto.
Un sacco di cose sono state rubate da altre titoli ed è palese come cosa (ad esempio kingdom hearts,un qualsiasi survival, minecraft e altri) se questo è un capolavoro allora un qualsiasi gioco che gira su ps2 (che ha la stessa grafica ma meno problemi e molto più divertimento) è una divinità scesa in terra data la bellezza del gioco.

…

Expand