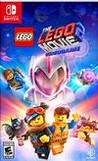 Summary:

The alien monster invaders have left Bricksburg in ruins. It is now up to Emmet and a host of heroic characters to go beyond their world and save their friends from the strange inhabitants of the Systar System. Players can journey into outer space, discover new worlds, and test their Master

The alien monster invaders have left Bricksburg in ruins. It is now up to Emmet and a host of heroic characters to go beyond their world and save their friends from the strange inhabitants of the Systar System. Players can journey into outer space, discover new worlds, and test their Master Building skills.

…

Expand
Developer:

TT Games

Genre(s):

Action Adventure

,

General

# of players:

No Online Multiplayer

Cheats:

On GameFAQs

Rating:

E10+
The mix of exploration, sandpit and story elements makes it feel fresher than recent LEGO games. Plus it's just plain cool to walk around as Emmet or Wildstyle while talking to the likes of Batman and Unikitty.

The LEGO Movie 2 Videogame isn't the groundbreaking reinvention the franchise so desperately needs, but it's still a step in the right direction. It's still got the same one-note combat (even with some Master Builder special attacks thrown in for good measure) and missions too often boil down to 'Go find enough resources to build this item, which opens this door, etc', but for all the times it falls into the pitfalls of its own past, there's plenty to appreciate. The focus on collecting resources makes total sense for a game all about breaking everything in sight, and the mixture of sandbox levels and creative building options is a timely reminder that LEGO Worlds has plenty of ideas still worth revisiting.

It feels like the movie… it's accessible and sometimes fun, but it hardly surprises someone anymore. It lacks challenge and structure, but it offers quite a lot of content and some great moments.

Designed for players who love the LEGO universe, this new entry to the franchise feels tailor-made for a young audience. For more hardcore gamers, it looks repetitive, lacks of originality and doesn't even follow the movie in terms of story telling.

The LEGO Movie 2 Videogame tries to tweak the formula of the previous game and despite providing some fun moments and being an accessible game with plenty of content, it doesn't fulfill its goals when it comes to deliver a competent, enjoyable game. Its uninteresting world, lack of connection with the movie and technical issues make this a passable effort that will disappoint those looking for a good experience based on the movie.

Despite the tone of this review, The LEGO Game 2 Videogame is not terrible. But even my 5-year-old son feels more at home in LEGO games like LEGO Harry Potter, LEGO Star Wars: The Force Awakens, and even the recent LEGO The Incredibles. These games are imbued with a brick-ton of character that makes experiencing these LEGO-ized romps a blast. The heart of The LEGO Movie film series did not translate to The LEGO Movie 2 Videogame, unfortunately. The empty world, mundane gameplay, and cardboard cutout characters make this one a bit more difficult to enjoy. In Bricksburg, everything is meh.

In general, this game is just flat out unenjoyable. It's sad how this Lego game is completely devoid of the unique humor and style which made previous Lego games so enjoyable. This personality and flair, which has been a staple of the Lego video game brand, being absent from this latest title is disheartening. I'd recommend avoiding The Lego Movie 2 Videogame unless you have to play absolutely everything Lego. Even then, there are just much better games in the series that deserve your attention.
Enjoyable in an easy gaming sort of way. Not challenging but it kept my attention. I will play it again.

This game deserves more credit than it is generally given. If you're a parent of a young LEGO enthusiast, play this with them and you're going

This game deserves more credit than it is generally given. If you're a parent of a young LEGO enthusiast, play this with them and you're going to have fun. It's an ideal first 3D game for a kid. they can learn to navigate a pseudo-open world, learn to battle enemies that aren't too difficult, and feel a sense of accomplishment from completing the quests, and triumphing over some massive bosses. I also think one can appreciate the story of the LEGO Movie 2 more after playing through this game.

The freedom of movement and exploration, combined with the fact that everything in this game is made of LEGO, just makes it really enjoyable. I played LEGO Incredibles AFTER this game and it felt way too linear and restrictive in comparison, and the mix of LEGO with real-world-ish environments were not as immersive from a "sense-of-world" standpoint. The LEGO Movie 2 is much better in those regards.

Not everything is awesome though. After clearing the relatively long first stage, Apocalypseburg, and defeating the first boss, you're going to be really excited for the next stage. Unfortunately the next stage (Syspocalypstar) plays more like a confusing side quest. First you need to build a shop completely inside a green bounding box. If your structure is sticking outside that boundary, the objective will not be met, you cannot proceed, and you'll be given no feedback about this. Little snags like this can make young players require help from a parent or older sibling.

Then in the Old West there will be a purple Master Piece brick on top of a water tower that you might think is required to advance - it's not. Just go through the portal. You can return later in the game after getting some power-ups that enable you to reach high places.

My last level design complaint is how in both Syspocalypstar and Harmony City there are voxel-generated looking hills that look like you should be able to climb up but you can't because you run into invisible barriers. It's jarring and just feels like a cheap way to give the world a definite boundary. My kid was asking me why she couldn't climb there and I could tell it had broken her sense of immersion in the world. They could've at least made those areas straight vertical cliffs, or made them out of sloped bricks that one wouldn't expect to provide a foothold.

With that out of the way, almost everything ELSE is awesome! There are some really fun levels, like the Systarian Jungle - a bioluminescent alien rainforest with ancient temples, and the Rexcelsior - Rex's massive spaceship containing raptors and skateboarding ramps.

Another fun aspect of this game is the diversity of playable characters and how you can mix and match their parts and accessories. This is something I miss when I play other LEGO games that have linear progression and predetermined characters.

To solve the simple puzzles in this game you will often need to build an object to bounce you to a higher place or interact with the environment in some way. As you progress, you learn how to build more types of objects, and these require a certain number of bricks of certain colors. Adult players should not expect this to be challenging at all - but for young kids it's just right.

You can also build vehicles. Ultrakatty also counts as a vehicle, and she's great for collecting stud coins quickly because she can smash objects en masse and instantly acquire the coins from them.

I feel obligated to mention that this game is not without its bugs/glitches. But none of them were show-stoppers, and even in the worst cases we were able to quit out and re-load our game. All relevant progress gets auto-saved.

The soundtrack to this game has some high points as well. Certain levels have pretty catchy and bangin' music. Just make sure your kids don't leave the "Everything is Awesome" headphones on for too long. ;-)

Finally, don't forget to grab the "Galactic Adventures Character & Level Pack" DLC, which is free for the Switch version of the game.

I emphasize again that this game is best played with your child (or young sibling), and will provide opportunities to introduce them to some basic common 3D game mechanics while enjoying a fun adventure. In my opinion, even a 4yo can enjoy this if they've had a little bit of previous gaming experience and an older, more experienced gamer guiding them through it.

Our first time through, I myself was eager to see what levels awaited, so after the kids were in bed I would grab a drink and load my savegame on my own account and make progress. It can also be a good chillout game like that for adults who want to unwind without thinking too much. lol Have fun!

…

Expand

Voice recordings were beautifully made. Drawings and graphics are not bad. BUT gameplay mechanics are boring. Puzzles are not compelling at

Voice recordings were beautifully made. Drawings and graphics are not bad. BUT gameplay mechanics are boring. Puzzles are not compelling at all. FPS drops are very frustrating. AS A RESULT, if you are looking for a quality Lego game, I suggest you stay away from The LEGO Movie 2: The Video Game.

…

Expand

This may be the weakest LEGO game TT games has ever made. It's not a bad game, just incredibly mediocre and somewhat boring at times. It's

This may be the weakest LEGO game TT games has ever made. It's not a bad game, just incredibly mediocre and somewhat boring at times. It's definitely a very different LEGO game than usual. If you want to play an actually exciting and enjoyable LEGO game, I would suggest playing the first LEGO Movie video game.

…

Expand

Not gonna lie. The trashiest Lego game ever. There ain't other speakers than Lucy. The only thing u hear from the other characters is just

Not gonna lie. The trashiest Lego game ever. There ain't other speakers than Lucy. The only thing u hear from the other characters is just random weird noise even with these graphics and lags u can tell that this game is rushed. It doesn't even connect to the movie man. Such a garbage the lego movie 1 video game was better. Rio my money I wish u bought terraria

…

Expand