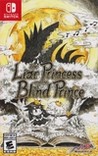 Summary:

Seemingly plucked from the pages of an ancient fairy tale, The Liar Princess and the Blind Prince tells the story of a solitary wolf, who sings a beautiful melody in her loneliness, and the young prince who seeks out the voice's origins. Upon finding its source, the prince inadvertently

Seemingly plucked from the pages of an ancient fairy tale, The Liar Princess and the Blind Prince tells the story of a solitary wolf, who sings a beautiful melody in her loneliness, and the young prince who seeks out the voice's origins. Upon finding its source, the prince inadvertently startles the wolf, who blinds him by accident. When the prince is locked away, the wolf seeks to free him and restore his sight. The wolf visits the witch of the forest to receive a human form so that the prince could no longer be harmed. In exchange for her singing voice, the wolf becomes a princess and returns to the blind prince. The two then embark on a dangerous journey to bring the prince to the witch of the forest and heal his eyesight. All will be revealed in this beautiful, haunting fairy tale of love and loss....

…

Expand
Developer:

Nippon Ichi Software

Genre(s):

Action

,

General

# of players:

No Online Multiplayer

Cheats:

On GameFAQs

Rating:

E10+
Please enter your birth date to watch this video:
You are not allowed to view this material at this time.
The Liar Princess And The Blind Prince - Official Launch Trailer
The Liar Princess and the Blind prince is beyond charming. A game of average gameplay but superb art style and story, ultimately delivers an extraordinary, fairytale-ish experience that is hard to forget, and even harder not to love.

Nippon Ichi Software tells the story of a prince and a princess with this dark fairy tale and its ingenious and varied mechanics. It is not perfect, but it is a highly recommended experience that you will love.

This adventure game with light puzzles is well worth your time if you enjoy fairy tale aesthetics and stories. I adored the art and music and the only real flaw with this game is the few minor performance issues with Switch version. The Liar Princess and the Blind Prince is a charming storybook tale and I can't wait to see the next release from NIS' smaller team.

The Liar Princess and the Blind Prince delivers a short but heartwarming experience that, despite having some flaws in its gameplay, really sticks with you after the ending credits thanks to its beautiful presentation.

If you tend to play games for the story, you'll find plenty to like about The Liar Princess and the Blind Prince. If you're more about the puzzles and the platforming action, however, it'd be best to leave this particular storybook on the shelf.

A marvelous plot and very involving world co-exist with unnatural controls, generic puzzles and a sub-par level design, as well as with gameplay mechanics that are not fluid enough to create momentum. Players who can overlook its flaws will be able to enjoy its qualities but others will find it more difficult to adjust themselves.

The Liar Princess and the Blind Prince is a charming platform-puzzler with a captivating fairytale aesthetic that can't help but draw you in. Unfortunately, things take a dark turn thanks to clunky mechanics and uninspired level design. The lore is fantastic and the presentation remarkable, but ultimately, it's hard to come away from this game feeling anything but disappointed.
The Liar Princess and the Blind Prince is a playable Fairytale. The Story is charming, the chracters are adorable and the gameplay fits it.

The Liar Princess and the Blind Prince is a playable Fairytale. The Story is charming, the chracters are adorable and the gameplay fits it. It's not hard to play through the game, but the wonderful story keeps you hooked until the end. I really enjoyed playing through the game, unlocking all achievements and am glad that I bought it.

…

Expand

A truly heartwarming story that sticks out in the bland and repetitive industry of today. The gameplay is good, and the story is amazing. The

A truly heartwarming story that sticks out in the bland and repetitive industry of today. The gameplay is good, and the story is amazing. The only thing preventing me from giving this game a ten is how the gameplay is only good, not groundbreaking or revolutionary. It serves its purpose, but there were times where they abandoned promising mechanics in the same level as they introduced them, which is a shame since some of them were very interesting and i would love to see them expanded upon. Then again, there were so many fun things introduced, that nothing ever got stale.

The artstyle and music are also amazing. With amazing hand drawn visuals, this is a game that will never look ugly no matter how many years pass, and frankly, it looks a lot better than many triple A titles of today.

If you're looking for a heartwarming story about love, forgiveness, and understanding, then this is the game for you.

…

Expand

Extra points for having a femme protagonist. Proof that it is about story telling and gameplay and not just the polygon count that make a

Extra points for having a femme protagonist. Proof that it is about story telling and gameplay and not just the polygon count that make a piece of code worth buying

…

Expand

This game is absolutely fantastic! The music is amazing, the story is sweet and sad, and the game itself is beautiful in both graphics and

This game is absolutely fantastic! The music is amazing, the story is sweet and sad, and the game itself is beautiful in both graphics and presentation. The only reason it is not getting a 10 is because it is a rather short game, but honestly, that's a nitpick. It takes all the time it needs, and that is perfectly fine. I only wish I could have enjoyed the world and characters it created for longer.

…

Expand

The Liar Princess and the Blind Prince looks gorgeous and it tells a story straight out of a fairy tale, but its mechanics and gameplay

The Liar Princess and the Blind Prince looks gorgeous and it tells a story straight out of a fairy tale, but its mechanics and gameplay sequences leave much to be desired. It would make for an excellent storybook, but it's best to wait for a sizable discount on what amounts to a frustrating albeit interesting journey.

…

Expand