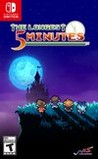 Summary:

Our hero faces the origin of all evil, the Overlord himself, but suddenly loses all memories of his adventure.

His finishing moves, the name of his hometown, and even the reason he's trying to defeat the Overlord in the first place, all gone. Our hero feels as though he's letting his alliesOur hero faces the origin of all evil, the Overlord himself, but suddenly loses all memories of his adventure.

His finishing moves, the name of his hometown, and even the reason he's trying to defeat the Overlord in the first place, all gone. Our hero feels as though he's letting his allies down...

In the midst of battle, his allies' words and the Overlord's taunting triggers flashbacks, bringing his memories back piece by piece. Our hero tries to regain his priceless memories before it's too late, but the Overlord stands before him, his power unyielding!

What can happen in The Longest Five Minutes!?

…

Expand
Developer:

Nippon Ichi Software

Genre(s):

Role-Playing

,

General

# of players:

No Online Multiplayer

Cheats:

On GameFAQs

Rating:

T
Please enter your birth date to watch this video:
You are not allowed to view this material at this time.
The Longest Five Minutes Overview Trailer - Nintendo Switch
The Longest Five Minutes may falter in the lack of difficulty that it poses the player with, but the game will upend your expectation in how absorbed you will become in the story that it unravels.

The Longest Five Minutes uses a truly gripping concept, throwing the classic RPG formula on its head by having you put the pieces of an already existing story together as you go. While the combat and general gameplay are almost too easy-going, the story, characters, and overall aesthetic had us always wanting more, never wanting to put the game down. The asking price is perhaps a little steep for the amount of content available, and the strange take on a usually well-understood genre may throw some players off, but there is an indescribable charm that is worth exploring here.

Calling The Longest Five Minutes a deconstruction of 8- and 16-bit RPG tropes is only half-true, as it turns around and reconstructs those same tropes by journey's end. Still, it's a brisk and amusing adventure that knows how to play to its strengths.

The Longest Five Minutes certainly has some good, and surprisingly original ideas, but it just never takes them far enough to be something really special.

The Longest Five Minutes does well with its unique premise, but falls short in providing a fun gameplay experience. Most of the gameplay is a waste of time and only serves as an obstacle to experiencing the story. Flash Back's adventure is only worth it for the good art and final revelation.

Unfortunately for all the minor smiles and well-orchestrated music that accompanies one's travels, The Longest Five Minutes feels mostly like a sterile assembly of classic JRPG's least-appealing necessities. Its premise of losing one's memory and the relation that has between past and present occurrences could have been an interesting twist on RPG mechanics to uncover, but it ends up being little more than a stale alternative to what is a rather unaltered series of common JRPG affairs. The Longest Five Minutes heralds some pleasantries and quirky moments of respite at points, but with a near-offensively easy combat system, brief dungeons and a lacking overworld to trudge through, competently made it may be, The Longest Five Minutes sadly ends taking up a much shorter breadth of your attention.
The writing in this game is top notch. Characters are funny, with an enjoyable story. The game play is very fun with its traditional turned

The writing in this game is top notch. Characters are funny, with an enjoyable story. The game play is very fun with its traditional turned based battle system. I wish it were more challenging. I often found myself not bothering to buy any new weapons or armor because I would find the same stuff in the upcoming dungeon, and I would win all the fights anyways. I like that chapters are self-contained, and there is a checklist you can refer to to make sure you did all the important stuff. I found myself addicted to the story and the silliness more than anything else. As a JRPG fan, I found this to be a refreshing change of pace.

…

Expand

First off: I really couldn't decide whether to rate this game at 7 or 8. It is just really in the middle there: a good mediocre game or an

First off: I really couldn't decide whether to rate this game at 7 or 8. It is just really in the middle there: a good mediocre game or an almost really good game. I like a lot of the choices that were made for the game. A story about lost episodic memory told in small episodes, a game about memory that banks on nostalgia with the choice of design. The ideas were great - though I feel my personal opinion to like the game is based on my own interpretation - but the game play is average (at best). Yes this plays like an old game and it makes a lot of references, but if I wanted that game play I might pick up Final Fantasy IV or something similar.
Ultimately it is a short game that possibly needs you to be in the nostalgic mood. I would not recommend it to someone who expects and likes a deep and challenging RPG or someone who does not like retro gaming. For me as a nostalgic person it is borderline good, but I guess for others it could be borderline bad. After all it is a full price game and today you can get more worth for your buck.

…

Expand

So I have been waiting for this game since its first teaser for the japanese version. I was very excited to finally get this game in my hands.

So I have been waiting for this game since its first teaser for the japanese version. I was very excited to finally get this game in my hands. I was expecting it on the vita, but when I saw it was on the switch, I thought, hey even better.
Keep in mind I am only half way through this game, but I don't see much changing my opinion.
This game is not good. I am very disappointed with this game. This game would have received a much different score if it was a $20 dollar game, but for $40 I have to judge it more seriously.
Pros: the retro styled pixel graphics are really nice, and I think they add a nice kind of change to the modern gaming scene, the story telling is probably one of the best parts about this game. There is a lot of dumb humor but its enough to give this game a charging feel.
Cons: for a game that is considered an RPG the combat is awful, because you don't keep your levels from memory to memory, there is no real reason to grind, which makes every random encounter you fight, pointless. Even the boss battles are too easy, I set the battle style on auto, and left the room to use the bathroom, and when I came back I saw that I won. There isn't enough depth to this game.

Pretty much the best way to describe this game is like a simple pixelated Life is Strange but with really **** combat. The combat is just so pointless, and everyone knows that combat is half of an RPG. Don't buy this game until it goes on sale.

…

Expand

Not much of an rpg.

I really liked the premise of starting at the final fight without memories, then going through your memories as youNot much of an rpg.

I really liked the premise of starting at the final fight without memories, then going through your memories as you play out the game. Unfortunately, the premise was the only thing I liked about the game.
The writing & dialogue was lackluster at best, boring & tedious most of the time.
The combat was far too easy to be interesting. There were skills and such as an rpg should have, but there was no point in exploring any of the combat system because everything died so easily.
All items refresh at the start of each chapter/memory. This in addition to the combat meant that progression was completely meaningless.

…

Expand