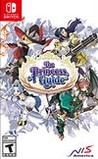 Summary:

In a land torn by chaos and war, a new evil rises. Now, four princesses from four different kingdoms must learn how to lead their people to victory. Commence the Princess Knight training regimen! As an experienced knight, you will choose a princess to become your apprentice. Teach her the

In a land torn by chaos and war, a new evil rises. Now, four princesses from four different kingdoms must learn how to lead their people to victory. Commence the Princess Knight training regimen! As an experienced knight, you will choose a princess to become your apprentice. Teach her the art of war, and push back the evil that threatens to take over the land! With your choices directly impacting the way your Princess Knight fights, The Princess Guide gives military training a whole new meaning.

…

Expand
Developer:

Nippon Ichi Software

Genre(s):

Strategy

,

General

# of players:

No Online Multiplayer

Cheats:

On GameFAQs

Rating:

T
The pacey, stylish, and colourful action, complemented with the neat strategy elements and interesting - albeit high-energy narrative, combine to make The Princess Guide quite unlike the other JRPGs out there.

A fast-paced title in both terms of gameplay and narration, The Princess Guide is not the deepest of games action-wise but surely is a fun experience. The visual style itself should be enough to get you hooked if you are in any sense an anime fan. If not, there are plenty of other games out there for you! But it won't make this game a bad one, even if you do skip it.

The Princess Guide is an uninspired dungeon crawler with a strategic twist, that sorely miss a good loot system and a clever level design. Still, can be entertaining in short bursts for fanatics of the genre.

The Princess Guide is an adorable, energetic game. It has gorgeous art and fun, well-written characters. It's just marred by grinding through messy and poorly designed combat. The AI squad-mates that are so integral to the action have terrible AI that make it impossible to consistently coordinate any of their actions. There's massive heart and care put into the narrative and visual design of The Princess Guide, but that is weighed down by how frustrating it is to play the game.

The Princess Guide is cute and fun for a few minutes before becoming a messy grind of mechanics, systems and features the game never really explain.

The Princess Guide is a game I enjoy less and less the more I play it. There is a sound structure here and some really clever ideas, but the weight of all its small issues really burden what should a fun and frivolous experience.

The Princess Guide provides some moments of enjoyment, but overall the game does very little to endear the player. It feels like the game goes out of its way to obscure anything that might add depth, while some amusing conversations can only distract momentarily from the egregious waste of its premise. Though The Princess Guide at least avoids some of the pitfalls of frustration, it simply doesn't have have much to recommend it.
The story of The Princess Guide is well done and the praise/scold feature is an interesting twist on how you interact with the different

The story of The Princess Guide is well done and the praise/scold feature is an interesting twist on how you interact with the different princesses to unlock different bonuses. The game is deceptively deep with the amount of different attacks, weapons, and squad building options. This may seem pretty intimidating at first, but after a few rounds you'll find yourself picking up on the mechanics pretty quickly. The game is reminiscent of arcade-style games like Gauntlet, so if you like arcade style games with RPG aspects, this game would be up your alley.

…

Expand