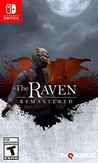 Summary:

London, 1964. An ancient ruby is stolen from the British Museum. At the crime scene: a raven feather. Is somebody trying to follow in the footsteps of The Raven, the legendary master thief who disappeared years before? Constable Anton Jacob Zolner finds himself in the middle of the kind of

London, 1964. An ancient ruby is stolen from the British Museum. At the crime scene: a raven feather. Is somebody trying to follow in the footsteps of The Raven, the legendary master thief who disappeared years before? Constable Anton Jacob Zolner finds himself in the middle of the kind of murder mystery he so far only knew from reading his favourite crime novels. Nothing is what it seems. Everyone has something to hide. And the Raven is always one step ahead...

…

Expand
Developer:

THQ Nordic

Genre(s):

Adventure

,

Point-and-Click

# of players:

No Online Multiplayer

Cheats:

On GameFAQs

Rating:

T
The Raven Remastered brings back the point and click adventure genre that has been immensely popular in generations past and it does a very good job at that in this edition for the Nintendo Switch. It may not completely reinvent point and click adventures but it makes a good attempt at fixing some of its frustrating aspects and its original, entertaining and involving plot makes a big case for anyone who appreciates the genre to get their hands on this.

A story that keeps you on the edge of your seat is hugely important to point and click adventures such as The Raven Remastered. And thanks to its clever writing and mostly believable voice acting, it manages to accomplish that. It's not quite up there with the likes of the original Broken Sword, but it deserves to be remembered as a cult classic. Control issues aside, The Raven Remastered is one of the best point and click style adventures available right now, and its presence on Switch is very much welcome.

I'm betting The Raven flew under a lot of people's radars, even adventure game fans, so yeah, I'd recommend checking it out if you get a chance. It's maybe eight-hours long total, but it twists complicates its narrative, and gives a greater depth than expected in a lot of ways. It's just a good crime story with competent gameplay and a great narrative – and you're bound to get some joy out of it.

A good remastering of a game belonging to a genre of the past.

The Raven Remastered is a classic whodunit story, with a genuinely intriguing plot and some great voice acting, particularly from the lovable lead Zellner .The load times may be intrusive at times, and I don't really know what's remastered about it (Other than some lighting effects maybe?), but its accessible gameplay make it one to recommend to any friend or family member that may be into their crime fiction.

The story of the game is a bit simple and it is supported thanks to some great characters with good charisma and dubbing. Maybe they have not invented the meta-game, but the intention of KING Art is extraordinary.

Like much else in The Raven Remastered, the music is serviceable but feels like a missed opportunity to leave a stronger impression. That's probably a good way to sum up The Raven Remastered: serviceable but underwhelming. The title shows plenty of promise with its characters and story, but the sluggish gameplay, questionable acting, and mediocre audiovisual presentation drag it down. Mystery fans and avid Christie book readers will find something to like with The Raven's narrative, but the rougher edges make it a tough experience to recommend to all but the most dedicated and patient of players.
A fantastic story that kept me hooked. The puzzles are intriguing and not that difficult and the graphics are correct. A good choice for the

A fantastic story that kept me hooked. The puzzles are intriguing and not that difficult and the graphics are correct. A good choice for the graphic adventure lover.

…

Expand

Looking at the other scores this must be down to personal taste, but as a fan of the point and click genre I thoroughly enjoyed it. I

Looking at the other scores this must be down to personal taste, but as a fan of the point and click genre I thoroughly enjoyed it. I especially like how you get to see the story from two perspectives. I would compare this game to the broken sword series so if you were into them then certainly give this game a try

…

Expand