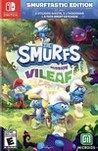 Summary:

Go on an adventure to save your forest!Gargamel, the evil sorcerer just created the EVILEAF, a plant that has the ability to attract and capture the Smurfs... but it's also TOXIC!Embody 4 iconic Smurfs and heal the plants on your way to Gargamel's hovel: the whole forest depends on you!
Developer:

OSome Studio

Genre(s):

Action

,

Action Adventure

,

General

,

Platformer

,

3D

# of players:

No Online Multiplayer

Cheats:

On GameFAQs

Rating:

E
The Smurfs return to Nintendo Switch with a very fun platform suitable for everyone.

The Smurfs: Mission Vileaf is a nice 3D platform game that despite being entertaining has graphical issues and is very short. However, it can be enjoyed by players who simply want to have a good time.

Clearly, as 3D platformers go, The Smurfs – Mission Vileaf isn't exactly going to make anyone forget Super Mario Odyssey. In fact, it's not likely to make anyone forget New Super Lucky's Tale. But if you – or, more likely, the young children in your life – are after a game that will provide a few hours of entertainment, you could certainly do a lot worse.

If you are a long-time fan of Papa Smurf and his little friends, you will surely enjoy this. The game is pretty far from perfect and shows some hiccups on Nintendo Switch, but it's fun enough to achieve what he wanted: to entertain the younger players with a cartoonish and colorful adventure.

Although not original, the adventure is generous and the vaporisaschtroumpf, reminiscent of Luigi's Mansion or even Super Mario Sunshine, gives rise to several funny finds. Although imperfect in execution, this ecological fable should delight young and old alike. If you are in the 6-12 year old category, you can add a point.

New smurfing in video game form brings quite a solid platform action ideal for younger players who will not be bothered by repetitiveness and a slightly shorter duration of the main story.

The Smurfs Mission Vileaf is an oh-so-classic 3D platformer which only addresses the youngest of players. Yet, the amusing writing and fairy melodies might not make us forget its shortness, repetitiveness and sometimes buggy design.
Whenever approaching a licensed property, especially one associated more with kids, veteran gamers are going to come to the table with a

Whenever approaching a licensed property, especially one associated more with kids, veteran gamers are going to come to the table with a healthy amount of earned skepticism. The Smurfs, in particular, have been featured in many games through many generations over the years, but I'd say few have been notable. Mission Vileaf, for me, is a pretty refreshing break from the mold, offering up a great opportunity to explore their three-apple-high world and save the day. The family-friendly 3D platforming is broken up by reasonably simple combat and use of your ever evolving Smurfy gear, clearing the infected vegetation and dispatching corrupted critters. Difficulty is thankfully defined up-front to allow for a wider range of skill levels, and the ability for someone to join in co-op style to lend assistance makes it a terrific option for gamers in training. It may be lacking in overall complexity, and it won't go toe to toe with the best the genre has to offer on the system, but it's still a Smurfy good time if you're open to the experience.

https://www.nindiespotlight.com/2021/11/mini-reviews-november-5th-edition.html

…

Expand

The Smurfs: Mission Vileaf is a charming 3D platformer for Smurf fans of all ages!

Pros - Gorgeous graphics - Catchy soundtrack -The Smurfs: Mission Vileaf is a charming 3D platformer for Smurf fans of all ages!

Pros
- Gorgeous graphics
- Catchy soundtrack
- Intuitive mechanics and level design

Cons
- Short in length
- Frame rate issues that are not as bad as some have claimed
- Inevitable overuse of the word "Smurf"

…

Expand