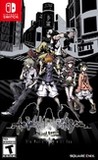 Summary:

The highly stylised and critically acclaimed Nintendo DS game "The World Ends With You" is coming to Nintendo Switch.

When the main character, Neku, suddenly encounters the mysterious girl Shiki, he gets caught up in a deadly game he'll be erased from existence if he can't complete aThe highly stylised and critically acclaimed Nintendo DS game "The World Ends With You" is coming to Nintendo Switch.

When the main character, Neku, suddenly encounters the mysterious girl Shiki, he gets caught up in a deadly game he'll be erased from existence if he can't complete a series of twisted tasks.

Tear into each rhythmic battle using the game's traditional touch controls or Joy-Con controllers for a fresh style of combat! The action-RPG will also include a sizeable new scenario that gets right to the heart of the story.

…

Expand
Developer:

Square Enix, h.a.n.d. Inc., Jupiter Corporation

Genre(s):

Role-Playing

,

Action RPG

# of players:

No Online Multiplayer

Cheats:

On GameFAQs

Rating:

T
Please enter your birth date to watch this video:
You are not allowed to view this material at this time.
The World Ends With You Gameplay Movie 4
Gaming needs more entries like The World Ends With You: Final Mix. Perfection in entertainment isn't about lacking a single negative aspect, but rather how those blemishes are overcome, and how the work makes you feel. The game has issues as it fails in areas that could potentially cripple it for some. But at the end of the day, I believe it to be worthy of a perfect score. Deserving the highest praise, The World Ends With You: Final Mix can, and should, be listed among the best titles in the history of the medium.

Fantastic. A unique ARPG packed with a brilliant story, fun gameplay, and a fascinating premise, everything about it screams instant classic. Don't sit out on this one, especially if you can get around the initially jarring control options.

The World Ends with You is a little less fresh and exciting than it was a decade ago. But, despite a few shortcomings and the loss of dual-screen play, it's still an incredible game and worthwhile for those who've yet to play it. There's not quite enough that's new here for returning fans though.

The World Ends With You: Final Remix is a must for new players who are looking for a deep, rewarding JRPG. If you've played the game on Nintendo DS, however, you may find the gameplay options presented in this port a bit of a downgrade from the original.

My nostalgia for the game isn't connected to gameplay. Instead I'm wistful and rosy for the zen-like grind and the charming aesthetic. If you're okay with playing this game in portable mode at all times, I can easily recommend Final Remix. If you're put off by the motion controls, or if you were looking for more in the way of new content, then purchase this one with caution.

The World Ends With You -Final Remix-, while still great for newcomers, should have been the definitive version of the Nintendo DS classic but it ends up being just an improved version of the mobile game with far too little new content.

On paper, The World Ends With You would have been perfect for a Switch adaptation, and it still could be. There hasn't been any indication of post-launch updates to fix the controls, but in a less cynical view we can be glad they're not selling Another 7 Days as a separate expansion. But Final Remix is something rare: the Switch port of a classic game that would have been better served happening on 3DS if they wanted to replicate the original experience.
A lot of elitists like to complain about the controls as a big deal-breaker, but really, the controls are the same as they are in the original

A lot of elitists like to complain about the controls as a big deal-breaker, but really, the controls are the same as they are in the original if you're using touch controls. You still tap, slash, and press with the best of them, and while the motion controls can be tricky to pick up, they still work fairly well, and are best played in Co-Op with a friend in my opinion. And really, if you ask me, the new controls actually are not only better for game play, but also integrate with the story far better. In the original, I usually just set my partner to auto-battle and ignored them, hoping luck would get me the stars I needed for the fusion attacks. In Final Remix, I now actively work with my partner to take down enemies, using attacks that compliment theirs to power up together, which far better fits into the game's theme.

It's a remaster, not a port, with the graphics and music updated to stunning HD, while the story stays exactly the same as the wonderful original. In addition, there's new story content, new mechanics, new pins, and new remixes of the original amazing soundtrack. You're paying full game price for a full game, and that's really the end of it. If you played the original and want to relive the experience, buy it. If you're new to the game and are playing for the first time? BUY IT. You definitely won't regret it.

…

Expand

If you didn't get a chance to check out the original TWEWY on the DS, absolutely give this a look. If you did, go for it anyway because it's

If you didn't get a chance to check out the original TWEWY on the DS, absolutely give this a look. If you did, go for it anyway because it's a great game even now.

A bold art style catches the eye and holds it, with great character design and amazing enemy design. The mix of animals with tribal-style tattoo limbs/features is creative and both new and pleasing to the eye. The Switch version allows for noting a number of details missed in the origianl, simply because it's now in crisp HD and so much easier to see small things.

The music is a great mix of things, with subtle changes as you go. Several fantastic numbers, and generally works very well.

Speaking of music, it's a constant theme through the game from the positions that a few characters hold to the naming of the Noise.

The game has an engaging cast of characters with beautiful interactions that manage to seamlessly blend fluffy, snarky, humor, and heard-wrenching. They feel like actual people, and like people who are interacting. Even the background characters have little things that make them more than just "Generic Background Character #2943415".

The attention to detail from the movements of the characters when idle to the little blurbs the shopkeepers say as you buy things from them help give the game the feel of an actual place. And, speaking of, it's a pretty solid representation of the actual Shibuya in terms of how it's laid out. Obviously names changed for legal reasons and other things added since it's fictional, but still.

There's a number of themes in the game, deeper than simply "save the world". Themes of dealing with other people, of trust, friendship, individuality, cooperation, freedom, family... So many things are explored on a number of different levels and it's honestly just fantastic.

It sucks you in and doesn't let you go, and you don't have a problem with that.

As for the technical things like gameplay... The DS version was innovative, using just about every input method on the system including shutting the DS to take on a certain optional enemy. With the changes they had to adapt it a little--removing one of the EXP types and reworking the distribution of the remaining 2, for example, with the lack of the Mingle feature. The lack of dual screens is a sad loss, of course, but the mobile port solved that with a method of play that was challenging in it's own right. And the Switch port adds a co-op mode! (Or, in all honestly, a "pretend you're two people but you're actually just one person using co-op mode" option).

Psych activation is in a number of ways, I strongly suggest using it as a handheld if you can! You have a number of ways to use your attacks--pressing empty space, tapping empty space, tapping enemies or obstacles, rubbing empty space or enemies, pressing Neku (your main character), slashing enemies or across the screen or across Neku, dragging across empty space... And more. Each Pin has a Psych, which you use to attack, evade, defend, and heal yourself in real-time combat. There's several families of skills that use a different input method like the ones just mentioned and they have their own stats.

And that's not even getting into the evolution trees! Using them differently--such as in battle or while the game is off (that's right, there's a type of EXP for not playing the game--or messing with the system clock to time travel)--will either master them, or possibly allow them to evolve depending on the Pin itself. Better grab a chart because there's a lot to keep track of. Just be sure it's a Final Remix updated chart, ones for previous versions aren't accurate thanks the reworking of the EXP system to remove Mingle EXP.

Overall, the game was a 10/10 when it came out, and it's aged just fine. It's still a 10/10.

If you were on the fence and looking for a game to make that Switch worth while, this is absolutely that game. If you just need something else to play, give it a shot.

The World Ends With You, so embrace a new and innovative experience to expand your world!

…

Expand

Es un album de música perfecto que también viene con un jueguito de regalo. Es el mejor repertorio de música que he escuchado en un

Es un album de música perfecto que también viene con un jueguito de regalo. Es el mejor repertorio de música que he escuchado en un videojuego. El gameplay es diferente a todo lo visto antes y el uso de pines en conjunto con la pantalla táctil para atacar y coleccionar mantienen todas las batallas entretenidas buscando por un set que represente tu propio estilo. La historia cumple su propósito y te mantiene en intriga deseando conocer lo que sigue. Los personajes principales son carismáticos y tienen su personalidad y papel muy bien definido. El estilo visual y presentación es fuerte y memorable. El punto débil es que jugar con los Joycon uno solo puede resultar un poco confuso, aunque en mi opinión ha sido un reto bastante divertido de superar.

…

Expand

Se trata del port para mobiles y tablets el cual se hace especialmente incomodo de jugar en su modo portátil e insufrible dentro del dock, aun

Se trata del port para mobiles y tablets el cual se hace especialmente incomodo de jugar en su modo portátil e insufrible dentro del dock, aun así me veo incapaz de puntuar mal este clásico de NDS el cual luce genial en versión Final Remix.

…

Expand

The World Ends with You -Final Remix-, initially released a decade before the Switch version on the Nintendo DS, weaves a masterful story of

The World Ends with You -Final Remix-, initially released a decade before the Switch version on the Nintendo DS, weaves a masterful story of intriguing characters and all-encompassing all-important themes designed to tell the player a moral like any good fable. As people who review primarily JRPG's, it can be easily said beyond a shadow of a doubt that The World Ends with You is one of the most unique RPG's ever constructed, and one that is a must experience to fans of the genre, regardless of which version you opt for.
The biggest complaint with this particular version however is the controls. We didn't especially feel the Joy-Con motion controls to be too much of a problem, but it is such a common gripe among others that have also played the game that it does need to be addressed. This might just be a preference thing, and of course not all people would be comfortable with the motion controls as such.
What the game retains is a beautiful, eye-catching graffiti pop style, upbeat music that continues to be at concerts and get new remixes until this very day (it's that good) and an addicting assortment of mechanics that blend together to create something wholly unique in a landscape of copy-cats and boring, stale, over-saturated franchises. The pin-centric combat is a blast, and the story, considering its urban Shibuya rooting, is grand in the tale it wishes to tell.
Unfortunately, for as good as the vanilla game is, a big problem arises with the additional Nintendo Switch exclusive epilogue content, A New Day. This content heavily baits for a sequel that might well never happen in the words of the development team who want it to happen but can't get the backing. Going into the game, it can actually be very easy to miss this content, which might be advised. It's not worth spoiling what was an otherwise incredible story unless a sequel is actually announced.
Although The World Ends with You is our absolute favourite game of all time, the original we would value at a 9, and this one we might give an 8.5, but obviously that is not an option due to the scale we were given. It is still an amazing title, crucial to anyone building a JRPG library on Switch, and is still as unique and beautiful as it was in 2007.
8/10

…

Expand

Jeu franchement sympa. Les musiques sont vraiment bien mais sont un peu répétitives. Le fait de devoir collectionner les badges (qui nous

Jeu franchement sympa. Les musiques sont vraiment bien mais sont un peu répétitives. Le fait de devoir collectionner les badges (qui nous permettent d'effectuer des attaques) et les utiliser est plutôt sympa, pour essayer de trouver lequels correspondent à certaines situations. De plus, on sent que Kingdom Hearts : Chain Of Memories a inspiré le jeu puisque nous pouvons nous faire des decks avec des différents badges et s'adapter par rapport à notre style de jeu. Et le choix est assez grand. Très bon point.
Par contre le jeu est très répétitif et les missions se ressemblent. Le scénario se suit plutôt bien, pas de quoi casser 3 pattes à un canard mais les personnages sont assez attachants et l'intrigue est assez intéressante.
Néanmoins, on sent que le gameplay a été conçu pour la nintendo DS (je n'ai pas joué à la version DS). Cela reste jouable mais c'est vraiment imprécis. Et les combats sont assez bordéliques. J'ai plusieurs fois pété un plomb car je n'arrivais pas à invoquer mon partenaire, alors que je pensais faire le mouvement. De plus, il y a une chose que je comprend pas : Pourquoi ne peut-on pas controler Neku (le personnage principal) avec le joystick du Joycon en combat ? Obligé de pointer le curseur en appuyant sur B pour qu'il se déplace. Je trouve cela très peu ergonomique.
Côté durée de vie, cette version Final Mix s'en sort bien : l'histoire peut se terminer en une vingtaine d'heures, et plus encore si vous souhaitez davantage de badges ou réussir tous les défis endgame.
Jeu très sympa mais qui pêche par sa maniabilité. La Switch n'est adaptée pour. Ils auraient pu faire en sorte que l'on puisse aussi jouer avec une manette pro. Privilégiez le tactile qui s'en sort mieux.

…

Expand

The story Is good but the controls (only touchscreen) Is total **** Terribile. And the game don't save before the finale boss. The game don't

The story Is good but the controls (only touchscreen) Is total **** Terribile. And the game don't save before the finale boss. The game don't deserve a low rating, but this ****ty controls are **** unforgivable.

…

Expand