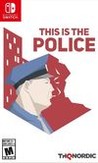 Summary:

This Is the Police is a strategy/adventure game set in a city spiraling the drain. Youll come face to face with the ugly underbelly of Freeburg, taking the role of gritty Police Chief Jack Boyd (portrayed by Jon St. John, the voice of Duke Nukem).

Dive into a deep story of corruption,This Is the Police is a strategy/adventure game set in a city spiraling the drain. Youll come face to face with the ugly underbelly of Freeburg, taking the role of gritty Police Chief Jack Boyd (portrayed by Jon St. John, the voice of Duke Nukem).

Dive into a deep story of corruption, crime and intrigues. You are taking the role of gritty Police Chief Jack Boyd youll come face to face with the ugly underbelly of Freeburg, a city spiraling the drain. Will Jack see his retirement with a nice sum of money waiting to be spend or will he end up broken or even worse?

Immerse yourself in a controversial tale of corruption, crime, and political intrigue. Manage your staff, respond to emergencies, and investigate crimes in a city on the brink of chaos. The mafia underworld maneuvers behind the scenes, sinking their claws ever deeper into the city, even as the mayor is ready to exploit every situation to his political advantage.

Choose your approach to each situation as it unfolds. Sometimes youll be responding to a developing crisis at a crime scene, or negotiating with Freeburgs crime bosses. Sometimes youll find yourself dodging questions in the press room, or even the occasional cross-examination in the witness box. Can you keep this pressure cooker from exploding, at least for long enough to stash away a nice retirement nest egg? Or will you land yourself behind bars or worse?

…

Expand
Developer:

Weappy Studio

Genre(s):

Simulation

,

Virtual

,

Career

# of players:

No Online Multiplayer

Cheats:

On GameFAQs

Rating:

M
This Is The Police takes the running of a police force and turns it into a strategic, management game with light RPG elements. You won't see any action here and the unreasonable, random demands made can be frustrating. However, throughout all of this, there is a narrative and a goal that can keep you engaged and entertained for many hours.

This Is the Police is a pretty interesting management simulator with an engaging plot and tackles issues that feel all too relevant in today's society, despite it taking place thirty years ago. It gets kind of repetitive at times and the issues brought up don't go that deep, but I still found it to be a competent management simulator with a unique aesthetic and gripping plot.

This Is The Police asks players to step into a career that's already on the rocks, in a city beyond saving, and then demands that you try and make things right regardless. It's a mature, compelling experience that combines elements of strategy, resource management and text adventure games, while telling a gripping story of corruption and withered hope - albeit with some muddled attempts to deal with real world issues. The meat of the game is solid, if extremely repetitious after some hours, so we can't help but feel if it was a shorter, more tightly focused game with a bit more variety, it would have felt more satisfying overall. As it stands there's hours of gameplay here for any budding cop, it just outstays its welcome a little.

This is the Police isn't a bad game, but it feels like the game could have been much more interesting with a little more variety in the actual gameplay. Managing your cops can be fun, and some interesting things happen throughout the course of the game, but a little more variety to keep things fresh throughout would have went a long way with the game. As it stands This is the Police is a decent game that, for many, will overstay its welcome.

This game reached its peak (for me) about half way through when it started to become a little too repetitive and tedious. The decisions you make do shape the story (initially) but only to an extent as you are basically forced into becoming a corrupted cop anyway. Instead of it being 'choice driven', I found this game to be more about skills management and balancing resources (no matter how corrupted you are) to make sure all parties you interact with are happy. The controversial content (racism, sexism etc.) may be a bit hard to swallow but it certainly adds to the story of police corruption and gives the game a different edge. I would say it is good value for money for the crime buffs among us, but not a must play title.

This Is The Police aims to be something of a higher production values take on Papers, Please. For the most part it succeeds, and certainly Lindsay loved in, as you can see from her perfectly fair take on the game. But truth be told the simulation/ strategy gameplay isn't that involved, so what I was left with was the narrative storytelling, and while every moral conundrum gave me real pause to think, too often I thought my emotions were being exploited and toyed with by a game that was going to play out the same way regardless. That in itself is worth talking about in the context of a conversation around determinism, but I was still left feeling a little cheated, truth be told.

This is the Police is basically a visual novel disguised as a strategy videogame. Apart from a lack of any depth in its mechanics, choices don't really matter, as almost everything happens no matter what you do. The story section is a lot better, and the audio-visuals even more so, but these won't be enough to satisfy strategy enthusiasts.
This review contains spoilers

, click expand to view

.

Crime. Selling cops, honest cops, choice. Everything depends on the choice. The game deserves a very high rating. For unusual, for novelty, for its unique atmosphere.

…

Expand

Great game, almost no bugs (at least i didn't experienced them), fun gameplay and interesting story.

+0- A police management game where you play as the chief officer. Set in the 80s, with a nice atmosphere. -0+

The mayor is corrupt and+0- A police management game where you play as the chief officer. Set in the 80s, with a nice atmosphere. -0+

The mayor is corrupt and works actively against you. The town is also at the hands of several rival gangs, you will have to play by their rules often to survive.
The game, despite its original setting and nice side story, becomes quickly repetitive. It is also very unfair and some aspects of its GUI and text descriptions are confusing.

+++Good+++

+ nice minimalist art style
+ good soundtrack

000Meh...000

0 you are sometimes expected to meet certain weird targets (racial quotas in your teams, for example...) but even if you want to comply, the people available to hire are still randomized and may have no way to win
0 unfair at times, you may need to send 8 officers out on your very first day, even though it is impossible to have this many...
0 game could use a better tutorial
0 some missions and the way to win them does not always make sense
0 ok voice acting
0 few opportunities to upgrade or improve your staff or equipment, usually this is the most fun in this type of game, but here you are not allowed much progress other than giving shiny badges to officers you like...

---Bad---

- you will have seen most of what the game has to offer within the first 2 hours
- too little freedom of action: the game often gives no other options than "yes" or "no" to deal with complex problems, what is the point?
- games sets traps for you very early with no way for you to avoid them
- sometimes the game will put you in situations that are designed to be impossible to solve
- random difficulty spikes that are impossible to overcome
- GUI is often unclear, the meaning of some icons is not always easy to guess, some actions don't have a description
- the personal opinions of the devs sometimes transpire a little too much in the game's events

…

Expand