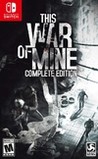 Summary:

This War Of Mine provides an experience of war seen from an entirely new angle. For the very first time you do not play as an elite soldier, rather a group of civilians trying to survive in a besieged city. During the day snipers outside stop you from leaving your refuge, so you need to

This War Of Mine provides an experience of war seen from an entirely new angle. For the very first time you do not play as an elite soldier, rather a group of civilians trying to survive in a besieged city. During the day snipers outside stop you from leaving your refuge, so you need to focus on maintaining your hideout. At night you get a chance to scavenge nearby locations for items that will help you stay alive.

Make life-and-death decisions driven by your conscience. Try to protect everybody from your shelter or sacrifice some of them to endure the hardships. During war, there are no good or bad decisions; there is only survival. The sooner you realize that, the better.

…

Expand
Developer:

11 bit studios

Genre(s):

Strategy

,

Miscellaneous

,

Action Adventure

,

Real-Time

,

Survival

,

Board / Card Game

,

General

# of players:

No Online Multiplayer

Cheats:

On GameFAQs

Rating:

M
If you're looking to play for a complete experience that will not only test your survival and decision-making skills but also your compassion and moral compass, look no further than This War of Mine.

This War of Mine is probably one of the first modern titles capable of mixing mechanics with a strong message without breaking the ludo-narrative dissonance. A rogue-like masterpiece and one of the best indie games for Nintendo Switch.

A good version with no real problems of one of the best indie projects in recent years.

Save for a few issues with controls, This War of Mine feels right at home on the Nintendo Switch.

This War of Mine puts the player at the centre of an absorbing war environment and uses its original gameplay mechanics to present a series of intense challenges that will make anyone who picks it up embed themselves with the game up to a surprising level. While there are technical issues that should be corrected, This War of Mine comes out mostly unscathed in its role as a story of war and survival.

This War of Mine remains an affecting survival experience on Switch and this edition is a comprehensive package. A couple of minor technical issues do little to diminish its power and, although the lack of touch controls is odd, sleep mode is a winner for squeezing in a few days as-and-when you can. Switch arguably helps make this downbeat game as accessible as possible, though there's little point in double-dipping if you've tried it elsewhere. It deserves to be played in whatever form you can find it, though, and is therefore a very welcome addition to Switch's diverse catalogue.

A daring, and largely successful, attempt to show the civilian side of war, that succeeds as an interactive drama even when it occasionally fails as a game.
Great game, it has a lot of replayability, there are several characters you can play with and each one has a different story.
The game itselfGreat game, it has a lot of replayability, there are several characters you can play with and each one has a different story.
The game itself is quite entertaining at the level of mechanics and survival.
It is somewhat complex at first because of the mechanics themselves, it is not a game to kill everyone, you have to manage the moods of the characters as well as their physical state, I loved the game,

…

Expand

This war of mine te pone en el papel de un grupo de supervivientes en medio de una ciudad asolada por la guerra, cuenta con un estilo gráfico

This war of mine te pone en el papel de un grupo de supervivientes en medio de una ciudad asolada por la guerra, cuenta con un estilo gráfico en blanco y negro que asimila a la de las historietas.

El juego funciona con un sistema de día y noche, durante el día deberás preocuparte de no morir de hambre o elegir cual de tus personajes no comerá el día de hoy, así como gestionar los pocos recursos que tendrás, esta fase tiene un enfoque en la estrategia, administración de recursos y con estilo de contrucción de bases.

Por las noches el gameplay del juego cambia centrándose en la exploración de diversos puntos de interés como iglesias, hospitales, casa (abandonadas o con gente dentro), supermercados, escuelas entre otros puntos de interés. Durante estas etapas el estilo de juego cambia por uno más enfocado en el sigilo y recolección de recursos en donde debes tener cuidado y gestionar tu inventario ya que es muy fácil quedarte sin espacio, mientras que al mismo tiempo debes tener cuidado de entrar en enfrentamientos con otros supervivientes, algo que el juego se encarga de dejarte en claro.

Hay unos cuantos puntos que no terminan de encajar, pero que no generan que sea un mal videojuego, cómo podría ser que durante las primeras horas no te terminas de acostumbrar a los movimientos de los personajes o la ausencia de un botón para correr lo que genera que en ocasiones una pequeña diferencia en la presión sobre las palancas genere que el personaje empieze a correr y revele tu posición a los enemigos, generando una situación muy negativa.

La versión de Nintendo switch viene incluida con los DLC de "stories" y "the little ones" este último genera que aleatoriamente al iniciar una partida te toque que uno de los personajes sea un niño con todas las diferencias que esto implica, ¿Que será más importante, contruir una silla para descansar o un columpio para mantener satisfecho al infante?

…

Expand

Great game! When friends advised me to play it, I was very skeptical at first. As a result, I went through it. More than once. For different

Great game! When friends advised me to play it, I was very skeptical at first. As a result, I went through it. More than once. For different heroes, stories. More than 100 hours have been played and anyway, the add-on comes out and I enjoy playing it)
The atmosphere of the game is filled with fear, hopelessness and the horrors of war, but at the same time, it teaches you to fight, not to give up and to remain human in any situation. At the same time, he leaves a choice of what to do after you. In conscience, and to remain human or, for the sake of momentary benefit, and turn into a two-legged animal ...

…

Expand

The horrors of a war from the survivors point of view. Very hardcore topic, game have a high difficulty and the need of take very hard

The horrors of a war from the survivors point of view. Very hardcore topic, game have a high difficulty and the need of take very hard decisitions in scarsity conditions. It's an excellent game, but very depresing at the same time.

I'll give it a 9 because it doesn't take advantadge of all Switch capabilities.

…

Expand

Such awfully unfair game! Everything is a disaster! Nobody survives!! I did 10 play throughs and everybody died either killed or suicide. The

Such awfully unfair game! Everything is a disaster! Nobody survives!! I did 10 play throughs and everybody died either killed or suicide. The games throws at you all the calamities without warning or fairness. I'm simply fed up. It's sucks. It's just evil!!
Update: Finally after more than a dozen of tries I survived. It's a grueling experience because of the random mechanics. I recommend that if you have the patience to play it , take notes of everything there is and be over-prepared with your stash of things, including food and weapons.

…

Expand

I don't know who writes these reviews, but I'm convinced it has to be the developers of the game & their families or something. This game is

I don't know who writes these reviews, but I'm convinced it has to be the developers of the game & their families or something. This game is absolute garbage. It's ugly, it's clunky, & it's beyond tedious. When I started the game, there was no tutorial whatsoever so I had absolutely no idea what was going on or how to play the game at all. Time starts moving quickly & my guy character is already sick, so I'm walking around this tiny dingy house just picking up random things that I have no idea how to use. It takes forever to just get up or down a single flight of stairs because the game is just so clunky & poorly designed, you will just keep walking past the stairs instead of using them. Even if you ignore the multiple annoying flaws like that, and somehow manage to figure out how to play & what to craft with zero story information or tutorial at all, it is still just not fun in any small way whatsoever. I wish I could get a refund but Nintendo eshop doesn't offer those for awful games apparently, so I figured I would write an actually honest & helpful review to hopefully help someone else avoid wasting their money on this dumpster fire.

…

Expand

no touchscreen support. i mean jesus cmon man this game is one of game that suppose to work well on touchscreen