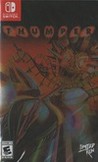 Summary:

Thumper is rhythm violence: classic rhythm-action, blistering speed, and brutal physicality.
Developer:

Drool

Genre(s):

Action

,

Rhythm

,

Music

# of players:

No Online Multiplayer

Cheats:

On GameFAQs

Available On:

Stadia

Rating:

E10+
Thumper offers an extraordinary rhythm experience on the Nintendo Switch, and is heightened by its well-oiled reactionary gameplay, haunting soundtrack, and unique aesthetic. As one of the most enjoyable games on the console there's very little it does wrong, but it must be noted that there's not much staying power for those uninterested in chasing S-ranks.

The best new rhythm action game for years, with a perfect blend of gameplay, music, and a frighteningly oppressive atmosphere.

Thumper is a terrifyingly difficult game, but don't let that deter you from experiencing its rhythm violence firsthand. The Switch port takes advantage of the system's features quite well, and its speedy performance and killer sound design will rock your world.

As has been the case with quite a number of games I've enjoyed on the Switch to date I would gladly recommend Thumper to anyone, but would throw out two caveats as well. First, while I don't think being good at rhythm games is necessarily essential to you being successful in the game, there's no getting around the fact that being able to feel and anticipate the beats will help you immensely. The second is that this game gets to be extremely challenging, playing it has maxed out my personal intensity to the point that my thumb hurts from me mashing down the A button with apparently all of the force my hand can exert. I would expect that it is a game many people who decide to buy it won't ever finish just because at some point the bar feels just a bit too high. Regardless, if you like its aesthetics, its pounding beats, and a stiff challenge, there's really nothing holding me back from recommending it whole-heartedly.

More than living up to the "rhythm violence" tagline, Thumper leaves a lasting impression. Presenting a distinctive and adaptive score, together with an insane visual style and a difficulty level that rarely shows mercy, Thumper is a very effective showcase for the hardware abilities of the Switch, and a highly engaging experience on its own merits.

With a heap of stages, designed to let you play a little or play a lot, a decent difficulty level and pretty visuals to match, I don't think you'll be disappointed. Some more variety in sight and sound wouldn't have been so bad, but the gameplay and continuous introduction of new gameplay elements forgive this.

A rhythm game requires intuitive controls and a good sense of progression and Thumper provides both. Players will have to pay close attention to their surroundings, especially to the sound, as their timing will have to be on the spot in order to advance and thanks to its gameplay mechanics, this is a game that easily seduces those who let themselves be wooed by catchy rhythms.
If this game's trailer and/or the rhythm game genre appeals to you at all, you're gonna love this game. For $20 ($5 if you get it on sale!)

If this game's trailer and/or the rhythm game genre appeals to you at all, you're gonna love this game. For $20 ($5 if you get it on sale!) this is a must-have.

…

Expand

The best graphics on the switch from all existing projects to date, awesome visual effects and crazy complexity. The idea of a runner-music

The best graphics on the switch from all existing projects to date, awesome visual effects and crazy complexity. The idea of a runner-music game is interesting and well implemented. But, as they say, not for everyone.

…

Expand

For what it does and is, Thumper simply deserves the full score: A fantastic rhythm / action game. The concept is quite simple: You're a space

For what it does and is, Thumper simply deserves the full score: A fantastic rhythm / action game. The concept is quite simple: You're a space beetle on a track, and need to react to what's happening on the track in rhythm to the music. You only need the left stick and one button for this, which starts out easy, but gets incredible challenging in the later levels.

The music is great, very dark but really fitting. Controls are super responsive and precise, really not much else to say.

As mentioned, however, you might want to check out some gameplay videos before, to see if it appeals to you, but in general, I can absolutely recommend this game to anyone.

(PS.: If you ever get the chance, check this game out on PSVR, too. Absolutely crazy)

…

Expand

A very fun and addicting rhyme game that takes a spin of the genre. Fun from beginning to end.

Thumper is unsettling in a way that is super unique, and makes you get pumped into the music way more than most music/rhythm genre games. The

Thumper is unsettling in a way that is super unique, and makes you get pumped into the music way more than most music/rhythm genre games. The game just uses metal/EDM style playlists, but even though they are just general beats they really pump you up, and the aggressive nature of the mechanics in which you must slide and slam into the course rather than just pressing a button, really get you involved. The game ramps up at a steady pace, and teaches you the mechanics at a fair clip. The game gets very challenging as you go along, and keeps the game interesting. The game could come across as boring to some, only because they don't use any mainstream music you're familiar with to keep you intrigued and they mechanics, once learned, don't chance much. Anyone who likes rhythm games like Amplitude will also enjoy this game, but it is more of a niche genre, so make sure to check out some gameplay before making the dive.

…

Expand

A game graphic makes my eyes are a bit sore. But still good ideas and good songs.

Jeu trop dur musique toujours pareille je suis au rang 6 aucun checkpoint pour les boss c'est tout simplement frustrant et pas agréable