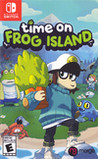 Summary:

Shipwrecked on a strange Island: A terrible storm ravages the seas around you, casting your mighty vessel into the perilous rocks of a nearby island.
You awake to find your ship in pieces, shipwrecked on a strange island filled with… frogs? A spaghetti network of trades will take you allShipwrecked on a strange Island: A terrible storm ravages the seas around you, casting your mighty vessel into the perilous rocks of a nearby island.
You awake to find your ship in pieces, shipwrecked on a strange island filled with… frogs? A spaghetti network of trades will take you all over this strange island as you seek out materials to fix your boat. You will meet a cast of friendly characters, solve head scratching puzzles, find hidden treasures, and much more as you explore the world of Time on Frog Island.

…

Expand
Developer:

Half Past Yellow

Genre(s):

Action Adventure

,

Adventure

,

3D

,

Open-World

,

Third-Person

# of players:

No Online Multiplayer

Cheats:

On GameFAQs

Rating:

E
Time on Frog Island is a puzzle game in which you trade items with villagers to repair your ship and head home. With no real dialogue or map, finding these items is entirely up to your exploration skills. With a touching story and a cute art style, this game is definitely one you can sit down and enjoy for a few hours.

Time on Frog Island is a charming and intriguing game, but whether it's an enjoyable one will very much depend on how you approach it. The silly frog characters and the little society they've developed can be cool to interact with, and there are plenty of surprises to be had as you get deeper into the trade network, but the deeper in you get, the more Time on Frog Island turns into a one-trick pony. Running errands for frogs is good for a little bit, but the lack of a map or any effective means of managing requests means that even this sole task is made needlessly more difficult. We'd give this game a light recommendation, as the chill vibes and the charming atmosphere do a great job of making Time on Frog Island worthwhile, but bearing in mind its frustrations, you might want to wait for a sale.

Time on Frog Island probably isn't going to set the indie scene on fire, but it is a pretty worthwhile jaunt with charming characters, a beautifully rendered world, and a level of freedom designed to reward the curious among us. Just keep in mind that, despite its approachable appearance, its minimalist design may result in a lot of wasted time spent scouring this island trying to figure out what the heck you're supposed to do next.

Time on Frog Island could be considered one big puzzle to unravel and for that, it's pretty cool albeit somewhat tedious at times.

All-in-all, Time on Frog Island isn't a bad game, but there is room for improvement. The story, location, and characters are certainly intriguing, but you're not really given much detail behind them to make you feel more invested, which feels like a missed opportunity. The gameplay concept is also good, but has flaws, such as the lack of mini map or task list to help you when you become lost. There's not much to complain about in the graphics and sound department; they match the game's theme well and are useful to the gameplay. In summary, if you like exploring and trading and meeting frog people, you should spend some Time on Frog Island.

I'd say that the lack of a quest list might just be Time on Frog Island's biggest issue. After all, we're talking about a game that's basically nothing but fetch quests, so for the game to not include a way of keeping track of your one task seems like a major oversight. Then again, maybe the makers of Time on Frog Island just figured they could get by on a cute premise and general aesthetic. To be sure, in some cases that may be enough, but in this case, it just means you have a game that has the right tone but none of the right content.