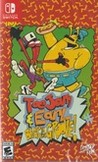 Summary:

ToeJam and Earl have crash-landed back on Earth in ToeJam & Earl: Back in the Groove!, a funky fresh roguelike adventure infused with old skool hip-hop and jam packed with awesome throwbacks to the 1991 classic. Original Funk Lord (and co-creator) Greg Johnson is back at the helm with the

ToeJam and Earl have crash-landed back on Earth in ToeJam & Earl: Back in the Groove!, a funky fresh roguelike adventure infused with old skool hip-hop and jam packed with awesome throwbacks to the 1991 classic. Original Funk Lord (and co-creator) Greg Johnson is back at the helm with the sequel that ToeJam and Earl fans have been waiting for.

…

Expand
Developer:

Humanature Studios, 22nd Century Toys

Genre(s):

Action

,

General

,

Platformer

,

2D

# of players:

Up to 4

Cheats:

On GameFAQs

Rating:

E10+
Please enter your birth date to watch this video:
You are not allowed to view this material at this time.
ToeJam & Earl: Back In The Groove . -Launch Trailer
Even if you don't have an ounce of affinity for the first game, or weren't around to experience it to begin with, ToeJam & Earl: Back in the Groove still comes together as a modern roguelike that everyone can enjoy.

After years of relative obscurity, ToeJam & Earl is back in a big way. Back in the Groove likely won't push the franchise beyond its cult status, but it is a good game that fans both old and new should check out. Pick up and play this one with a friend for the best experience.

Despite some apprehensive dalliances with repetition, I loved ToeJam & Earl: Back in the Groove. The sublime style drips with funk, and the cadence of roaming through floors using my presents to try to avoid failure and find my ship parts is one that made for a charming experience. It didn't matter if I saw some of the same things several times over my multiple playthroughs. The whole thing is spectacularly goofy and weird, even if I eventually do figure out why the hell the yeti has a pencil.

While still in need of some technical polish, ToeJam & Earl: Back in the Groove is a loving flashback to the good old 90s, filled with some lighthearted laughs and killer beats in an easygoing adventure setting. Fans of the original will definitely find something to love, and those who are new to the craziness can find some great fun here.

I do wish the time-honored gameplay was offset a bit more by balanced, polished, and tighter design at times. But if you're "ready for a blast of funky nostalgia" the sense of déja vu that comes from familiar fun won't be a negative.

ToeJam & Earl's endearing retro motif is right up my alley, but there simply isn't enough charm here to elevate this new entry over its source material. [Issue #39 – May/June 2019, p. 29]

Back in the Groove might satisfy series fans that just want some new toys to play with, but the sluggish speed and obtuse design of the dated original remains.
This game is a co-op dungeon crawler. The goal is to locate spaceship pieces to get back home to funkatron. It's a unique experience, you'll

This game is a co-op dungeon crawler. The goal is to locate spaceship pieces to get back home to funkatron. It's a unique experience, you'll ascend randomly generated levels which puts the whole delving deep into a dungeon on its head. To aid you, find presents just like magical scrolls which can overcome obstacles. To identify them, instead of finding deckard cain you'll need to locate a carrot man. It's bold, loud and a bit bizarre and that gives it a charm.

It a laid back co-op game and perfect for couch play with split screen or over the internet with up to 4 players. Progress can be saved but once you die your save is wiped so the experience can be pretty brutal and very satisfying to complete it.

…

Expand

My previous review I turn back. ToeJam & Earl: Back in the Groove is a thrill. A completely revamped version of the original ToeJam & Earl

My previous review I turn back. ToeJam & Earl: Back in the Groove is a thrill. A completely revamped version of the original ToeJam & Earl (1991) - Complete with new features and adjustments to guarantee a fun experience.

Edit: Bugs have been heavily tackled by this team and not ignored.

…

Expand

I enjoyed the first Toejam & Earl game, but never quite understood what the hell you were supposed to do. This switch version is eye popping

I enjoyed the first Toejam & Earl game, but never quite understood what the hell you were supposed to do. This switch version is eye popping gorgeous, has online player mode (rarely someone else playing), and is easy to learn. After playing through this, there are great incentives (unlockables) to keep playing. The game is just ridiculously fun and well crafted to reboot the franchise. This was definitely for the old players and not so much an attempt to bring in new players (IMO).

Loved it, play it all the time.

…

Expand

A classic game remake done right with popping hand-drawn graphics, rocking hip-hop soundtrack, and and even bigger barrage of enemies and

A classic game remake done right with popping hand-drawn graphics, rocking hip-hop soundtrack, and and even bigger barrage of enemies and power-ups to make this one of the craziest co-op treasure hunts ever.

…

Expand

Well...i cant believe how much time Ive played this game on mega drive at nines. In fact, I didnt played any other TJ instead of the first one

Well...i cant believe how much time Ive played this game on mega drive at nines. In fact, I didnt played any other TJ instead of the first one and when I noticed that a new remake was released, I cant
think twice and take it. So, if I thinks what a time have been passed (aprox. 27 years ago) I cant believe!

Well...I guess that version is a great and a fan based game and the company did it doing a remake of the original one plus new things more. TJ & Earl back in the grove is better if you play with anybody because its is funny game with a lot of nonsense stuff to do. Ive played for hours with my nephew and the experience was great....

…

Expand

Massive fan of the original. Played it co-op many times over with my big sister. This remake does successfully recreate the fun personality,

Massive fan of the original. Played it co-op many times over with my big sister. This remake does successfully recreate the fun personality, features and systems of the original game, but is not as playable or as well-made. The original game had two invisible, excellent, features - a slower, deliberate pace, and plenty of visual breathing room. In this remake everything slides around fast and loose, clamoring to overlap and occupy more of the screen, ruining what made the original so approachable. New features have been added - new biomes, day/night, a stats system and a bigger variety of presents & unlockables add replayability, but the *core game* - the control response, movement, field of view, scale and readability of the enemies' (for dodging), the 'stealth' and 'combat' (sneaking and tomatoes) -- all of these things were great in the original but here they are a hot mess, lively at best but utterly frustrating and unplayable on the harder difficulties. Example - random generation places important objects directly atop eachother - impossible to see clearly and interact deliberately. Most enemy characters are oversized compared to your viewing area, they move fast and their sprites flail around so wildly you can't read and judge their collision area so as to negotiate dangerous situations - late in the game there'll be literally entire screens filled with oversize enemies flailing wildly and you can't hope to see what's coming and avoid it, and don't rely on tomatoes or a slingshot because they aren't easy to aim or satisfying to use. Sure it's a game about funky personalities and weird popculture gags, but the core mechanics have been slapped together with minor consideration for what made the original game so playable underneath it all. It's a damn shame that so many good new ideas have been piled atop a shoddy remake of the core mechanics. This game gets lots of new things right but screwed up what made the original so playable and satisfying. Tons of personality, lacking in basic playability.

…

Expand

they should rename this to CRASHjam and earl! if you want this game than DO NOT get the switch port. it constantly crashes when you use the

they should rename this to CRASHjam and earl! if you want this game than DO NOT get the switch port. it constantly crashes when you use the elevator, fall off the level and even when you go to save sometimes. endless mode is incredibly buggy too the fps is also constantly dropping DO NOT BUY THIS!!

…

Expand