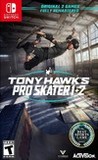 Summary:

Drop back in with the most iconic skateboarding games ever made. Play Tony Hawk's Pro Skater & Tony Hawk's Pro Skater 2 in one epic collection, rebuilt from the ground up in incredible HD. All the pro skaters, levels and tricks are back and fully-remastered, plus more.
Please enter your birth date to watch this video:
You are not allowed to view this material at this time.
Tony Hawk's Pro Skater 1 And 2 - Official New Platforms Gameplay Trailer
Whether this game is seen as the next great portable skateboarding game or a less visually pretty home console game, the most cogent point is that it plays incredibly and with so much to do across both of the remade games, this is one of the best skateboarding games ever made.

While you'll have to give up on some of the visual razzle-dazzle and brisker loading times of the other versions, this is a fine way to play Tony Hawk's Pro Skater 1 + 2. It's easily the best handheld Tony Hawk game yet, and that's worth quite a lot. And while those with other options for playing on their TVs would do well to exercise them, if this is your only means of playing this superb reboot, I don't think you'll be upset with it in the least. Vicarious Visions has done an excellent job with the development of this game, and an equally impressive job porting the game to the Switch.

Vicarious Vision's love for this franchise is clear throughout each tour of Tony Hawk's Pro Skater 1+2. Controls are precise, gameplay is addicting, there is plenty of content and really well designed levels are complemented by a wonderful soundtrack. It's only such a shame that the Switch version does not hit the performance targeted by the series for almost two decades now.

Tony Hawk's Pro Skater 1 + 2 also arrives on Nintendo Switch with a good porting.

Tony Hawk's Pro Skater has found its way to the Nintendo Switch and we couldn't be happier about it. Both games lend themselves perfectly to brief sessions, which works well with this handheld console. There are some visual downgrades, yes, though as far as gameplay is concerned, the titles play as well as they ever have. Sincerely recommended.

Tony Hawk's Pro Skater 1 + 2 is an excellent experience no matter what system it is played on. The Nintendo Switch version of the game is a little different, with a few limitations on what the game is able to achieve thanks to the hardware, but it remains enjoyable throughout. The Switch port of Tony Hawk's Pro Skater 1 + 2 is ideal for the who wants to play in handheld mode on the Switch, but those who will be mostly playing from their couch on a television will want to pick up a different version if possible.

Tony Hawk's Pro Skater 1 + 2 does a decent job of bringing the game into 2021, however it falls short in a few unnecessary ways that might keep newcomers to the series from enjoying it.
Pretty damn good remaster brings back the good ole child hood days play this game. New skaters added as well. Graphics are epic!!

Very strong switch game. Pick up and play fun, easy controls and endless content. Must have

Best Switch videogame port. The game es very fluid even in multiplayer. Don't be afraid and buy it!

My french review below, you can follow me on Twitter @NintendoLegacy1

Tony Hawk's Pro Skater 1+2 sur Switch est un excellent portage. LesMy french review below, you can follow me on Twitter @NintendoLegacy1

Tony Hawk's Pro Skater 1+2 sur Switch est un excellent portage. Les quelques concessions graphiques sont tout à fait honnêtes et ne servent qu'une seule chose: la fluidité du jeu. Ce portage exemplaire prouve qu'il n'est pas tout le temps nécessaire de revoir sa copie lorsque la formule est bonne. Un plaisir de jeu immédiat, des possibilités de customisation et de parcours multiples en plus d'une bande son aux **** oignons permettent de ramener en un clin d'œil l'arcade au goût du jour pour le plus grand plaisir des joueurs.

…

Expand

While the telltale concessions of a Switch port are present, THPS 1 + 2 still delivers where it counts. These are two of the best games of all

While the telltale concessions of a Switch port are present, THPS 1 + 2 still delivers where it counts. These are two of the best games of all time, flawlessly remastered and ready to play anywhere at any time. What else can you ask for?

…

Expand

A superb little port. Totally worth the dough, especially as there are some good prices on the physical copy to be found.

The people whoA superb little port. Totally worth the dough, especially as there are some good prices on the physical copy to be found.

The people who complain about how "it's not as good as the PS4 version" are as loony as ever.

The Switch isn't as powerful as the PS4, and everyone knows this, so expecting the Switch version of a game to be identical to the PS4 version, is like expecting a $20 tablet from Wish to be an iPad.

You make yourself look foolish and childish by whining about Switch games not looking like PS4 games.

…

Expand

Half the framerate, but still full price - go figure.. and that's just the beginning of the shortcomings in this version.

The visuals areHalf the framerate, but still full price - go figure.. and that's just the beginning of the shortcomings in this version.

The visuals are very lackluster compared to Ps4's version - which I own and really like! the controls are poor, because of the horrible joy-cons and their drift issues.

I would never support a severely downgraded version of a game just because "it's handheld, duh.." and I would implore you to not purchase either.

If you release a severely lackluster version of a game, the price should also reflect that! not even the most hardened Nintendo fanboy could possibly refute this.

…

Expand