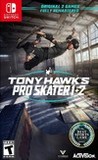 Summary:

Drop back in with the most iconic skateboarding games ever made. Play Tony Hawk's Pro Skater & Tony Hawk's Pro Skater 2 in one epic collection, rebuilt from the ground up in incredible HD. All the pro skaters, levels and tricks are back and fully-remastered, plus more.
Please enter your birth date to watch this video:
You are not allowed to view this material at this time.
Tony Hawk's Pro Skater 1 And 2 - Official New Platforms Gameplay Trailer
Whether this game is seen as the next great portable skateboarding game or a less visually pretty home console game, the most cogent point is that it plays incredibly and with so much to do across both of the remade games, this is one of the best skateboarding games ever made.

This is a superb port of one of the finest arcade sports experiences of them all, and instantly becomes an essential purchase for Switch owners.

Tony Hawk's Pro Skater 1 + 2 on the Nintendo Switch is a fantastic port. Sure, it's graphically inferior and not as pretty to look at, but that's the only noticeable concession made to get it to run on Nintendo's beloved hybrid console. That's not to say it's being rendered in "potato mode," by the way - it still looks great for what it is, with each real-life skater clearly distinguishable despite the lower pixel count. With the outrageously impressive amount of content and extremely rewarding gameplay loop, there's nothing to stop this port being a solid recommendation for Switch owners.

Tony Hawk's Pro Skater 1 + 2 is a great remake. Despite some issues on Nintendo Switch, it knows how to adapt the original titles with a series of really interesting content, while keeping intact the characteristics that made them timeless classics.

Tony Hawk and the gang land on Switch with a fantastic adaptation of a great remaster. Two of the best sport games ever made, now playable on the go with great visuals, so you can't go wrong with this one.

Tony Hawk's Pro Skater 1 + 2 is an impressive Switch port that make graphical cuts in just the right places. Those cuts ensure a smooth and consistent gameplay experience that sets a new standard for Tony Hawk games on the go.

Tony Hawk's Pro Skater 1 + 2 does a decent job of bringing the game into 2021, however it falls short in a few unnecessary ways that might keep newcomers to the series from enjoying it.
Pretty damn good remaster brings back the good ole child hood days play this game. New skaters added as well. Graphics are epic!!

Perfect. Exactly as I remember it, just prettier. Don't like the PS4 visuals, so switch version actually feels closer to PS originals. Also

Perfect. Exactly as I remember it, just prettier. Don't like the PS4 visuals, so switch version actually feels closer to PS originals. Also perfect for on the go - do a quick run - put the switch to sleep. Perfect match of form and hardware

…

Expand

Tony Hawk 1+2 has to be the greatest video game I've ever purchased in my life. The attention to detail that was put into this remake is just

Tony Hawk 1+2 has to be the greatest video game I've ever purchased in my life. The attention to detail that was put into this remake is just amazing. The game is just how remember it back on the PS1 and the N64 with elements from Tony Hawk Pro Skater 3 and 4 thrown in there too. The levels are recreated to perfection the controls feel absolutely perfect the soundtrack is all here this game just feels like a pipe dream. I will never stop playing this masterpiece

…

Expand

Activision managed very well with the new implementation of "Tony Hawk's Pro Skater 1 + 2" on the Nintendo Switch. It's simply fun again to

Activision managed very well with the new implementation of "Tony Hawk's Pro Skater 1 + 2" on the Nintendo Switch. It's simply fun again to skate in the familiar parks with the popular icons and always unlock new content. Also, the motivation to create your own skater and parks and share them with other players has become simply beautiful. So you get better graphics and controls than before in the original. If you like to play with Tony Hawk and his friends, you should definitely pick up "Tony Hawk's Pro Skater 1 + 2".

…

Expand

Best skateboard game ever. Also for Nintendo Switch. Graphics don't so bad as at videos of gameplay on YouTube. It have lot of hours of

Best skateboard game ever. Also for Nintendo Switch. Graphics don't so bad as at videos of gameplay on YouTube. It have lot of hours of interesting gameplay and level up your skills.

I can reccomed it.

…

Expand

A superb little port. Totally worth the dough, especially as there are some good prices on the physical copy to be found.

The people whoA superb little port. Totally worth the dough, especially as there are some good prices on the physical copy to be found.

The people who complain about how "it's not as good as the PS4 version" are as loony as ever.

The Switch isn't as powerful as the PS4, and everyone knows this, so expecting the Switch version of a game to be identical to the PS4 version, is like expecting a $20 tablet from Wish to be an iPad.

You make yourself look foolish and childish by whining about Switch games not looking like PS4 games.

…

Expand

Awful controls, unstable gameplay, poor menu navigation. Overall terrible on the Nintendo Switch. Doesn't seem like they put enough time in

Awful controls, unstable gameplay, poor menu navigation. Overall terrible on the Nintendo Switch. Doesn't seem like they put enough time in game testing before it was released considering all the goals I try to complete over and over again, meanwhile the original versions never had this issue. Why re-release/remake these levels several times? Cash grab much? I haven't experienced anything more boring and repetitive while gaming when I'm playing this game. I think I said enough already, I'm not gonna waste more time on this review. I've already put in hundreds of hours for the first two games, but what about the other predecessors that had many great reviews and scores as well. Are we just gonna toss those ideas in the trash? That would make them more money if they just re-release 3-7 (American Wasteland) from the franchise.

…

Expand