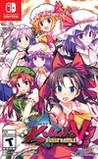 Summary:

Touhou Kobuto V: Burst Battle is a bullet-hell battle game that takes place in the Touhou universe. Take control of one of nine Touhou characters and eliminate your opponent using bullet-hell patterns, melee attacks, or spell cards. Featuring ear-tingling beats for each character, you might

Touhou Kobuto V: Burst Battle is a bullet-hell battle game that takes place in the Touhou universe. Take control of one of nine Touhou characters and eliminate your opponent using bullet-hell patterns, melee attacks, or spell cards. Featuring ear-tingling beats for each character, you might just find yourself dancing while you play.

…

Expand
Developer:

CUBETYPE

Genre(s):

Action

,

Fighting

,

3D

# of players:

2

Cheats:

On GameFAQs

Rating:

T
Despite accurately interpreting a respected franchise and having solid foundations for a fighting game, Touhou Kobuto V: Burst Battle delivers a slither of content that is not only disappointingly lacklustre. but also unwelcoming for newcomers and littered with inconsistencies and glitches that further hinder the quality of the experience. Local multiplayer is where this may redeem itself, but even that's stretching it for a retail game. For the price, it's not something I'd recommend.

Touhou Kobuto V: Burst Battle has decent Arcade and Score Attack modes and the idea of playing the same plot with different characters is worthy of praise but the fights quickly become repetitive and dull, its audiovisual component is a throwback to fifteen years ago and overall, the game just feels uninspired.

Fans of the Touhou Project might get some enjoyment purely from seeing their favourite characters on the big (or little) screen once more, but this isn't a quality fighting spin-off. The game's slow pace, disinteresting plot, and lack of any serious fighting credentials leave an awful lot to be desired. If the game was considerably cheaper you could potentially justify a purchase for having quick, easy-to-set-up fighting rounds; as it stands, though, this may well be best left alone.

Touhou Kobuto V: Burst Battle fails in so many basic aspects of the fighting genre that it will be hard to enjoy the game, even if you a are die hard Touhou fans. Gameplay is repetitive and boring, the game falls short on contents and graphics feels so dated that this could be easily mistaken for a N64 or at least for an early PS2 game.

Touhou Kobuto V: Burst Battle originally started out as a PlayStation Vita game, and would have released there a few months ago but for NIS America's desire to do a simultaneous multiplatform release. A game of this quality wouldn't have been acceptable on the Vita, and being on the Switch is only serving to expose its myriad flaws to more people. If you need to see girls beat the snot out of each other on the Switch, there's already plenty of better options.

Touhou Kobuto V: Burst Battle is the worst Touhou game I've played and one that you should avoid unless you absolutely must own everything Touhou.

Do not spend your money on this game. Thirty dollars could buy you so much more than what Touhou Kobuto V: Burst Battle has to offer. It's almost appalling how badly designed this game is. Even if it were five dollars, I still don't think that the price could excuse the pitiful piece of software that I was given to review. The game looks and feels like a PS2 launch title that went wrong. Thankfully, as all Touhou fans have come to expect, the music is the only redeeming quality that this game has to offer, but that's no reason to buy the game. Do yourself a favor and forget this even existed. As a Touhou fan, I can objectively say that this is one of the worst games to have come out in the series, period.
To me, this game is highly underrated. Is it clunky to play when you first get into it? Yeah, it is. Just like any other highly competitive

To me, this game is highly underrated. Is it clunky to play when you first get into it? Yeah, it is. Just like any other highly competitive fighting game. Ask anyone who plays competitive fighting games that are regarded highly (Street Fighter, Tekken, Guilty Gear, etc.) and you'd be hard pressed to find someone that said getting to a point where they could do what they wanted consistently was easy. This game is a bit unique from other fighters as combos aren't determined by how many attacks you hit them with (being able to cancel end lag on moves determined by whether a hitbox connected) but rather instead by setting up "bullet hell" on the opponent. For example, everyone has two basic patterns of either repeatedly throwing out "main attacks" or by throwing out a regular attack into its enhanced form (pressing block+attack). Aside from that, everyone has unique different ways to set up attacks. For example, Flandre can set up her double spinning laser attack to force them to jump, but then cancel it into a forward-dashing main attack to catch them if they aren't mobile in the air. There's definitely a lot to explore, and I feel none of these reviews really give it the credit it deserves as a fighter, and instead focus on reviewing it like how you would to games like "The Order: 1886" or other games that lack real gameplay. If you like gameplay, get this game.

…

Expand

I love the Touhou series the game is really fun to play hopefully we get new game modes i can't wait to see what the game can come up with in

I love the Touhou series the game is really fun to play hopefully we get new game modes i can't wait to see what the game can come up with in the future.

…

Expand

At first glance, this game may seem repetitive and too simple for most fighting game fans, let alone hardcore Touhou fans. From my experience,

At first glance, this game may seem repetitive and too simple for most fighting game fans, let alone hardcore Touhou fans. From my experience, however, there's a lot of in depth strategy and techniques available. Even if you're not a Touhou fan, it's worth picking up for this reason. Quick fall cancelled aerial moves, block and dash cancelled melee... there's a lot going on that lets you mess with your opponent's head and keep them guessing. Better yet, the controls are very simple, so even people who aren't good at fighting games can enjoy this. It's great one on one action and once you know what you're doing, you can go far. The only downsides are that the single player experience won't last you very long, and there aren't many US players still playing this. You will, however, find a lot of Japanese players that will really show you what this game has to offer.

If you take anything at all from this review, be sure to read the in game manual!

…

Expand

TOUHOU KOBUTO V: BURST ATTLE was the most fun Couch Multiplayer game I have played on the switch if you have a group of friends this game is

TOUHOU KOBUTO V: BURST ATTLE was the most fun Couch Multiplayer game I have played on the switch if you have a group of friends this game is worth checking out. the single player may not the best thing but for $30 it worth it

…

Expand

Once you get used to the controls and how different attacks and techniques work, it's actually kind of fun. This is not a "real" Touhou game

Once you get used to the controls and how different attacks and techniques work, it's actually kind of fun. This is not a "real" Touhou game however, but actually a fan game for PC that has merely gotten an official release on consoles, so it's not really a must have for Touhou fans but fans of the Touhou characters and of games like Virtual On might find some enjoyment in it for the budget price. The Switch version seems to suffer from an audio issue though where a crackling sound comes out of one speaker at some points and requires one to close and reset the software to get everything working back to normal. Overall, I'm not ashamed to say I actually am enjoying this title and I don't think it deserves some of the flack some reviewers have given it. It's a thirty dollar japanese indie game, and not a bad one i think. But I would recommend that players familiarize themselves a little more with the mainline touhou series a bit more before giving this game a whirl. And I can understand if one felt that it wasn't worth the full retail price asked for it.

…

Expand

Strangely enough, if you're a fan of any of the many "mecha arena combat" games that came out in the late 90s, this is a simpler version of

Strangely enough, if you're a fan of any of the many "mecha arena combat" games that came out in the late 90s, this is a simpler version of those. It's extremely light on content, so it's kinda tough to actually recommend picking it up, but it's mildly entertaining if you don't want to think much. it's equal parts weird, silly and simple. Worth maybe $5 to waste an empty afternoon on.

…

Expand