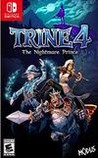 Summary:

The Trine series returns to the magic of 2.5D with Trine 4: The Nightmare Prince! The three heroes of the best-selling adventure series are back, sent on a quest to retrieve the troubled young Prince Selius. Amadeus the Wizard, Pontius the Knight, and Zoya the Thief are joined together once

The Trine series returns to the magic of 2.5D with Trine 4: The Nightmare Prince! The three heroes of the best-selling adventure series are back, sent on a quest to retrieve the troubled young Prince Selius. Amadeus the Wizard, Pontius the Knight, and Zoya the Thief are joined together once again on a thrilling quest through fantastical fairytale landscapes teeming with danger. Prince Selius suffers from intensely dark dreams and, due to his magical talents, monstrous nightmares are able to slip into reality and wreak havoc on the waking world. Amadeus, Pontius, and Zoya must find the afflicted prince and resolve the desperate situation before the world is engulfed by the Nightmare Prince's shadows.

…

Expand
Developer:

Frozenbyte, Inc.

Genre(s):

Action

,

Platformer

,

2D

# of players:

Up to 4

Cheats:

On GameFAQs

Available On:

Stadia

Rating:

E10+
Please enter your birth date to watch this video:
You are not allowed to view this material at this time.
Trine 4: 13 Minutes Of Single-Player And Co-Op Gameplay | E3 2019
Nintendo Force Magazine

Apr 30, 2020

It's immensely satisfying! It's no wonder this series has reached its fourth installment. [Issue #44 – January/February 2020, p. 71]

With Trine 4: The Nightmare Prince, Frozenbyte has returned the series to its origins by making dynamic puzzles the main attraction. On the Switch, the controls feel tight and the basic button layout and controls feel natural. There are so many fun and perplexing puzzles in this game that it's worth buying just for the challenge of teasing your brain. Though the story and action lacks a bit of depth and gets lost in the complexity of the puzzles, I found this to be one of the best experiences on the Switch.

Trine 4 is beautiful and perhaps a bit too straightforward for solo players, but it shines brilliantly in co-op.

With Trine 4: The Nightmare Prince, fans will rejoice at what is, in every way that matters, a return to form for Frozenbyte's fantasy adventure.

The fourth chapter of the Trine series features a beautiful audiovisual environment, a very wide ranging multiplayer component and many dynamic, stimulating puzzles. This latest chapter is certain to leave its players absolutely charmed and brings the Trine series back to a land of wonder.

Trine 4 had a lot riding on it given the effects of its predecessor, but we can confidently say that the course has been corrected and the series' reputation restored. From start to finish, Trine 4 is a remarkably absorbing and beautiful experience that'll keep you challenged and interested right through to the finish, while also offering a fair bit to keep you coming back for a couple hours after the credits roll. Though the combat needs some work, any failings here are easily rectified by the strong puzzle design that manages to stay both dynamic and challenging. If you're looking for an easily accessible game to play in co-op or a game that's a bit more reliant on brains than reflexes, Trine 4: The Nightmare Prince is just what you're looking for. We'd give it a high recommendation, especially if you enjoyed some of Frozenbyte's earlier work.

PC is the ideal method of playing Trine 4: The Nightmare Prince. If you have a PC that can run it, I recommend grabbing Trine 4 for PC because after trying the Nintendo Switch version in both docked and portable mode, the experience isn't as magical. The core gameplay, story and puzzle solving are all still quality but the experience feels more clunky with a controller or Joy-Con.
This game is a beautiful combination of challenging puzzles, outstanding visuals, a nice story that's not trying to be deep but fun and easy

This game is a beautiful combination of challenging puzzles, outstanding visuals, a nice story that's not trying to be deep but fun and easy to follow and a well developed progression system that makes you go "uuuh - nice!" each time you get a new skill. Playing the game was like eating a good meal: you don't want it to be over but you don't want to stop eating either.

…

Expand

Compared to previous Trine games I found this game most superior but perhaps because it fits the Switch console so well. The puzzles are fun

Compared to previous Trine games I found this game most superior but perhaps because it fits the Switch console so well. The puzzles are fun and the characters are likeable. The graphics and animations are also satisfying as are the pushes to collect bonus items. I enjoy the whole magical Fantasy type RPG element to this game. It also doubles as a fabulous platformer.

The story is not fantastic and the only character that can deal significant damage to the mobs and bosses seems in my opinion the Knight Character. The Thief can shoot arrows but she doesn't have any effect. Equally the Wizard is basically useless in fights other than resurrecting your Knight and Thief when they die. Nevertheless I like the feel of the Wizard, Thief and Knight during the playthroughs of the puzzles which are the majority of the game.

I can't say I don't enjoy Trine 4 but in fact I do very much and I think if you're looking for a platformer for the Switch it's definitely a great addition.

…

Expand

Entertaining puzzle-platformer that allows creative solutions set in beautiful fairytale world.

After the great fall that was Trine 3, Trine 4 became the greatest of comebacks. This absolute marvel of a game built on every concept Trine 2

After the great fall that was Trine 3, Trine 4 became the greatest of comebacks. This absolute marvel of a game built on every concept Trine 2 had set up and drove it home masterfully. Puzzle platforming returned, along with the skill tree with several new skills to learn that constantly made the game exciting to play. The visuals were also constantly breathtaking with vibrant backgrounds, detailed cutscenes, and animations that were a joy to watch. It's also worth mentioning the story was actually really good! You learn more about our main characters while enjoying a story of a troubled boy with some great inner demons, meeting all sorts of fun side characters along the way. Trine 4 was so constantly addictive and fun to play, and showed the developers can still deliver an amazing new experience while still sticking to their laurels, and I can't wait to see what they do next.

…

Expand

Trine returned from its crazy journey of 3D graphics to its sweet homeland. Controls are much better than in the first and second game, visual

Trine returned from its crazy journey of 3D graphics to its sweet homeland. Controls are much better than in the first and second game, visual is like always 10 out of 10. I don't like, that it became a fairytale now, and also, I don't know why it's still called Trine, because there is no actual Trine here. So, if you have some questions about the lore or what is happening around me - just relax. This is not that kind of game. But overall - it is chilling, beautiful and easy.

…

Expand

Trine 4 was enjoyable for the puzzles and leveling structure. I ended up beating it after 12 or so hours.

Game(s) like: Other Trine games,Trine 4 was enjoyable for the puzzles and leveling structure. I ended up beating it after 12 or so hours.

Game(s) like: Other Trine games, Unruly Heroes

Pros:
- The puzzles and levels were well done
- The environments looked great
- The powers of each character were fun

Cons:
- The characters themselves seemed sort of cheesy
- The combat was not very fun

…

Expand

I could not experience the game on the Nintendo Switch a lot because the button layout does not make sense, it is not intuitive and breaks the

I could not experience the game on the Nintendo Switch a lot because the button layout does not make sense, it is not intuitive and breaks the game. I hope the controller button layout gets fixed in future updates.

…

Expand