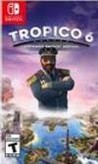 Summary:

In times of political turmoil and social unrest, the people are calling out for a visionary leader, one who will steer the fate of their country with foresight and ingenuity. Will you answer that call?
Tropico 6's port to the Switch is a full-sized city building and resource management sim in the palm of your hand, which is the only way I want to play this genre anymore. The relatively quaint scope in comparison to the Civs of the world and the focus on more micro inputs to influence your nation is refreshing, and what compromises were necessary to make it here were well worth it.

The Tropico series was long overdue on Nintendo systems, and Tropico 6 is a stellar example. While it's a little overcomplicated and unexplained in places, it's a super deep and satisfying experience. No recount needed here.

Tropico 6 may take its time to allow you to do exactly what you want, but you can at least be confident that you'll know what you're doing and how to do it. But again, there's only so much I can sugarcoat things. Tropico 6 is one of my favourite city-building games and I'll never say no to playing it on the go, but if you're interested in it, you need to know that the experience you're getting is a little rough — to put it mildly.

It's the game's commitment to accessibility that makes Tropico 6 a refreshing example of an under-served genre on the Switch. Despite some irksome performance problems, occasionally inconsistent pacing and some rather rough visuals, the game is a lot of addictive fun to play and its cheerful ambience and compelling systems will keep you glued to your handheld. Paid DLC adds even more systems to the game, but there's plenty here to keep you occupied for hours and hours. We'd recommend this to genre newbies as well as veterans; a very impressive port with strong controls and a UI tailored brilliantly for handheld mode. It's a busy, demanding game but never feels stressful, and juggling your industry, faction relationships and the mood of your citizens can be thoroughly absorbing. If you can forgive the technical issues and an occasionally slack pace, Tropico 6 is an easy recommendation.

Maybe it is not the perfect port we'd hoped for Switch, but Tropico 6 is a very solid city builder sim anyway.

Tropico 6 builds on the strong foundations of the series by Limbic and Kalypso, expanding and enriching its classic structure and contents, but with limited variations and a disappointing presentation on Nintendo Switch.

While the gameplay is intact, the visual downgrade to Tropico 6 is so damaging to the game. Juggling different tasks is still fun, but now it all just looks worse. Due to the poor visuals, there are inevitable diminishing returns as your settlement gets bigger, which is the opposite of how it should be. The grander your achievement, the harder it is to actually see it.
I'm not sure if the previous reviewers have played the same game as I have, but....
Tropico 6 is a good game - it's a challenging strategyI'm not sure if the previous reviewers have played the same game as I have, but....
Tropico 6 is a good game - it's a challenging strategy game where you manage an archipelago community as its ruthless dictator. The graphics aren't brilliant - the Switch port definitely took a hit there - but you can only really tell when zoomed in on the buildings. Otherwise, from far away, it looks fine. The music is a jam too, and the controls are simple with a wheel of choices which works wonderfully for the Switch.
In terms of gameplay, there are two main modes: Missions, which are scenarios taking place on different maps and tasking you in different areas, with regular gameplay elements such as demands, dealing with factions, etc. and Sandbox, which lets you pick the map and fully customise elements of your game before ruling with an iron fist. There's also the Tutorial, which includes multiple chapters and detailed tasks to teach you the basics of the game. Some mechanics aren't fully explained, but there's enough there to grasp how to play the game effectively, especially when faced with the Missions.
There are some issues - I experienced a crash in the first tutorial which occurred pretty frequently. I was able to fix it myself by doing the steps the tutorial asked of me first before the task popped up (just take a screenshot of the task before the game crashes and then do it after) which was annoying but oh well. There's also the loading times - they are pretty long compared to other versions, maybe about a minute or so. I've also heard complaints about the DLC not being included in the main package, especially with the price when compared to the PC version, but there's enough included in the main game that I personally don't think it's an issue. Just worth mentioning in case that's an issue for some.

Overall what you're getting here is a great strategy game. It has got some issues in terms of graphics, some infrequent crashes and long loading times, but overall there's tons of content here and plenty to keep your strategic mind occupied. Come on, El Presidente - you've an archipelago to rule and your console can come too!
Final Score: 8/10

…

Expand

I'm a huge fan of strategy games so having them on switch is my passion. After great games such as CIV6 or two points hospital that works on

I'm a huge fan of strategy games so having them on switch is my passion. After great games such as CIV6 or two points hospital that works on switch like a charm, I was really excited for tropico 6. But alas, from first scene you create your president in you will see one of worst graphics on switch, and it becomes even worse once you start managing your island. If I haven't played other strategies on switch I would assume this is due to limitations of console, but considering other titles this seems to be just really bad port.

…

Expand

This looked to be a promising Switch port, but the game lacks any sort of clear explanation/tutorials regarding its mechanics - how things

This looked to be a promising Switch port, but the game lacks any sort of clear explanation/tutorials regarding its mechanics - how things work, what affects what. The overwhelming ambiguity as to how to play the game and how to effectively manage your territory renders it useless. Overall, it's mostly unplayable...unfortunately.

…

Expand

Poor graphics. Music jams while playing.
The game itself is very poor, a lot of reading. There is no action. In addition, when I have playedPoor graphics. Music jams while playing.
The game itself is very poor, a lot of reading. There is no action. In addition, when I have played sandbox with unlimited money, there is always Game Over in half hour, no fighting, etc. There is very little dictatorship elements in the game itself, you cannot have riots and such.

…

Expand

This game controls all right, given that is a strategy game on a handheld. Otherwise the game looks dreadful to the extent that it is

This game controls all right, given that is a strategy game on a handheld. Otherwise the game looks dreadful to the extent that it is unplayable, even worse than Outer Worlds in my opinion. They should have released the IOS/Android version of Tropico 3 instead; it would have looked way better on the limited handheld hardware and have given people a better experience at a lesser cost.

…

Expand