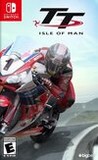 Summary:

Meticulously detailed Mountain Course replicated with each stretch and bend of the circuit. OFFICIAL RIDERS AND THEIR SUPER-POWERED BIKES - 24 riders, 38 bikes, and sidecars rocketing along village and mountain roads at 200 mph.
Developer:

KT Racing

Genre(s):

Racing

,

Arcade

,

Automobile

# of players:

Up to 8

Cheats:

On GameFAQs

Rating:

E
Fast and dangerous, TT Isle of Man: Ride on the Edge 2 is a plain package but boasts some top-notch two-wheeled racing.

While Milestone's two-wheeled efforts offer a more polished two-wheeled simulation experience, Kylotonn's latest addition to the genre is still a recommended purchase for hardcore superbike superfans. The overall improvements to the handling model make taking on the legendary Isle of Man TT course a far more rewarding experience than previous attempts, while the improved Career mode makes the build-up to that infamous race far more agreeable to less experienced riders. While it's still very rough around the edges in terms of presentation, Isle Of Man TT - Ride On The Edge 2 is still a far smoother ride than the original and another decent addition to Switch's growing motorbike repertoire.

TT Isle of Man: Ride on the Edge 2 for Nintendo Switch suffers from frame rate drops, low definition graphics with lots of aliasing and slow loading times that ultimately affect gameplay.

It's more accessible to new players, provides a good speed sensation and the career mode is better implemented. However it leaves the impression that it didn't go all the way in its job to improve the experience compared to the original and the result is a game that is inconsistent on its performance and has a visually poor environment.

TT Isle of Man Ride on the Edge 2 is a good game, but maybe not so much for the Switch's limited Joy-Cons. I feel gamers shouldn't have to fight the controls to get a game to feel right.

TT Isle of Man: Ride on the Edge 2 is still a good game, but some twitchy handling and framerate issues somewhat compromise the Nintendo Switch experience.
It's a pity that most of the YouTube reviewers I check in with aren't 'critics' on this platform. They have averaged around 8.5 for this entry

It's a pity that most of the YouTube reviewers I check in with aren't 'critics' on this platform. They have averaged around 8.5 for this entry and generally seem more interested in setting up the custom controls properly than the average publication... I think that KT has done a terrific job with this port given the limitations of the hardware, just like they did with WRC8. The sense of speed is beyond anything else on the Switch including FastRMX. Yes, it is punishing and difficult to avoid finishing in last place all the time when you start out, but for those who have been dealing with MotoGP since much earlier handhelds this is heartfelt blessing of a game. If you play on the bigscreen, yeah get it on a more powerful console... They opted for performance over graphics with this, and that was the right way to go. The only time it becomes a problem is when the tracks are still new and looking ahead for the next turn is a bit muddy. The workaround is to keep checking the side map until you have memorized the track, which is part of the sport tbh. Yes the penalties for restarting are tough to chew but there is a terrific open world mode free ride mode to get good. Use the analog stick for gas, it will be worth it in time.

…

Expand

There really is no other way to experience motorcycle racing than this on nintendo switch, milestone have put fwd solid games that are more

There really is no other way to experience motorcycle racing than this on nintendo switch, milestone have put fwd solid games that are more than acceptable.
How ever the immersion of tt2 is ground breaking in it's realism.
You have to put in the work but the rewards are more than enough. I've gp 2020 it's good, but tt2 is terrifying, just like going fast on a bike

…

Expand

So, this a definite improvement over the first one in the series but it's still far from perfect. The handling is better but still bad at low

So, this a definite improvement over the first one in the series but it's still far from perfect. The handling is better but still bad at low speeds and throws you off at will. Physics are terrible at times. Definitely tinker with the control settings as they are a bit twitchy and sensitive to start with. The career mode is much improved, missing custom helmets/boots etc though. Graphically it's pretty poor, almost PS2 and the frame rate can be shocking at times. The worst part by far for me is the penalty for restarting a race because the physics have thrown you off through no fault of your own.If you can I would buy it on other consoles or wait for a sale if you're on switch.

…

Expand