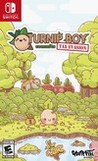 Summary:

Play as an adorable, yet trouble-making turnip. Avoid paying taxes, solve plantastic puzzles, and take on massive beasts in a journey to tear down a corrupt vegetable government! Take control of an adorable turnip who happens to be an absolute menace to society. After failing to pay taxes

Play as an adorable, yet trouble-making turnip. Avoid paying taxes, solve plantastic puzzles, and take on massive beasts in a journey to tear down a corrupt vegetable government! Take control of an adorable turnip who happens to be an absolute menace to society. After failing to pay taxes and getting evicted from your home, you must go on an epic quest to pay back your massive debt to Mayor Onion. Garden tools to solve plantastic puzzles, meet eccentric vegetables and fruits, and take on treacherous fights. Along the journey uncover what's spoiling this garden community and rise to tear down the corrupt vegetable government!


…

Expand
Developer:

Snoozy Kazoo

Genre(s):

Action Adventure

,

General

# of players:

No Online Multiplayer

Cheats:

On GameFAQs

Rating:

E10+
Please enter your birth date to watch this video:
You are not allowed to view this material at this time.
Turnip Boy Commits Tax Evasion Launch Trailer
Given how much I enjoyed Turnip Boy Commits Tax Evasion from start to end, I'm feeling pretty confident right now that I'll be remembering this game fondly for quite some time.

Turnip Boy Commits Tax Evasion is a ridiculous little game with a twisted sense of humour, uncomplicated gameplay and a surprisingly absorbing plot.

Really, the only reason to avoid this game is if you don't like Zelda-style games or can't deal with a game that can't stop cracking jokes for even a split-second. In which case, I'm not sure why you're even looking at a game called Turnip Boy Commits Tax Evasion.

Turnip Boy Commits Tax Evasion has some issues with controls and optimization on Switch, but it's a solid enough Zelda-like with adorable designs and hilarious writing.

Turnip Boy Commits Tax Evasion is a cute little game that's over way too quickly. While this means that a lot of its questions aren't answered and its mechanics are underutilized, what's here is still a very enjoyable ride with an adorable protagonist (that may need a calculator or two).

Funny Zelda clone with outlandish characters and crafty items. But it lacks depth as well as challenge – and is over quite quickly.

Turnip Boy is an attractive, accessible Link to the Past-like with some nice touches and an original premise, but its execution provides nothing new and it's over very quickly. It's Great for a short burst of handheld action, though.
Cute and hilarious Zelda like game. The only problem I had with it is that it was to short. I wish it was longer, but I still had a great time.

I really genuinely enjoyed my time with this game! Don't expect a long adventure. I completed the entire thing in a little over 2 hours, but

I really genuinely enjoyed my time with this game! Don't expect a long adventure. I completed the entire thing in a little over 2 hours, but all of those two hours were spent having a lot of fun. The dialogue was often genuinely funny, and really cute throughout. I will say the Switch version feels poorly optimized. There's pretty consistent frame drops, but the game isn't difficult enough that it's ever really an issue. I was always excited to see what came next. Also ending credits song slaps super hard.

…

Expand

Fun, simple game, with not a great amount of substance, but clearly a lot of passion and care put into it. The dialogue is funny and charming,

Fun, simple game, with not a great amount of substance, but clearly a lot of passion and care put into it. The dialogue is funny and charming, the story, although simplistic, is very well-told, using a "show, not tell" approach. The soundtrack is easy on the ear, and the graphics style is very appealing to look at. However, the gameplay is extremely simplistic - the combat is pretty much only using your one sword attack and then dodging, though occasionally the game will get you to bomb your enemies. Additionally, the puzzles are very basic, surface level difficulty. At one point the game introduces essentially the portal gun from Valve's Portal, but you don't really use it much outside of the area you pick it up in, which was disappointing. I was also a little disappointed with the short runtime of the game - 100%ing it took me just under 2.5 hours - but I guess that's a testament to how enjoyable the game is, despite its flaws. Overall, I'd say it was a short but sweet experience that I would recommend. I'm looking forward to seeing what else this studio will bring out next!

…

Expand

Just from its pretty unusual title you could guess this will be a bit of an oddball ride, and though its length and depth are a little lacking

Just from its pretty unusual title you could guess this will be a bit of an oddball ride, and though its length and depth are a little lacking there's no doubt that Turnip Boy and his many associates bring a unique flavor to mostly traditional play. Playing mostly along the lines of an action RPG adventure you'll be talking to your fellow plant life beings and working to find and then bring back the items they demand in order to advance the story. The combat isn't particularly challenging, the puzzles aren't often terribly inspired, and the humor is nice for flavor but is typically more quirky than laugh out loud funny. The result is suitably pleasant for a little while, but unless you're really into the look and sense of humor it exudes you can probably hold off until it's on sale.

https://www.nindiespotlight.com/2021/04/mini-reviews-april-23rd-edition.html

…

Expand

Underwhelming variety, dialogue, and length when compared to the price tag. The gameplay seemed like it would be reminiscent of the original

Underwhelming variety, dialogue, and length when compared to the price tag. The gameplay seemed like it would be reminiscent of the original Legend of Zelda games. This game is extremely simplistic. The combat is super basic, never adopting any kind of range attacks, unless the bombs are explicitly laid out for you. The water can feature can feel a bit unnecessary, sometimes to the point of it seeming like an artificial game lengthener. The most compelling part of the gameplay is the portal gun, but the game being in a top down 2D perspective, its impact on the gameplay is minimal. The result of this is extremely surface level puzzling. Certainly not bad enough to keep me from 100% completing this game, but enough that I mostly felt on autopilot. The main praise I hear for this game is its comedic writing. While this game *can* be genuinely funny at points (for some reason it never gets old when someone hands Turnip boy an important piece of paper and he immediately rips it in half), a lot of the "attempts" at humor are lazy and overly dependent on references. There's a very out of place JoJo reference that amounts to nothing gameplay wise. There's a random character that will just go into the navy seal copypasta completely unprovoked. So much of what I'm supposed to find funny about this game is "you know that thing? well we know it too." I'm not a huge believer in length = price tag, as I feel it incentivizes developers to drag out a game, but $15 for a 4 hour game better be Firewatch caliber, and nothing of this game is to that standard.

The main success of this game is getting me excited to see what is in store for Snoozy Kazoo. The high price tag is a lot easier to swallow for small, growing, indie studios than it would be for a bigger company. I can tell a lot of passion into this, and a lot of attention to detail is evident in how seamless it is to progress the plot. They built a small little world that is compelling and draws intrigue. A lot of games do backtracking poorly, but Turnip Boy does it in a way that is time efficient, and serves to make the different parts of the map more deeply ingrained into my memory, rather than feeling like a chore.

Unless money is tight, I still recommend picking this game up. I played it on the Nintendo Switch, because it seemed like it would be right at home in Nintendo's library and that it would be a casual game to play away from my desk. Unfortunately, I would probably recommend you get this on Steam as the performance dips when going between rooms and the button layout for the Switch version is *still* mapped to the Xbox controller instead of the Switch controllers (probably the most unforgiveable aspect of the Switch port. Come on guys, this shouldn't be hard to fix).

Bottom line: a fun short, derivative, simple romp that feels slightly overpriced, but I'm still excited for the future of Snoozy Kazoo.

…

Expand

A short, simple Zelda-ish adventure with cute characters and weird dark humor.

PROS: - A SHORT, RELAXING EXPERIENCE: I was looking for aA short, simple Zelda-ish adventure with cute characters and weird dark humor.

PROS:

- A SHORT, RELAXING EXPERIENCE: I was looking for a chill game that could keep me busy for two or three hours, and that was exactly what I got.

- UNIQUE DARK HUMOR: Don't get fooled by the "kawaii" characters. Before the end credits, this game goes to some strangely dark places.

- MADE WITH LOVE: You can see that the authors of this game had fun making it. Their loving care pushes the gameplay forward.

CONS:

- LAME MECHANICS: Good thing that the characters and atmosphere in this game are good, because the mechanics are quite sloppy. Most "puzzles" consist of going from one place to another and talk to NPCs. Combat is equally weak, and I found it overly simple even though I never understood how to use the dashing move.

- BAD PERFORMANCE: There is no excuse for such a simple game struggling to keep a smooth framerate.

- IS THAT… A MESSAGE? There seems to be some political message in the game, but what is it? Taxes are evil and politicians are corrupt–is that it? And what should I make of the references to pandemic lockdowns? It all feels more annoying than anything.

…

Expand

very simple game, not much substance, and very short. even at $15 its too expensive, maybe one day when it gets added as a "free" game

very simple game, not much substance, and very short. even at $15 its too expensive, maybe one day when it gets added as a "free" game somewhere, play it and enjoy your 2 hour, otherwise dont buy it

…

Expand