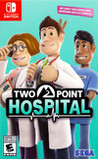 Summary:

Build up a hospital from nothing to a masterpiece as you design the most beautiful - or functional - healthcare operation in the whole of Two Point County. Optimize your hospital design to increase patient (and cash) flow, arranging corridors, rooms and waiting areas to your exact

Build up a hospital from nothing to a masterpiece as you design the most beautiful - or functional - healthcare operation in the whole of Two Point County. Optimize your hospital design to increase patient (and cash) flow, arranging corridors, rooms and waiting areas to your exact specifications. Expand your hospital to multiple buildings as you look to get as many patients through the door as possible. Place decorative and functional items around your hospital to improve its prestige, lower patient boredom, increase happiness and keep those end of year awards flowing in.

…

Expand
Developer:

Two Point Studios

Genre(s):

Simulation

,

Strategy

,

Management

,

Virtual

,

Career

,

Business / Tycoon

# of players:

No Online Multiplayer

Cheats:

On GameFAQs

Rating:

E10+
Two Point Hospital on the Switch is an absolute delight. The Humour is spot on and will keep you smiling, while the mounting challenge of each new hospital will keep you glued to this enjoyable simulator for hours on end.

The highest praise we can give Two Point Hospital is that it feels impossible not to have fun with it. It's zanier than an episode of Scrubs and shot through with some of the most satisfying sim gameplay of any title this generation. It may be heavily inspired by games that came before, but in truth, it feels like a natural evolution of Bullfrog's title, surpassing it in so many ways and is an endlessly enjoyable addition to the Switch's third-party library. It's also arguably the best version of the game so far, given its visual similarity to other versions, and being able to carry the experience around with you makes it even more appealing and addictive.

Two Point Hospital lands on the Nintendo Switch after enjoying over a year and a half of a very good reputation and it fits the Switch so well it's easy to forget this game started elsewhere. Thanks to a combination of fun, fluid, balanced gameplay and a marvelous audiovisual environment, Two Point Hospital plays perfectly whether on a big screen or as a handheld experience and rises above its peers to be one of the top management games available on the Nintendo Switch.

Two Point Hospital is perfect for anyone affected by nostalgia syndrome caused by old Bullfrog games, but it is also suitable for healthy bearers of irony and for all those who are not afraid of getting infected by its amusing frenzy. The port of the control system on Switch is very good, even if the loads are longer and framerate is sometimes unstable – a not so important flaw for the gameplay of Two Point Hospital.

A true spiritual successor and sequel in one. Every little element is instilled with the same wit and comedy as the original, and the mechanics are polished to perfection. The constantly evolving needs of each stage, and the regular requests that pop up as little memos mean this never gets dull, and continually keeps players on their toes. There's easily 20 hours here, and plenty more on replays Anyone who loved Theme Hospital will find their new obsession here.

Two Point Hospital is a deep and challenging management sim coated in goofy and charming layers of humour. For some, this will be a warm and nostalgic experience sure to kick-start fond memories but to be honest regardless of your familiarity with the game's past inspiration there's plenty of fun (and stress) to be had here with Two Point Hospital.

Two Point Hospital is wildly entertaining, with a great sense of humour and production values that pop with light-hearted, satirical style. It's worth playing through if for no other reason than to see what zany diseases and treatments you'll need to deal with next. It's just odd that for a game with such strong nostalgia for Theme Hospital it would neglect to recreate the challenge that was such a feature of those early-era simulators. Still, that's me showing my age, I know, and I can't imagine anyone failing to come out of Two Point Hospital with a giant smile on their face. If nothing else... it's a great cure for boredom (okay, I'm sorry, really. In my defence, I did resist getting that stupid joke out until right at the end).
This is a great port with a good control scheme. I mostly play in handheld mode and thus far (I'm only a few maps in) the game generally runs

This is a great port with a good control scheme. I mostly play in handheld mode and thus far (I'm only a few maps in) the game generally runs smoothly and looks crisp on the Switch's screen. Yes, there is some slow down (below 30 fps) when you have a huge map zoomed out on high game speed. However, Two Point Hospital joins the likes of Civ 6, Pillars, Divinity 2, Darkest Dungeon as a must-have PC to Switch port

…

Expand

Absolute fantastic game. If you liked theme hospital, you will love this. Brings back nostalgia! I was afraid the controls would be Inferior,

Absolute fantastic game. If you liked theme hospital, you will love this. Brings back nostalgia! I was afraid the controls would be Inferior, but i don't miss the keyboard and mouse at all.

…

Expand

Awesome game if you loved the "Theme"-games back then, or generally love sim games with a funny twist. I loved Theme Park, Theme Hospital and

Awesome game if you loved the "Theme"-games back then, or generally love sim games with a funny twist. I loved Theme Park, Theme Hospital and all the other Bullfrog masterpieces. And this is the closest I got near this Bullfrog-feelings after Bullfrog was closed down. Surely it's not perfect, but the port is fantastic and the game catches the spirit of the old games at its best with new features and a nice look. More games like this please Two Point!

…

Expand

Love Two Point Hospital. The Switch edition was the first platform I played it on. On a big screen, runs really well and I found the controls

Love Two Point Hospital. The Switch edition was the first platform I played it on. On a big screen, runs really well and I found the controls intuitive. The only downside I have is playing it on the small screen (even the OLED) I find painstaking as everything is so tiny (text etc, and I am only mid 30s).

It can run a little slow at times, but, for a console port on the Switch hardware, I find it runs well enough.

I tend to pick this up when I need a bit of an escape, play a level or two, then put it away for some time. However, for me as a casual gamer that works really well.

The humour in the game particularly appealed to the dad-joke lover in me, I found it delightfully cheesy and it had me giggling with the sillyness of it at times.

All in all, well worth the investment and lots of content to keep you going!

…

Expand

Wonderful port of a wonderful game. My wife and me already played over 40 hours, everybody doing an own career. And we love it. We love the

Wonderful port of a wonderful game. My wife and me already played over 40 hours, everybody doing an own career. And we love it. We love the details, we love the gameplay, we love the motivation you get from building and improving hospitals and we absolutely love the humor. It´s so much Theme Hospital you won´t get from another game. ´

Also, technically, it´s a good port. You won´t get super high frame rates and the frame rate decreases the bigger the hospital gets. Also you have to take some graphical downgrades like nearly missing shadows and all objects. But still, it runs and looks pretty well for such a simulation.

Only thing we don´t like is that there are times when control and menu deisgn can be a bit overwhelming and not intuitive enough. Selecting objects and characters could be hard sometimes.
And from what I´ve noticed, there´s no endless game mode, yet.

But overall, if you like these kind of games, then just buy it.

…

Expand

Nice game!
So cute and interesting. Thanks for gradually teaching with hospital things

Great game, loved the previous sim games, especially hospital and theme park, but got to the second h hospital and after hours of play it

Great game, loved the previous sim games, especially hospital and theme park, but got to the second h hospital and after hours of play it freezes, nothing I do gets it to continue. I can hear music and hire staff etc but nobody moves and time stands still. Had to go back to previous save from ages ago. Not happy.

…

Expand