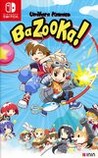 Developer:

Success

Genre(s):

Action

,

General

,

Platformer

,

2D

# of players:

Up to 4

Cheats:

On GameFAQs

Rating:

E10+
Umihara Kawase Bazooka! is a niche title in a niche genre featuring a niche franchise. As arcade-style single-screen action-platformers go, this is a good one with a unique gameplay so fans of that sort of thing should go for it if they can swallow the steep launch price. Anyone else though, including fans of said franchise may have reason enough to be on the fence as this is definitely way different from the rest of the series. This is a rather unique game that will appeal most to score chasers and not the core speedrunning fanbase of the series, although one could imagine speedrunning this all the same of course.

A fun arcade-like party game in the Umihara Kawase series, the fishing rod and lure are back, but crazy knockback animations and underwhelming boss battles make the game drag in parts.

Umihara Kawase BaZooka! is an arcade fighting game that's best to play with friends. The enemies and levels are diverse enough, but the overall gameplay falls short.

Umihara Kawase BaZooka! is part of a series that goes by mostly unnoticed in Europe but for those who do appreciate this name in platforming, this release that now lands on the Nintendo Switch will undoubtedly be worth checking out thanks to its wide cast of characters, simple and accessible concept and multiplayer capacities. Outside this group, most players won't be too tempted by what they might perceive as a game with a lacklustre visual environment, repetitive action and not a lot of elements that stand out.

Is Umihara Kawase BaZooKa! fun to play? Sure, a little. It's inoffensive, but it never grabbed us. Even though it's a short game, we never felt that burning desire to get to the end that is typically present in other titles. There are many characters, but none of them was really interesting. Cute, yeah. But not enough to mitigate the central problem that this isn't an interesting game. We're not sure why this is the direction the series has gone in, but could it go back to the lovingly-crafted, intricate rope courses, please? Far be it for us to call for a regression, but sometimes going back to the well is a good idea.

Umihara Kawase BaZooKa is a hard title to pin down. Okay, perhaps that's too much of a cliche – as ultimately it's an arcade game with some nonsensical flourishes.