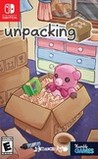 Summary:

Unpacking is a zen puzzle game about the familiar experience of pulling possessions out of boxes and fitting them into a new home. Part block-fitting puzzle, part home decoration, you are invited to create a satisfying living space while learning clues about the life you're unpacking.
Developer:

Witch Beam

Genre(s):

Puzzle

,

Action

,

General

# of players:

No Online Multiplayer

Cheats:

On GameFAQs

Rating:

E
Please enter your birth date to watch this video:
You are not allowed to view this material at this time.
Unpacking - Announce Trailer | PS5, PS4
But, like I've said, those nifty puzzles are just the jumping-off point for what makes this such a remarkable, memorable experience. A clever game of unloading boxes would have been enough to make Unpacking worth playing, but it's the way it weaves its beautiful story through those puzzles that makes it truly sublime.

To make a process that is usually so mundane into something so magical makes Unpacking a must play.

I started Unpacking mostly expecting an interesting puzzle game about item placement and ended up with a story and protagonist I cared about. The art is beautiful, the world detailed, and the ambient sound of simple things, like a refrigerator running, put you in the world. Beyond minor woes, Unpacking does everything you'd want in a puzzle game and then some.

That's what makes Unpacking such a treat. I peered into the life of someone else and saw myself. It compelled me to look back on my own experiences, the good and the bad, through the simple act of unpacking the contents of their life. Unpacking may be a zen puzzle game that's just relaxing for some, but for me it was a more profound experience that I'll never forget. Sometimes we put our past into proverbial boxes; ripping off the tape and rediscovering what we hid away can be cathartic and illuminating.

When Animal Crossing: New Horizons released around the time people were going into lockdowns across the globe, a lot of people praised the way it helped people. Unpacking is exactly that for me right now with so many long games and deadlines. It has been a perfect game to dip into as a break from longer and more stressful games. While the gameplay might be too simple for some, Unpacking has managed to make something as mundane as arranging furniture and items be a lot of fun. It also helps that Unpacking on Nintendo Switch makes great use of the system's features.

Whenever the protagonist of Unpacking moves to a new home, it is the player's task to open cardboard boxes and decide where her belongings should be placed. While this can be a tedious experience when you're just putting socks into a drawer, whenever an item that conveys something about her life comes out of the box, Unpacking becomes a unique storytelling experience.

Unpacking on Switch doesn't quite stick the landing of the zen experience it aspires to be, but if you can tolerate some frustrating interfaces and controls, this is still a game worth exploring. Just maybe consider playing it on PC since that experience should be much stronger without the control caveats.
beautiful, relaxing and calm game that everyone should play. the way the story plays out is brilliantly clear and although moving house can

beautiful, relaxing and calm game that everyone should play. the way the story plays out is brilliantly clear and although moving house can be incredibly stressful, this game isn't. a wonderfully relaxing experience.

10/10
brilliant game

…

Expand

This review contains spoilers

, click expand to view

.

I related a lot to the character. From her love for drawing, climbing and videogames to the exploring of her sexuality. I enjoyed it immensely!

…

Expand

Un juego relajante, donde puedes olvidarte de todo y solo pensar en colocar cosa, que en principio, puede parecer un mecánica sencilla, pero

Un juego relajante, donde puedes olvidarte de todo y solo pensar en colocar cosa, que en principio, puede parecer un mecánica sencilla, pero más divertida de lo que parece. Esto mezclado con unos gráficos pixelados muy trabajados, una banda sonora que ameniza y una historia que tendrás que tendrás que descubrir por ti mismo, eso es Unpacking.

…

Expand

It's a great game, but it's really short. For $20, it's only about 4-5 hours of gameplay. I don't personally think it's really worth the

It's a great game, but it's really short. For $20, it's only about 4-5 hours of gameplay. I don't personally think it's really worth the price, but I did enjoy the game a lot. If you can justify forking out $20 for about 4 hours of fun, I recommend it, especially if you enjoy decorating type games

…

Expand

I honestly thought it's gonna be much better. it is still fun but i don't know..... it's just not THAT good.

Innovative game. The way you connect to the character's story development by unpacking and placing personal objects through different times is

Innovative game. The way you connect to the character's story development by unpacking and placing personal objects through different times is unique. The lack of a mouse disfavours the game. And I don't think it's worth the price charged. But overall it's a cathartic and relaxing game with good sound and design.

…

Expand

The story aspect was cool for the game, but was kinda strange that she was Jewish and gay? Doesn't make very much sense. And not worth the

The story aspect was cool for the game, but was kinda strange that she was Jewish and gay? Doesn't make very much sense. And not worth the money at all. $21 for a game that lasts 4-5 hours

…

Expand