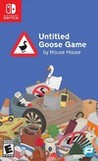 Summary:

It's a lovely morning in the village and you are a horrible goose. Untitled Goose Game is a slapstick-stealth-sandbox, where you are a goose let loose on an unsuspecting village. Make your way around town, from peoples' back gardens to the high street shops to the village green, setting up

It's a lovely morning in the village and you are a horrible goose. Untitled Goose Game is a slapstick-stealth-sandbox, where you are a goose let loose on an unsuspecting village. Make your way around town, from peoples' back gardens to the high street shops to the village green, setting up pranks, stealing hats, honking a lot, and generally ruining everyone's day.

…

Expand
Developer:

House House

Genre(s):

Simulation

,

General

# of players:

No Online Multiplayer

Cheats:

On GameFAQs

Rating:

E
Please enter your birth date to watch this video:
You are not allowed to view this material at this time.
Untitled Goose Game - Coming to Switch and Computers!
Untitled Goose Game is the most charmingly misanthropic game that has ever been created - and that's something I didn't even think was possible.

Untitled Goose Game is a well-crafted hijinks simulator which captures whimsical misadventures of a bird just being a real prick for no real reason. While the game is short, it fits nicely on the 'doesn't overstay its welcome' shelf, meaning it's simple to play through in an evening. Mechanics are easy to learn (button inputs can be customised) and the stealth is light on strategy. But what's ultimately delivered is a neat little package of an open sandbox where you can run amok without consequences to great, maniacal effect.

Untitled Goose Game is fantastic. The absurd premise is executed to near perfection to deliver a truly unique experience that goes beyond the silly gag of watching a pesky goose cause havoc. The gorgeous, minimalist visuals and the sporadic audio cues combine to create a rich, colourful world that's just fun to mess around with. Granted, the game is a bit of a cakewalk, but the experience is so utterly delightful and silly that you'll be more than happy to show it off to friends or play through it all over again in a few months.

Untitled Goose Game boasts more inventiveness, creativity and charm than the vast majority of titles on the Switch eShop, and offers a believable game world that's a real pleasure to explore, investigate and – of course – cause merry havoc in. Superb physics, excellent controls, surprisingly robust AI and unique presentation all combine to make this a real highlight in the Switch's library – it's only the brevity of the experience that lets it down, but this really is a case of quality over quantity.

Untitled Goose Game is a short and sweet village sandbox of chaos, with probably the most laughs you'll have in a videogame this year. Goose tier.

Untitled Goose Game is a game about being a bully, but an adorable one. As a pesky goose, you honk, waddle, and drive human beings nuts—I assume as real-life geese do. The occasional frustrating task barely holds back Untitled Goose Game when it's at its best: where you're setting up elaborate (or not) situations to annoy people and ruin their day.

Untitled Goose Game is a delightful experimentation which delivers laugh after laugh, ruining the daily life of poor humans. Unfortunately, the fun stops way too quick after a very few streets corners, leaving the player thinking what this clever but unfinished business might have been.
This game is not a masterpiece. It is THE masterpiece. It is the pinnacle of video games as we know them, the Citizen Kane of interactive

This game is not a masterpiece. It is THE masterpiece. It is the pinnacle of video games as we know them, the Citizen Kane of interactive entertainment. Everything that was wrong with Breath Of The Wild, this game gets right. The musical arrangement is cartoonish, yet genius in its simplicity, and of a virtuosity to make Chopin hide in shame. The graphics feel like a Bob Ross painting brought to life, with charme and atmosphere to touch you where you have never been touched. The story in its subtlety transcends your imagination and unfolds its beautiful wings like a freshly hatched butterfly. Leave your problems at the door. And welcome. Welcome to the story of your lifetime!

…

Expand

Great game, one of the best so far this year and that's saying something. Download it now whilst it's on sale.

One of the funniest games I ever played, with slapstick humor, great graphics, decent controls and good music!

I waited for this great comedic indie game to come out and... I'm kinda surprised on how short the game is, including with the post-game.

I waited for this great comedic indie game to come out and... I'm kinda surprised on how short the game is, including with the post-game. Well, it's temporarily comedic and fun. For twenty dollars!

Gameplay: 8/10 "You annoy people, honk and solve puzzles... It's great!"
Graphics/Visuals: 9/10 "It fits very well for an indie game."
Music: 7/10 "I feel like there's less than six pieces of music in the games. But it's suspenseful and highly passable.
Puzzle-Solving: 9/10 "You're having fun solving puzzles by annoying people. Sadly, the results are temporarily funny until you finish/complete the game."

I bought this game when it was released (and also on discount for fifteen dollars). Untitled Goose Game would've been better if it weren't for the lack of content. It took me less than ten hours to 100% complete Untitled Goose Game. But this game is quite great and funny. Honk! The score is... 8.6 [8]

…

Expand

Got for the memes, stayed for an endlessly enjoyable game that lasted WAY shorter than it should've.

Had a lot of fun disrupting the neighbourhood's perfectly routinised day, but the charm wore off quicker than I thought it would. I could

Had a lot of fun disrupting the neighbourhood's perfectly routinised day, but the charm wore off quicker than I thought it would. I could watch this little goose waddle around forever though.

…

Expand

I waited impatiently after watching the trailer, and I was stoked to play this. Huge letdown. Most of the puzzles are pretty meaningless and

I waited impatiently after watching the trailer, and I was stoked to play this. Huge letdown. Most of the puzzles are pretty meaningless and there's no real satisfaction to solving any of them - the slapstick comedy wears off quickly.

After waddling about for 20-30 minutes in frustration, I'd look up a solution online, and often felt like the solutions were just dumb nonsense. I played through 4 of the 5 levels, hoping it would turn for the better. It didn't. I had such high hopes, but this game is just boring and a waste of time.

…

Expand