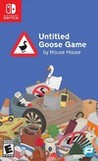 Summary:

It's a lovely morning in the village and you are a horrible goose. Untitled Goose Game is a slapstick-stealth-sandbox, where you are a goose let loose on an unsuspecting village. Make your way around town, from peoples' back gardens to the high street shops to the village green, setting up

It's a lovely morning in the village and you are a horrible goose. Untitled Goose Game is a slapstick-stealth-sandbox, where you are a goose let loose on an unsuspecting village. Make your way around town, from peoples' back gardens to the high street shops to the village green, setting up pranks, stealing hats, honking a lot, and generally ruining everyone's day.

…

Expand
Developer:

House House

Genre(s):

Simulation

,

General

# of players:

No Online Multiplayer

Cheats:

On GameFAQs

Rating:

E
Please enter your birth date to watch this video:
You are not allowed to view this material at this time.
Untitled Goose Game - Coming to Switch and Computers!
Untitled Goose Game is the most charmingly misanthropic game that has ever been created - and that's something I didn't even think was possible.

At the end of the day – the long hard day of being a naughty little goose – Untitled Goose Game is something truly unique and special. It's a beautifully clean and simple puzzle game which will have you howling with delight, both when you play it through for the first time, and when you pass the controller to your partner saying, "You absolutely need to play this game where you're a naughty little goose…"

Those who play this goose game will enjoy it very much, disturbing the poor characters that inhabit a peaceful Anglo-Saxon style town. The only negative point that this game has is that it will leave us wanting more fun.

Untitled Goose Game boasts more inventiveness, creativity and charm than the vast majority of titles on the Switch eShop, and offers a believable game world that's a real pleasure to explore, investigate and – of course – cause merry havoc in. Superb physics, excellent controls, surprisingly robust AI and unique presentation all combine to make this a real highlight in the Switch's library – it's only the brevity of the experience that lets it down, but this really is a case of quality over quantity.

Untitled Goose Game is a short and sweet village sandbox of chaos, with probably the most laughs you'll have in a videogame this year. Goose tier.

Untitled Goose Game is a game about being a bully, but an adorable one. As a pesky goose, you honk, waddle, and drive human beings nuts—I assume as real-life geese do. The occasional frustrating task barely holds back Untitled Goose Game when it's at its best: where you're setting up elaborate (or not) situations to annoy people and ruin their day.

Untitled Goose Game is a delightful experimentation which delivers laugh after laugh, ruining the daily life of poor humans. Unfortunately, the fun stops way too quick after a very few streets corners, leaving the player thinking what this clever but unfinished business might have been.
This game is not a masterpiece. It is THE masterpiece. It is the pinnacle of video games as we know them, the Citizen Kane of interactive

This game is not a masterpiece. It is THE masterpiece. It is the pinnacle of video games as we know them, the Citizen Kane of interactive entertainment. Everything that was wrong with Breath Of The Wild, this game gets right. The musical arrangement is cartoonish, yet genius in its simplicity, and of a virtuosity to make Chopin hide in shame. The graphics feel like a Bob Ross painting brought to life, with charme and atmosphere to touch you where you have never been touched. The story in its subtlety transcends your imagination and unfolds its beautiful wings like a freshly hatched butterfly. Leave your problems at the door. And welcome. Welcome to the story of your lifetime!

…

Expand

This review contains spoilers

, click expand to view

.

This is the best game I've ever played. Absolutely my favorite game of all times. It is relaxing, fun, cute, funny, easy and it isn't super long. Plus once you're done (before you ring the bell) you can just go and explore the little English town. I love messing with the gardener and terrorizing the small boy. I also love putting everything I can find into the pond. The music is fantastic, I purchased the theme on iTunes along with the goose honk text tone. You can get this done in a few hours but I took my time so it took me a few weeks (I don't play games on a daily basis). If you love geese, small English towns settings, relaxing music and **** **** up like I do, this is your game.

…

Expand

One of the most enjoyable games I've played in a while. This is a game that can be enjoyed by all ages. It's funny, it's silly, it's fun, it

One of the most enjoyable games I've played in a while. This is a game that can be enjoyed by all ages. It's funny, it's silly, it's fun, it has lovely reactive music. My only criticism would be with the length of the game relative to its price tag. I loved the short self-contained story and the final todo list item was very funny, so I wouldn't necessarily want to see the game dragged out. But perhaps the game needs second and third chapters in different settings? Regardless, I loved the few hours I spent playing this game. Having got it on a physical cartridge I can lend it to my wife so that she too can enjoy it, and I will undoubtedly return to it in the future for more goosey hilarity.

…

Expand

This is a wholesome experience, it's a game that you can tell was lovingly crafted by a small team.

You're a goose. Not just any old goose,This is a wholesome experience, it's a game that you can tell was lovingly crafted by a small team.

You're a goose. Not just any old goose, one that's after a bit of mischief in what seems like a model south English town and you're armed with a To-Do list.

When it boils down to it the game is essentially a puzzle game, having you figure out how to get up to no good and get things off your To-Do list. Music is intertwined with the game play and your actions will be mirrored with the lovely piano sound track that helps set the mood. Controls are easy to understand and comfortably introduced for anyone lucky enough to start the game.

It's a creative experience and it gives you a satisfying ending. The novelty of the mechanics last about as long as the game, If the game was any longer I believe it would have negatively impacted the journey. So in that sense, it's just right. A neat little package that is welcoming to anyone who picks up the controller.

Thank you.

…

Expand

Awesome soundtrack, gorgeous animation, and some genuinely funny moments make this limited $20 experience worth the price of admission. It's

Awesome soundtrack, gorgeous animation, and some genuinely funny moments make this limited $20 experience worth the price of admission. It's a pretty short game, only a few hours, but some of the puzzle-solving is relatively challenging and even required me to cheat a couple of times online, which I'm not proud of. My advice: just try to figure it all out yourself because it will extend your playtime...though some solutions are really not so obvious. There's a few new tasks to do after the credits, including repeating the game again on a timer, but even without that it's certainly a unique experience that after you put it down for a while would still be fun to come back to. One of the more sensory pleasing games I've played in a long time. HONK!

…

Expand

Simple and short, not super challenging, but enjoyable to play due to the uncomplicated but cute graphics and the fact you're a Goose.
I haveSimple and short, not super challenging, but enjoyable to play due to the uncomplicated but cute graphics and the fact you're a Goose.
I have to say it's perhaps slightly overhyped.

…

Expand

Bad graphics, bad music, slow, boring gameplay, £18, I wouldn't have paid £1.80 for it. Every 89p game I own is better. It is a very funny

Bad graphics, bad music, slow, boring gameplay, £18, I wouldn't have paid £1.80 for it. Every 89p game I own is better. It is a very funny game if you're about 6 years old.

…

Expand