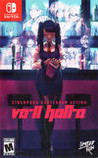 Summary:

Welcome to VA-11 Hall-A!

In this world, corporations reign supreme, all human life is infected with nanomachines designed to oppress them, and the terrifying White Knights ensure that everyone obeys the laws. But, this story is not about those people. You are a bartender at VA-11Welcome to VA-11 Hall-A!

In this world, corporations reign supreme, all human life is infected with nanomachines designed to oppress them, and the terrifying White Knights ensure that everyone obeys the laws.

But, this story is not about those people.

You are a bartender at VA-11 Hall-A, affectionately nicknamed "Valhalla." Although it is just a small bar in downtown Glitch City, it attracts the most fascinating people this side of dystopia. Keep your clients lubricated and you will be made privy to the most interesting stories.

…

Expand
Developer:

Sukeban Games

Genre(s):

Simulation

,

General

# of players:

No Online Multiplayer

Cheats:

On GameFAQs

Rating:

M
It is impossible to put down.

One of my favourite games of all time.

Endlessly stylish, emotionally gripping and deceptively addictive, VA-11 HALL-A is the pure essence of a visual novel: a digital page-turner filled with unforgettable characters and set in an infectious cyberpunk noir that will live in your head for weeks after you've put the game down.

Overall, VA-11 HALL-A on the Switch is a marvelous port that works far better than I ever expected it to. The new controls may take some getting used to, but after a few minutes tinkering with them I found they came pretty naturally, and overall the game has kept the charm and likeability that drew me to it back in 2016. Gameplay may get a bit stale after long sessions of play, but for small relaxing wind-down sessions at the end of the night, you'll find no better place to be than in Jill's head during yet another shift at the bar.

VA-11 HALL-A might not quite fulfil your bartending dreams in terms of concocting your own drinks, but if the social side of being a bartender without leaving the house is more your thing, then this is the game for you.

The mix of bartender simulator, interesting characters and clever writing makes VA-11 HALL-A a little gem, especially if you like games that are not your typical an have a lot to say. It is best savored in a smooth way... Like a whiskey on the rocks in a bar.

To prepare an excellent Visual Novel cocktail, we particularly need a very good writing quality, varied narrative paths and the ability to transport ourselves to a world with a unique atmosphere. On these points VA-11 Hall-A is very convincing. But where the recipe turns sour, it is in the inability of the game to renew its gameplay and its sequences.
Great story, makes you want to keep playing to find out what will happen next 10/10 would recommend

Lo más importante de este juego es que no te tiene que gustar el género de novela visual para que te encante.

La jugabilidad de servirLo más importante de este juego es que no te tiene que gustar el género de novela visual para que te encante.

La jugabilidad de servir bebidas será monótona pero se perdona ya que el ambiente logra sumergirte en un futuro distópico de 207X en el que el humor está mezclado con temas muy serios (existencialismo, solipsismo, AI's conectadas, leyes de la robótica, el perdón y arrepentimiento, la muerte, corrupción estatal, monopolios empresariales megalómanos de innovación tecnológica). La música es espectacular. Lamentablemente hay algunos (como las AI's conectadas) que es solo un punteo superficial y no se termina de desarrollar, probablemente por falta de tiempo.

Cosas buenas:
- Gran ambiente.
- Excelentísima música.
- Varios personajes entrañables.
- Temas muy maduros.
- Buen humor.

Cosas malas:
- No tener opciones de respuestas que cambien completamente el rumbo de la conversación y la trama (hay en base a la bebida que hagas, pero es un cambio mínimo). Es bastante lineal todo salvo por cómo te hayas manejado en alguna situación para tener un final. Lamentablemente el juego hubiese dado muchísimo más de sí al tener opciones de respuesta (parece que en su nuevo juego van a mejorar un poco este aspecto).
- Se nota que los desarrolladores hicieron los distintos finales apurados. Son casi anecdóticos.
- Si bien lo jugué en inglés y no tuve problema, hace mucho tiempo que algunos fans hicieron una traducción en español y los desarrolladores no lo aplicaron. A mi me da igual pero hay mucha gente que le molesta y lo entiendo.
- Jugabilidad (crear bebidas) un poquitín monótona. Pero no veo otras maneras de solucionarlo. Por eso considero importante el hecho de poder elegir respuestas ya que sino la jugabilidad se limita mucho.

…

Expand

I read a couple of poor reviews, inspiring me to finally finish this game because I knew I'd be sad it was over. I actually bought this game

I read a couple of poor reviews, inspiring me to finally finish this game because I knew I'd be sad it was over. I actually bought this game sometime in late 2019 on an absolute whim, it was on sale for like $8 in the eShop. I tend to scope out other reviews just so I can verify I'm not buying some random pos, & this game seemed to have mostly good ratings. I was completely blown away! I love visual novels, & VA-11 HALL-A essentially plays out as such. If you're one of those morons that doesn't like games where interactivity is limited & likes to complain about that, I suggest playing a different game genre (like, I dunno, any other game). This is one of the most mature, relatable stories I've ever seen in my life. I was blown away by almost every character, becoming more & more interested in all their stories, all for it to come to a satisfying, bittersweet conclusion. The graphics are a clear shout-out to older games, probably 90's PC games. Mostly well rendered, the art appears as very cohesive pixels that are quite charming. In my opinion, even though everything else about this game is pretty excellent, one other thing stands out: the music. Clearly Michael Kelly (aka Garoad) played the demos or early access to this title, because he 100% nails the soundtrack. I actually felt like the music in the jukebox for VA-11 HALL-A could've really been music I'd hear at a bar in 50 years. It may seem silly saying it loud, but the music was just that spot on for me. I even listen to the ost's in my free time! I can't recommend this game enough, it's fantastic.

…

Expand

I was initially drawn to this game because of the similarities I thought it would have to The Red Strings Club, and to my delight it delivered

I was initially drawn to this game because of the similarities I thought it would have to The Red Strings Club, and to my delight it delivered a great story. Can easily recommend this to anyone who enjoys story games.

…

Expand

VA-11 HALL-A, aka Valhalla, is a cyberpunk retro-styled bartender simulator. But don't think the main point is mixing drinks, the main focus

VA-11 HALL-A, aka Valhalla, is a cyberpunk retro-styled bartender simulator. But don't think the main point is mixing drinks, the main focus is definitely the stories your clients tell you. If you know exactly what you're getting before buying this game you'll definitely not get disappointed. For one I knew it was mainly a Visual Novel and I'm not really a fan of Visual Novels. I either watch anime or play video games. A playable anime isn't just doesn't cut it for me, but Valhalla has a very chill atmosphere and engaging characters that even a person like me could appreciate it.

Definitely worth checking if you're looking for an original Visual Novel with a bit of gameplay and choices to be made. The atmosphere is great and the stories your clients tell you are super entertaining. Even if you don't like the genre you should give it a chance just like I did.

…

Expand

I could see giving this game a higher rating if I was into visual novels. It's not my cup of tea, but I can see how people would like it. It's

I could see giving this game a higher rating if I was into visual novels. It's not my cup of tea, but I can see how people would like it. It's a slice-of-life story listening to people talk about their lives and helping them in the only way a bartender can. The standout feature here is the soundtrack, There's probably 50-60 songs you can pick from and then queue them up on the jukebox while your work your shift. and all the songs are pretty good.

Graphics: 7
Gameplay: 6
Audio: 8
Story: 9

…

Expand

Cool concept, fun game mechanics and pretty art but the game is so downright misogynistic I'm unable to complete it. I knew straight away that

Cool concept, fun game mechanics and pretty art but the game is so downright misogynistic I'm unable to complete it. I knew straight away that it was written by males from the sexist dialogue alone, but it also unfortunately does not feel as though you are genuinely playing a female main character. If all this was meant to be was a for-males anime-girl-fetish sim then please advertise it as such. Otherwise, hire female writers and developers. We can tell.

…

Expand