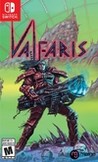 Summary:

Set in a far corner of space, Valfaris is a heavy metal infused 2D action-platformer and the next game from the team behind Unity Awards finalist, Slain: Back From Hell. Brutal combat. Deadly enemies. Stunning pixel art. Savage soundtrack. Get ready to rip the galaxy a new wormhole.
Developer:

Steel Mantis

Genre(s):

Action

,

Platformer

,

2D

# of players:

No Online Multiplayer

Cheats:

On GameFAQs

Rating:

M
I've really had a blast with Valfaris. It looks and performs really well on Switch, and I'd imagine that'll be the case for the other platforms it's available on too. The metal soundtrack is fantastic, and the overall visual design is unlike anything I've played this year. With the recent announcement that Doom Eternal is delayed into next year, I think Valfaris will easily be the most metal game you'll play this year. It's absolutely worth checking out when it launches on Switch and PC on October 10th.

Valfaris is a frenetic, violent homage to classic shooters and heavy metal, with satisfying gameplay and challenging boss encounters, it'll be appreciated by anybody looking for something fun to head-bang to.

Valfaris is the perfect transposition in modern sauce of the run'n'gun that have cheered entire generations of enthusiasts.

I really liked how Valfaris has turned out. Its old school roots of arcade run-and-gun feel nurtured and cared for in a way that freshens the genre up with some great ideas, a balanced difficulty curve, wonderful level design, tight controls and a wide variety of enemies to plow through. It never tries to be anything more than it needs to be, including the time it takes to beat it. It's the developer's second chance at a first impression that deserves to make as much noise as the pluck shredding the strings of the electric guitar that used to compose the game's soundtrack. With a promised Full Metal Mode in the works to ramp up the challenge, I can really see myself venturing back into the intergalactic undergrowth of the dangerous planet known as Valfaris.

In terms of pixelated platformers on Nintendo Switch, Valfaris is a punk-powered riot, introducing enough weapons, enemies and bosses to always keep things fresh and rocking. A dodge function would have helped this to even greater heights.

Whether you like heavy metal or not, Valfaris presents a package that's worth your attention. From start to finish Valfaris doesn't stop to take a breath, and the game's quick load times keep you coming back for more after every death.

Valfaris will likely drive gamers to distraction and frustration with its series of brutal and difficult bosses and villains, crazy chase sequences, and general sadist design. Yet, the game's pristine devotion to emulating a classic 16-bit side-scrolling shooter has a distinct charm. The weapons and enemies are diverse and fun, the world is twisted, and the sheer over-the-top action and storyline prove entertaining enough to work through the pain and still end up having fun. Mostly. When the game isn't making you want to twist your controller in half.
Its turrican for this generation.
Its contra for this generation
Its got elements of team 17's old amiga classic 'assassins' Its for gamingIts turrican for this generation.
Its contra for this generation
Its got elements of team 17's old amiga classic 'assassins'
Its for gaming metalheads.
Its tough as old leathery boots.
Its vicious pounding and electrifying levels.
Its old school bosses.
Its got awesome weapons.
Its got a stellar soundtrack
It got no microtransactions
But it does have headbanging.
Why are you reading this ? go get it!

…

Expand

Really fun game. Stays fresh the whole time with varied level design, lots of distinct enemies, and frequent boss and mini-boss fights. It's

Really fun game. Stays fresh the whole time with varied level design, lots of distinct enemies, and frequent boss and mini-boss fights. It's hard, but save points are frequent, so you can think of it as a series of mini-challenges.

My biggest complaint is it's a bit hard to duck. You need to hold straight down. I found myself "leaning into" a couch too much and standing up when I didn't mean to. A dumb complaint, but this bit me quite a few times. It's also a little cheap that some bosses explode and can kill you even after they're dead, but the battles are fun so I didn't mind too much.

…

Expand

You will get value for your money 234 SEK. Game structure, graphics, sound and music make it a clear indie favorite that won't go unnoticed.

You will get value for your money 234 SEK. Game structure, graphics, sound and music make it a clear indie favorite that won't go unnoticed. This requires skill and patience. The game contains a lot of violence, so it is recommended for those over 16 (eShop).

Given that there are short lanes and boss after boss, the game feels more like a boss rush race. Therefore, it does not receive top grade but still a strong 9 out of 10.

…

Expand

I had a real blast beating this brutal 2D run and gun. Even though it's brutally difficult, it is such a satisfying game that keeps on giving.

I had a real blast beating this brutal 2D run and gun. Even though it's brutally difficult, it is such a satisfying game that keeps on giving. The game keeps providing you with new weapons to keep things fresh. There's an upgrade mechanic to the weapons, I personally chose a set of weapons and stuck with those until the end. I tried all of them but you can choose what suits you.

The parry mechanic is great, just use your shield and time it properly but there's a bonus to this, if it's a projectile, it'll stick to your shield and you can shoot it back, usually dealing lots of damage. It's so satisfying when you shoot back a large amount of projectiles that you've successfully parried. One thing that really bothered me was that as soon as an enemy would be off screen, it would become invulnerable, like it didn't exist anymore, except that it could still hit you with projectiles/lasers. Sometimes, even if you can still see part of the enemy, your shots won't register hitting the enemy. It's especially bad during some boss fights. Graphics are beautiful, disgusting and so gory at the same time, which is an awesome combination. At times it was difficult to determine what was a platform and what wasn't. This game controls extremely well, very responsive and that's important when you sharp reflexes are needed.

The metal music fits very well with the game. Being a metal head myself I can listen to this without playing the game.

Solid frame rate 60FPS all the way through, fast load times.

Overall an excellent game. Highly recommended for gamers who are looking for a challenge, cool space guns and metal music. 9/10

…

Expand

pretty addicting game. this game is really extra ordinary in its glorious 2D. Cannot say what kept me going for hours, may be its the level

pretty addicting game. this game is really extra ordinary in its glorious 2D. Cannot say what kept me going for hours, may be its the level design or the sweet graphics. Worth buying !!!

…

Expand

Very challenging jump n run shooter thing, with awesome look and cool weapons.

Very overrated. Wait for a deep, deep sale. I regretted spending more than $5 bucks on this garbage. It's not fun, the weapons are lame, the

Very overrated. Wait for a deep, deep sale. I regretted spending more than $5 bucks on this garbage. It's not fun, the weapons are lame, the visuals are muddy and messy. All these positive reviews are based off pure hype. There are MUCH BETTER 2D platformers out there.

…

Expand