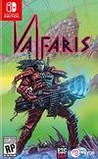 Summary:

Set in a far corner of space, Valfaris is a heavy metal infused 2D action-platformer and the next game from the team behind Unity Awards finalist, Slain: Back From Hell. Brutal combat. Deadly enemies. Stunning pixel art. Savage soundtrack. Get ready to rip the galaxy a new wormhole.
Developer:

Steel Mantis

Genre(s):

Action

,

Platformer

,

2D

# of players:

No Online Multiplayer

Cheats:

On GameFAQs

Rating:

M
I've really had a blast with Valfaris. It looks and performs really well on Switch, and I'd imagine that'll be the case for the other platforms it's available on too. The metal soundtrack is fantastic, and the overall visual design is unlike anything I've played this year. With the recent announcement that Doom Eternal is delayed into next year, I think Valfaris will easily be the most metal game you'll play this year. It's absolutely worth checking out when it launches on Switch and PC on October 10th.

Valfaris is a straight-up indie masterpiece. If you're a fan of 2D action games then you'd be a goof not to play it.

Valfaris is one of the best indie games to come this year. it has a pure, fun, old school action without the complexities of many modern games.Action is intense, challenge is smart, gameplay is rewarding, and pixel-art is truly amazing. The only thing we disliked is how enemies keep respawning in some areas. Still, the game is enjoyable from start to finish.

If you haven't been following this game, Valfaris will be a great surprise. Simple but demanding and challenging, with tons of that 2D action we always love.

I really liked how Valfaris has turned out. Its old school roots of arcade run-and-gun feel nurtured and cared for in a way that freshens the genre up with some great ideas, a balanced difficulty curve, wonderful level design, tight controls and a wide variety of enemies to plow through. It never tries to be anything more than it needs to be, including the time it takes to beat it. It's the developer's second chance at a first impression that deserves to make as much noise as the pluck shredding the strings of the electric guitar that used to compose the game's soundtrack. With a promised Full Metal Mode in the works to ramp up the challenge, I can really see myself venturing back into the intergalactic undergrowth of the dangerous planet known as Valfaris.

If you like challenging games that are full of action and are dripping with atmosphere, Valfaris comes highly recommended. And if you happen to like metal music, it's even better. Steel Mantis has struck silver with this metal-infused shooter. It isn't perfect but it's bloody good.

Valfaris will likely drive gamers to distraction and frustration with its series of brutal and difficult bosses and villains, crazy chase sequences, and general sadist design. Yet, the game's pristine devotion to emulating a classic 16-bit side-scrolling shooter has a distinct charm. The weapons and enemies are diverse and fun, the world is twisted, and the sheer over-the-top action and storyline prove entertaining enough to work through the pain and still end up having fun. Mostly. When the game isn't making you want to twist your controller in half.
Kick ass game. I absolutey love it. No complaints here, it's a perfect game.

Its turrican for this generation.
Its contra for this generation
Its got elements of team 17's old amiga classic 'assassins' Its for gamingIts turrican for this generation.
Its contra for this generation
Its got elements of team 17's old amiga classic 'assassins'
Its for gaming metalheads.
Its tough as old leathery boots.
Its vicious pounding and electrifying levels.
Its old school bosses.
Its got awesome weapons.
Its got a stellar soundtrack
It got no microtransactions
But it does have headbanging.
Why are you reading this ? go get it!

…

Expand

Amazing game !
The art design and atmosphere are phenomenal if you like that sort of "far future" sci-fi style like 40k for example.
TheAmazing game !
The art design and atmosphere are phenomenal if you like that sort of "far future" sci-fi style like 40k for example.
The gameplay is equally amazing, game runs great on Switch (Bloodstained buyers rejoice) and is a lot of fun to play with tight controls, cool weapons and well thought out level design..
With that you get no penalties for dying and plenty of checkpoints, which makes the relative toughness of the game more comfortable to handle without getting too easy.

Special mention for those gorgeous 2d sprites which look like your Super Nintendo was on cocaine.

…

Expand

I created an account just to post this. This is an amazing game, one of 2019's best.

Valfaris is brutal, stunning, and completely kick ass. Full review on The Ghost Generation, or just BUY IT NOW.

One of the best games I have played in 2019 and honestly one of the best 2D Shooters I have played ever! Amazing gameplay!
The incredibleOne of the best games I have played in 2019 and honestly one of the best 2D Shooters I have played ever! Amazing gameplay!
The incredible soundtrack and very nice pixel art are just the icing on this delicious cake.

9/10 - Would give it a 10 but the game is a tad short, granted that you will die a lot and that will make the game last somewhat more by default, but I feel the game could have been longer.

…

Expand