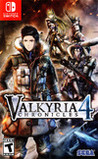 Summary:

A Continent Engulfed in the Bitter Flames of War. Commander Claude Wallace and his childhood friends set out to fight in a desperate war, but bone-chilling blizzards, waves of imperial soldiers, and the godlike powers of the Valkyria stand between them and victory.
Developer:

Sega

Genre(s):

Strategy

,

Turn-Based

,

Tactics

# of players:

No Online Multiplayer

Cheats:

On GameFAQs

Rating:

T
Please enter your birth date to watch this video:
You are not allowed to view this material at this time.
Valkyria Chronicles 4 - Squad E Reporting for Duty Gameplay Trailer
Valkyria Chronicles 4, ten years after the release, still a marvelous strategy / RPG game. It has a rich gameplay, a great scenario, an amazing amount content, and a brilliant OST.

Sega has managed to craft an incredible entry in the long-suffering franchise that is fun, fully-featured, and gorgeous. In a time for the industry where a game like Valkyria Chronicles should struggle to find footing, Sega has proved that this dark horse has many bright years ahead of it.

It adds a handful of new and interesting mechanics to its tactical battles, nearly all of which improve the formula in tangible ways, but otherwise plays it fairly safe.

Valkyria Chronicles 4 stumbles in its narrative, but great characters, a unique aesthetic, and an engaging combat system make for the best game in the franchise since the original.

Exactly the sequel we were hoping for when we finished the original Valkyria Chronicles back in 2008. Deeper, denser and harder, VC4 hits all the right spots for a triumphant return to the home consoles. Only blemish, it plays, feels and looks like 2008, having copied a large amount of assets (and problems) from the original title.

Valkyria Chronicles is considered one of the greatest RPGs of the last generation, so this true sequel coming ten years later always had some lofty expectations to look up to. The combat significantly improves upon the original and RPGamers that value interesting, strategic battles will be extremely pleased with Valkyria Chronicles 4. However, it doesn't quite manage to emulate the same interesting, thought-provoking plot that dealt with delicate themes in a mature manner. Nevertheless, while the narrative of VC4 doesn't reach those lofty heights, sixty hours quickly disappeared in the course of playing it. Perhaps that's more indicative of its quality than comparing it to something it's not.

Valkyria Chronicles 4 take the series back to its roots for the better. The new E Squad may use the very same twists and stories as the first episode, but the game itself stills delivers a solid war experience somewhere between the tactical genre and the TPS. Unfortunately, only those able to accept its naive manga tone may enjoy this light experience : indeed, the endless and sometimes pointless conversations are a real nightmare.
The best game in the series. It starts things off like the original, but the maps keep you on your toes. Every mission has new surprises in

The best game in the series. It starts things off like the original, but the maps keep you on your toes. Every mission has new surprises in store for you... and the characters and the story are great too! It is easily the best turnbased SRPG of the year.

…

Expand

I am pretty much writing this review to cancel out the troll ughduty's awful review of the game. I had the pleasure of playing valkyria

I am pretty much writing this review to cancel out the troll ughduty's awful review of the game. I had the pleasure of playing valkyria chronicles 2 and 3, and this is my favorite of the sequels. It's a lot of fun, and the match lengths are perfect for the grab and go switch. The characters are well developed and the storyline is as good as Valkyria Chronicles 1.

…

Expand

interesting and fun gameplay, you can't die in real life without having played this game

This game was a fantastic improvement over the original. While the gameplay is mostly unchanged, the new things they added created a more

This game was a fantastic improvement over the original. While the gameplay is mostly unchanged, the new things they added created a more intense and fun battlefield. The story was also a lot more enjoyable than the first one. Not without it's share of loss, but every moment of sadness was matched equally with moments of joy and cheer. This was exactly the game I needed to hold myself over until Fire Emblem, and a must play if you enjoy tactical strategy games

…

Expand

Did not know the brand before but this game is terrific
a 3D performance for me who love turn by turn strategic
However it is a bit too muchDid not know the brand before but this game is terrific
a 3D performance for me who love turn by turn strategic
However it is a bit too much talkative and have this visual novel aspect that I'm not fond of when I don't play visual novels...
Les stalk and more action...

…

Expand

This game is not fun. I played VC2 and VC3, never before VC1, I've started playing VC1 now but I can say VC1 is way better than VC4, because

This game is not fun. I played VC2 and VC3, never before VC1, I've started playing VC1 now but I can say VC1 is way better than VC4, because the level design was better. I hated the optimization for VC1 tho, since if you are playing on 240hz, enemies become strong as **** Whereas in VC4, the frames don't affect the enemies but the level design was just pathetic to play. I think most people play for the waifu and story. Hard pass for anyone else.

…

Expand

I loved Valkyria Chronicles. One of my favourite games ever and I love SRPG's, one of my favourite genres. But what the hell were they

I loved Valkyria Chronicles. One of my favourite games ever and I love SRPG's, one of my favourite genres. But what the hell were they thinking?

So it starts with a character, he might be called Raz, or something similar. He is an annoying little **** with pathetic voice acting and even worse dialogue. I actually checked to see if my girlfriend was watching me play as I felt embarrassed. I mean, I can play Atelier with cartoon tiddies swinging all over the place and be far less embarrassed.

I was cringing and reading as fast as I could to escape listening to the audio. If I can't kill this guy off very fast, then I will not be playing this game.

Who thought a character like that is a good idea? Who thinks a character like that would be a military fighter? If the guy was real, he would be a bullying victim, not front line in the army. What a **** of a character. What dick head game content manager allowed that character?

If I can kill this guy before my soul is destroyed, then I will come back and alter my review.

…

Expand