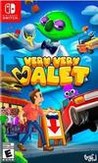 Summary:

1 to 4 players control an "elite" team of puppet valets, working together to overcome any and all valet-related challenges. It's going to take teamwork and a certain "just park it anywhere" mentality to save the world from a severe parking crisis! It's not enough to just be a valet - be a

1 to 4 players control an "elite" team of puppet valets, working together to overcome any and all valet-related challenges. It's going to take teamwork and a certain "just park it anywhere" mentality to save the world from a severe parking crisis! It's not enough to just be a valet - be a VERY VERY VALET. Valet alone or with friends! Up to four players can work together to solve this severe parking shortage. Help each other and hitch a ride, or cause chaos launching your fellow valets wildly - the choice is yours. Driving has never been easier - just point and go! Accessible driving controls allow anyone to quickly become a valet, with plenty of hidden techniques for mastering your valet game and cornering the market.

…

Expand
Developer:

Toyful Games

Genre(s):

Simulation

,

Miscellaneous

,

Vehicle

,

Party / Minigame

,

Combat

# of players:

No Online Multiplayer

Cheats:

On GameFAQs

Rating:

E
Frantic co-op multiplayer games don't get much better than Very Very Valet with its hilarious gameplay premise and silly scenarios.

Very Very Valet is something a little bit different; it's a hilarity-inducing party game that also has a bit of puzzle-logic and substance to it. You'll have fun playing by yourself, but it's when you get others involved that the game's true chaotic nature shows itself. Not to be taken too seriously, Very Very Valet is well worth pulling out next time you have friends over.

Very Very Valet is perhaps a touch overpriced for something you'll only really enjoy with friends, but if you do happen to hold regular games nights then this is a title you'll want to seriously consider adding to your roster.

At the end of a long day of driving and parking cars, Very Very Valet is pretty, pretty good in terms of delivering a fresh co-op experience. It doesn't directly relate to food prep, and that's a definite plus in a genre filled with similar activities.

Very Very Valet is a sort of party game that works very well in its couch co-op multiplayer mode, in which sharing mayhem and the proportionally resulting laughter reaches its maximum.

Very Very Valet is a decent, decent effort from Toyful – a quirky premise executed in an eye catching and genuinely funny way, with the positives nearly always outweighing the negatives.

If you're looking for something to pass the time on a flight with a friend, or just something to occasionally whip out once you've had a few drinks then it'll do the job, but it's unlikely to be a staple party game for years to come.
Great game! The kids and I love the madcap fun. Level layout is good, not to big so you can see all the characters even if your spread out.

Great game! The kids and I love the madcap fun. Level layout is good, not to big so you can see all the characters even if your spread out. It's a fast paced team game, not to complicated so it works with our 6 year old. Characters design is cute And cheesy and I love it. The only complaint is that: I want more levels.

…

Expand

Blending together time management sims, an injection of Crazy Taxi road silliness, and (ideally) multiplayer madness, Very Very Valet is a

Blending together time management sims, an injection of Crazy Taxi road silliness, and (ideally) multiplayer madness, Very Very Valet is a unique title on Switch that can offer quite a bit of silly fun unlike pretty much anything on the system. Your goal will generally be to take cars from incoming customers, depositing them somewhere (you don't need to use the lot if you don't want to), and then getting their cars back to them when they're done with their dinner. While this starts out relatively simply it very quickly gets to be a hectic mess and that's where you'll ideally be able to play with at least one other person since solo I don't know that the game does a great job of scaling things down as you progress. Throw in surprises in the form of alternative levels that will have you engaging in even more ridiculous activities and this is a terrific change of pace and style in multiplayer games that people should enjoy.

https://www.nindiespotlight.com/2021/05/mini-reviews-may-25th-edition-nintendo.html

…

Expand