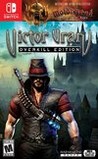 Summary:

Overkill Edition includes the fully updated and award winning Action RPG Victor Vran, the expansive Fractured Worlds & the legendary Motorhead: Through The Ages. Look your very best and reinforce your play style with a monumental arsenal of powerful weapons, game-changing outfits, wicked

Overkill Edition includes the fully updated and award winning Action RPG Victor Vran, the expansive Fractured Worlds & the legendary Motorhead: Through The Ages. Look your very best and reinforce your play style with a monumental arsenal of powerful weapons, game-changing outfits, wicked demon powers and fate-binding destiny cards. Redefine how you play at any moment, even in the heat of battle. Modify your demon slaying loadout as you dodge deadly attacks, leap from towering locations and take on hordes of hideous beasts and cunning boss monsters. Fedora or no fedora, you decide! Slaying demons doesn't have to be a lonely affair -- form a pack and find even greater strength in numbers, to explore the story of the dark world together.

…

Expand
Developer:

Haemimont Games

Genre(s):

Role-Playing

,

Action RPG

# of players:

Up to 4

Cheats:

On GameFAQs

Rating:

M
Please enter your birth date to watch this video:
You are not allowed to view this material at this time.
Victor Vran - Official Nintendo Switch Trailer
Victor Vran Overkill Edition is a fluid, dynamic ARPG that adapts to our game style. It has an incredible gameplay both alone and cooperatively. It is perfectly adapted in the portable mode although in the TV mode it has less graphic quality.

The wide range of combat options and the openness that is maintained throughout makes it accessible to a wider range of audience. If you enjoy overpowering dozens of enemies with wanton acts of destruction, you'll have a hell of a good time with Victor Vran.

Despite some of my gripes, the sum on the whole is a positively bloody good time.

Victor Vran remains a wonderfully atmospheric dungeon crawler filled with things to love, from Victor himself to the disembodied voice that provides new intel, hints, tips and sarcasm, including a large number of anachronistic easter eggs. The Switch version may not add anything, but what's here is still a fantastic package and a very welcome addition to the Switch's library.

If you're a fan of the dark with a dash of silly, and really want to explore dungeons while looking like you've just emerged from a Van Helsing convention, then don't hesitate to pick up Victor Vran: Overkill Edition. And grab the collector's edition while you can.

As a game that was released on PC before it was ported to consoles, Victor Vran: Overkill Edition isn't without its quirks. There are some bizarre choices in how you select and move items around in your inventory for one, and the way that weapon comparisons are displayed isn't particularly helpful. This won't win any awards for the best-looking Nintendo Switch game, either. The environments are plain and predictable while the effects lack spectacle. It's more than adequate though, just don't expect to be spellbound by what you see.

At its best, Victor Vran is an addictive action RPG with a great sense of progression and a strong visual identity of its own. At its worst, Overkill Edition muddies up a solid foundation with poor sound mixing, an unintuitive UI, and a choppy frame-rate, coupled with slowdown. While the base game is strong enough to overcome its inherent flaws, the Switch port's faults ultimately make all of Victor Vran's worst aspects come off all the harsher. Overkill Edition is a fine enough ARPG when separated from its technical faults, but it's perhaps best bought anywhere other than on Nintendo Switch.
Victor Vran is a game that brought me back to action rpg's / hack'n'slash type of games lately. I didn't have a chance to try it earlier when

Victor Vran is a game that brought me back to action rpg's / hack'n'slash type of games lately. I didn't have a chance to try it earlier when it came out, so when I discovered it will be available on Switch, I got it on PC dirt cheap first to try it out (~1$ for base game)... I really enjoyed most of it and now, when it's finally available on NS, I started playing it again to quickly find myself enjoying it even more than PC version. It feels a little bit more casual on the console, but it really is addictive. Graphics-wise it's incomperable, PC blows NS away, but it doesn't mean NS version is lacking, it's perfectly fine and very, very enjoyable. I play it mostly solo in portable mode for now and 99% of time it works amazingly well.

PROS:
+ looks pretty good for NS game and has constant resolution (which likes to drop in other games),
+ great gameplay, especially when you enable hexes and game becomes quite a bit harder,
+ it really works well in portable mode,
+ good selection of weapons, which play different than weapons in other games like e.g. Diablo,
+ NS is capable of dealing with grand battles with dozens of enemies,
+ challenges on maps, which are actually hard to complete,
+ secrets on maps are most of the times well hidden

Neutral:
* Story is neutral, it's there, but it definitely goes to second plan, I like the voice in Victor's head, but it may be annoying for some of you,
* I wish there were some shadows on the ground to make it a little more "believable", but if that helps the framerate then well...

CONS:
- in big battles with many monsters and champions framerate drops occasionally (it doesn't spoil the fun, but just a warning)
- at least in my copy of the game, soundtrack seems to bug, it plays in the hub of the game and once per every level, but most of the time it's just you and the enemies - it seems there was a similar bug on PC once
- I wish you could change keys, jumping with A seems weird,

I love the game in general and I believe many of you will too. If you wait for Diablo 3, like this kind of games, give it a try. You won't regret it.

…

Expand

I created my account solely for the purpose to write this review since I found the existing highly inadequate.
The game itself is not theI created my account solely for the purpose to write this review since I found the existing highly inadequate.
The game itself is not the worst diablo-clone there is, but Grim Dawn for example is much more enjoyable.

The Nintendo Switch port has the following shortcomings that lead to this rating:
- There are no shades at all in the game.
- Even though there are no shades and downgraded textures, the game suffers framedrops.
- While playing in the handheld mode, the protagonist is about a centimeter in size, everything seems to the viewed from too far away.
- There is no possibility to change the camera distance (the same holds for the pc version, so it's not really a switch-specific minuspoint.)

…

Expand