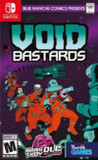 Summary:

Can you lead the misfit prisoners of the Void Ark through the derelict spaceships and myriad dangers of the Sargasso Nebula? Will you make the right choices about what to do, where to go and when to fight? Master combat, manage ship controls, scavenge supplies, craft improvised tools and much more!
Developer:

Blue Manchu

Genre(s):

Action

,

Shooter

,

First-Person

,

Arcade

# of players:

No Online Multiplayer

Cheats:

On GameFAQs

Rating:

M
Void Bastards was everything I wanted as a huge roguelike fan. The first-person shooter aspects are surprisingly competent, gameplay loop is perfectly challenging, always keeping you on your toes, and the aesthetic and sound design are out of this world. Some hitching and frame rate issues on packed ships aren't enough to knock this one down a peg, as the mix of Rogue Legacy and Fallout on offer here is necessary for the libraries of any and all roguelike fans who own a Nintendo Switch.

Void Bastards is a fantastic roguelike with a stellar atmosphere and art style. Where it lacks in FPS mechanics, it makes up for with its addictive gameplay loop. The Switch port might not be the prettiest version available, but the short levels make it perfect for quick sessions. Those looking for a darkly funny roguelike will find almost everything they want in Void Bastards.

Overall, Void Bastards isn't just a beautiful-looking game, but one that is incredibly entertaining to play. It mixes humour, style, and a good mix of stealth and action gameplay to make for something unique and well worth your time. It doesn't last as long as some roguelikes out there, but its campaign is still well worth playing through at least once.

Despite some technical issues, Void Bastards on Nintendo Switch is a superb, clever game that deserves to be played. Don't sleep on it again!

Void Bastards is a delightful roguelike romp through a wonderfully unique cel-shaded comic book world full of loud-mouthed enemies and smart-arsed robots. The core combat is straightforward stuff, but it's given plenty of extra bite through the fantastically evocative graphics and kept interesting with hackable turrets and a handful of other BioShock-esque elements that give your engagements with the many Screws, Juves, Tourists and Spooks you'll come across as you traverse the Sargasso Nebula a slightly strategic lift. Graphically it's a beautiful thing, has top-notch sound design and its combination of coarse British humour and oddball space horror give the whole endeavour a highly original flavour that's well worth checking out, even if the moment-to-moment action doesn't quite match the rest of the package.

It has its flaws but this inspired mix of first person shooter and traditional roguelike offers a level of freedom and tactical decision making that many bigger budget games can only dream of.
bought the game recently I still yet to finish because is very hard but very addicted and with cool gameplay mechanics, is a roguelike so you

bought the game recently I still yet to finish because is very hard but very addicted and with cool gameplay mechanics, is a roguelike so you retain most of your staff allowing you to upgrade your weapon and gadget to make a better run the next time. the last patch was already included and solved all the problem of frame rate/lag because I did no see any of them, and no bugs(for now), there even a cool DLC to buy separate which adds two new types of ship and very bastard enemies and a cool new weapon.

…

Expand

I bought this game so late, because reviews of this game was medicore, but I realny regret that. This is one of most underrated games I ever

I bought this game so late, because reviews of this game was medicore, but I realny regret that. This is one of most underrated games I ever sen. This game is freaking awsome, I Love it. This game is like a baby of System Shock and Deep Sky Derlicts.

…

Expand

Hidden Gem, one of the most underrated game I've ever played. If you like roguelikes and games like System Shock this game is for you.

Hidden Gem, one of the most underrated game I've ever played. If you like roguelikes and games like System Shock this game is for you.
(Performance on Switch after several updates are good)

…

Expand

The game has fantastic comic book visual style, for my opinion much better than Borderlands, his style is similar to 80 comic books, where

The game has fantastic comic book visual style, for my opinion much better than Borderlands, his style is similar to 80 comic books, where there wasn't too much color palette diversity like today ones.

The gameplay is simple and highly oriented on survival, you can't carry any weapon you collect, so you have to plan your mission on infested space vessels.

Unfortunately, on Nintendo Switch the games not run always fluid 30fps (20fps sometimes and sporadic crashes), but it's still enough to enjoy it.

The game lacks of a detailed story, but the lore it's outstanding, I really hope they will continue expanding the universe, maybe with a new title.

…

Expand

This game can be very fun but within the first hour or two I've noticed a fair amount of frame rate drops and input lag. These aren't things I

This game can be very fun but within the first hour or two I've noticed a fair amount of frame rate drops and input lag. These aren't things I typically notice or even care about but it's hard to be sneaking around a ship when your character continues moving after you've stopped pushing the analog stick.

…

Expand

I've just completed the main story and I enjoyed it. Its cartoon/comic book graphics are done to a good standard.

The funny comments off theI've just completed the main story and I enjoyed it. Its cartoon/comic book graphics are done to a good standard.

The funny comments off the enemies made me laugh. You can sneak around or go in guns blazing so can be strategic.

I got it for £15 which is a fair price as some ships you board to scavenger parts can be a bit samey.

It lasted me around 10 hours but you can carry on afterwards to scavenge more parts to make all the gear. I enjoyed the game.

…

Expand

There are only 2 good things about this game:
1) art style
2) dialog. The game is very monotony and stiff. Performance of the switch isThere are only 2 good things about this game:
1) art style
2) dialog.

The game is very monotony and stiff.
Performance of the switch is terrible. Better buy it on a PC.

…

Expand