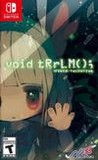 Summary:

In a world contaminated with toxic fungi, a discarded maintenance robot finds a girl named Toriko on the brink of death among the discarded junk in a scrapyard. To reinforce the terrarium as well as Toriko's poor health, the lone robot must venture into the wasteland to gather resources

In a world contaminated with toxic fungi, a discarded maintenance robot finds a girl named Toriko on the brink of death among the discarded junk in a scrapyard. To reinforce the terrarium as well as Toriko's poor health, the lone robot must venture into the wasteland to gather resources while battling the vagrant machines and mutated creatures that roam there. From the creator of A Rose in the Twilight and htoL#NiQ: The Firefly Diary, this harrowing roguelike adventure combines cute visuals with a somber yet whimsical post-apocalyptic story. Install various equipment, skills, Knacks, and parts you find on your expeditions to improve your ability to explore the wasteland and fight enemies, while preventing threats to Toriko's health. Choose your loadout wisely as you fight through procedurally generated levels in turn-based combat. No two adventures are alike when braving the toxic wastes.


…

Expand
Developer:

Nippon Ichi Software

Genre(s):

Role-Playing

,

Roguelike

# of players:

No Online Multiplayer

Cheats:

On GameFAQs

Rating:

T
I went into Void Terrarium a little apprehensive. With every indie out there scrambling to call their game a "roguelike", and with so many Mystery Dungeon roguelikes on the Nintendo Switch already, it can be difficult to muster up enthusiasm for yet another one. NISA and Furuya Masayuki surprised me, though. From the gentle subversion of the nature of progress in roguelikes, to the razor-focus on a sweet, paternal-style relationship between a robot and his ward, told with minimalistic elegance, Void Terrarium is a mature, different, and interesting take on the genre.

There's a lot to love about Void Terrarium, with its touching story and unique approach to the mystery dungeon genre, even if does occasionally frustrate.

Void Terrarium is a title that manages to be both beautiful and sad, somber and hopeful, and it keeps players coming back for more, despite its moments of frustration. Video games often task the player with saving the world or beating up groups of villains, yet Void Terrarium is about caring for a single person, and it manages to be far more engaging than most other titles in its genre.

Unlike that other game about the mushroom-y apocalypse, Void Terrarium is an optimistic game despite its dour premise. It isn't afraid to be funny even in a sad context, and it really clings onto a sense of hope.

Void Terrarium is tough, and it can be unforgiving with a lot of different systems to keep track of. But it's always a satisfying experience. It's not the greatest roguelike/Mystery Dungeon title I've played, but it might just have the most rewarding gameplay loop I've seen in the genre.

Featuring a gameplay experience that can feel both rather repetitive but also very rewarding, this sombre work also gives the player some rays of light in the form of looking after a child. So, and despite some repetitiveness and leaving some of the plot points open, Void Terrarium is definitely something that fans of Roguelikes should try.

The gameplay mix intrigues, but it's weighed down by overemphasis on all too familiar rogue-lite tropes. I want to love Void Terrarium, but fine ingredients don't always make for a satisfying dish if they aren't balanced well. This game is too heavy-handed on tedium, and progress coming from random chance rather than skill.