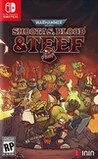 Summary:

The Orks, a savage race commonly known as the 'Green Tide', sweep across the stars with unrivalled violence in frenzied crusades known as a Waaagh! They are savage, brutal and crude, outnumbering all other races that lay in their path of destruction.

Become the spearhead of an Ork invasionThe Orks, a savage race commonly known as the 'Green Tide', sweep across the stars with unrivalled violence in frenzied crusades known as a Waaagh! They are savage, brutal and crude, outnumbering all other races that lay in their path of destruction.

Become the spearhead of an Ork invasion as you bash, smash and shoot your way through the hive city of Luteus Prime on a mission to retrieve your hair squig and claim vengeance on your warlord! And just maybe become the warboss of a WAAAGH! along the way? Survival of the strongest has never been so violently fun!

Never enough Dakka! Destroy your foes using a great arsenal of weapons and rain destruction down upon them. No one can stand in your way! Massive explosions and flying body parts ain't never been this fun!

WAAAGH! Feel the emotion and violence build up until it bursts out as a storm of bullets! Violence begets violence as the massive destruction you cause builds up into a full blown unstoppable WAAAGH! Because Orks are made for two things: fightingand winning!

Orks together strong! Grab your friends and take on the forces of the Astra Militarum, the Genestealer Cults and the Space Marines together. Or you know, bash their head in instead and determine who is the fiercest Ork in the clan!

…

Expand
Developer:

Rogueside

Genre(s):

Action

,

Platformer

,

2D

# of players:

Up to 4

Cheats:

On GameFAQs

Rating:

T
Please enter your birth date to watch this video:
You are not allowed to view this material at this time.
Warhammer 40k: Shootas, Blood, And Teef - Reveal Trailer
Overall Warhammer 40K Shootas, Blood and Teef is a very enjoyable romp, if you want a good solid game to get someone into the series I don't think you can go wrong with suggesting this title.

For anyone that enjoys side-scrolling shooters, Warhammer 40,000: Shootas, Blood & Teef is well worth picking up. Even more so if you also like the world of Warhammer 40,000 or simply having a good laugh. While its campaign is short, it's fun from beginning to end – and there's a good chance you might go back for another playthrough or engage in some multiplayer action. Just maybe pick it up on a format other than Switch if you're sensitive to performance issues.

I think Switch owners have gotten used to dealing with performance issues. It regrettably comes with the territory, even when it doesn't seem like it should be a problem. If you think you can push past some "worse than Metal Slug 2" slowdown, random bits of stuttering action, audio issues, and lengthy load times, Shootas, Blood & Teef is fun. You have a nice variety of weapons, the levels are fun to navigate, and the shooting is tense and satisfying. But if you have access to another platform, you may want to pursue it there instead. This Switch version just isn't up to snuff.

A vibrant and violent affair, Warhammer 40,000: Shootas, Blood & Teef is a slice of arcade fun. It's not aimed at Warhammer veterans, and rightfully so, more for those who like their run-and-gun to be over-the-top. A bit lacking in extra content and polish, but still enjoyable nonetheless. Highly recommend it with friends though.

Warhammer 40,000: Shootas, Blood & Teef's hand-drawn art is fantastic and the action is suitably frenzied. But do yourself a favor and play it on another platform.

Shootas, Blood &Teef looks fantastic, but unfortunately that beauty comes at a steep price on the Switch. It takes up to two minutes to load into the game proper, with long load times between stages as well. When there are too many foes on the screen, the framerate begins to stutter like a snotling that's been riddled with dakka. To see if it was a hardware limitation, I played the same stage in the Steam demo version and I encountered none of these issues. The Switch just doesn't have the oomph to power this beast, and it's a shame.

Warhammer 40,000: Shootas, Blood & Teef looks good at a glance. The graphic style is one to love and the humor is on par. The game only suffers from framedrops and crashes, that force you to play entire parts all over again. Besides that, the game offers a brainless gameplay for up to four players. you can play online or offline as you wish, unlock new weapons and wreck utter chaos with them. Still, for 20 euros a game with hard crashes feels a bit too expensive.
"It's a shame that Warhammer 40,000: Shootas, Blood & Teef performs so badly on the Switch. The art style is charming, and the voice acting

"It's a shame that Warhammer 40,000: Shootas, Blood & Teef performs so badly on the Switch. The art style is charming, and the voice acting and worldbuilding is so good that I'm sure fans of the franchise will adore it. Perhaps things will be fixed in a future patch, but otherwise it may be worth getting your orkish delights elsewhere."

https://theeliteinstitute.net/2022/10/23/warhammer-40000-shootas-blood-teef/

…

Expand