Publisher:

Nintendo

Release Date:

Sep 10, 2021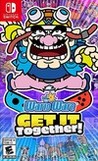 Summary:

Microgame mayhem comes to the Nintendo Switch™ system. Take on over 200 quick and quirky microgames—lightning-fast minigames filled with frantic fun—solo or with a friend! When his latest harebrained business scheme goes awry, Wario must use his signature style (and smell) to fix it. How? By

Microgame mayhem comes to the Nintendo Switch™ system. Take on over 200 quick and quirky microgames—lightning-fast minigames filled with frantic fun—solo or with a friend! When his latest harebrained business scheme goes awry, Wario must use his signature style (and smell) to fix it. How? By playing a twisted collection microgames of course! From assembling a robot to pulling out a statue's armpit hair, the WarioWare™: Get It Together! game is a comedic, cooperative microgame mashup.

Find a friendly frenzy with a mountain of microgames

Help out infamous game designer, Wario, after he gets sucked into his latest creation in Story Mode. Go it alone or with a friend in 2-player cooperative play—a first for the series! You can either play on the same system** or via local wireless***.

Play as Wario and his colorful crew

For the first time, YOU control Wario and friends inside their own chaotic games. Use their distinctly absurd abilities to take on a rush of microgames. Tip a turtle with the help of Wario's dash or choose Ashley and hurl a spell at it. In WarioWare: Get It Together!, mix and match characters and microgames for maximum fun!


…

Expand
Please enter your birth date to watch this video:
You are not allowed to view this material at this time.
Wario Ware: Get It Together! Trailer | Nintendo E3 2021
WarioWare: Get It Together! is a WAH-nderful addition to the WarioWare series. Between the microgames themselves, the quirky humor, and the new mechanic featuring all of Wario's friends, this game is a gift to fans of the series. However, not all playable characters are equally useful, and not every multiplayer mode will dazzle you.

Fun, challenging, and varied. This is how I would define WarioWare: Get It Together!, Nintendo's new title for the hybrid console. I admit that it can be a bit of a disappointment to those players looking for depth, mainly because WarioWare is pretty straightforward, but this kind of Free Guy style in video games is definitely something that has enchanted me.

For the most part, the new character-based approach is a welcome addition to the WarioWare blueprint. The characters themselves are differentiated and expressive, and mechanically they make the traditional microgame challenges that much more engaging. The WarioWare series has been fertile ground for Nintendo to experiment with concepts like touchscreen capabilities in Touched or accelerometer-based motion in Twisted, which makes Get It Together's platforming riffs a little more traditional than usual. But that also makes it less reliant on a gimmick, and that's a change for the better.

WarioWare makes a welcome return, providing the familiar fast-paced microgames action that fans will be accustomed to. Filled with quirky charm, this Switch entry doesn't disappoint. The new character gimmick, however, does get in the way slightly despite adding a neat twist to some of the microgames.

Nintendo Force Magazine

Nov 8, 2021

If you're looking to get the most enjoyment out of this title, it's best to play with family or invite a bunch of friends over – it's a solid collection for get-togethers, but lacking in the solo play department. [Issue #56 – November/December 2021, p. 74]

Get It Together is a valuable addition and features several of the best minigames of the WarioWare franchise. However, being forced to switch characters with different abilities can be annoying and sometimes success depends more on luck than your expertise.

Get It Together! feels like a WarioWare D.I.Y. project that never got finished. As far as I can tell, there's no mode or method for just playing a random assortment of all 220 or so microgames, in single or multiplayer. The Story mode arranges them in groups of approximately 23 around a set theme, such as "Nintendo Classics" and "That's Life," and in solo play that's about it, especially given how the single-player options in Variety Pack are pretty joyless and feature no microgames at all. For those who are able to find another player or three, Get It Together! offers some decent value, but so much of the side content just isn't compelling enough to justify a purchase, and it's hard not to see the Switch's WarioWare game as another Game & Wario, where the schtick is all there is. At the end of the day, Get It Together! hasn't even heeded its own admonition. Ironically, the absence of any meaningful online experience means that most will be left to "get it together" on their own.
Very interesting game, first for me from this series. I ended company very fast and now play lots of other different sections. 10/10

Very interesting game, first for me from this series. I ended company very fast and now play lots of other different sections. 10/10 definitely recommend.

…

Expand

you know, pretty much every warioware game after the first two on GBA and gamecube have relied on some kind of gimmick as their selling point,

you know, pretty much every warioware game after the first two on GBA and gamecube have relied on some kind of gimmick as their selling point, determined entirely by gimmicks of their console of origin. you know what i mean? twisted was one of those GBA games where you had to tilt the GBA around, touched had the DS's touch screen, smooth moves of course had motion controls, snapped used the DSI's camera, and then game and wario used the gamepad so it had motion controls, touch controls AND the camera. Warioware: get it together certainly brings a lot of new things to the table with it's different playable characters and being able to play all the microgames with 2 people, but seeing how this is a game on the nintendo switch, i am genuinely surprised there are no games where you wiggle around the joycon or use the touch screen. I'm not complaining about the lack of gimmicks, i'm just shocked they aren't here! this is nintendo we're talking about, the same company that couldn't resist putting gyro puzzles in breath of the wild and locking some of mario's moves behind motion controls in super mario odyssey. this is not the nintendo i know, warioware get it together was made by imposters who killed the original nintendo! . . . anyway, it's a great game. all wario fans will love it

…

Expand

WarioWare: Get it Together retains the wacky core identity of the series, the fast-paced microgames, and adds a new wrinkle to the formula:

WarioWare: Get it Together retains the wacky core identity of the series, the fast-paced microgames, and adds a new wrinkle to the formula: different playable characters. Each of the characters controls uniquely, some are quite easily maneuvered, while others are tremendously unwieldy and only useful in certain situations. The microgames still retain the massive amount of variety from previous games, and the added interactivity from the different playstyles present increases the way in which you can interact with the games substantially. The story is, as usual, is very short, (though the final boss confrontation is quite hilarious and unexpected) but the real meat of the game is replaying the microgames to get high scores and earn collectibles. This seemed like it might be an issue before I actually played the game, but I can confidently say that WarioWare's winning formula is just as strong as ever, and remains incredibly fun. The multiplayer is also great, but I do wish that there had been a more substantial online component, as it's quite limited in it's current state.

…

Expand

I praise this one for trying new things. It comes up short of Gold in a few ways, but it's still quite enjoyable.

it's a fun game, and the microgames are funny, and it works well. but I don't really understand why you can't select try again while playing

it's a fun game, and the microgames are funny, and it works well. but I don't really understand why you can't select try again while playing the story. it's very annoying if you don't go well, for example, and then you have to put together your team all over again. also the last levels are too long for me personally. I would have liked to see some more minigames for 1 player, like in warioware gold.

…

Expand

Short story mode.
More focused on multiplayer this time.
It's a fun distraction tho.

Nintendo presents themselves as a wholesome, kid friendly company (moreso than Sony or Microsoft). I got this game to play with my kids, but

Nintendo presents themselves as a wholesome, kid friendly company (moreso than Sony or Microsoft). I got this game to play with my kids, but you can't unlock hardly any of it or multiplayer unless you play as a witch (Ashley) and engage in witchcraft. Who wants to teach their kids to get into the occult? Garbage.

…

Expand