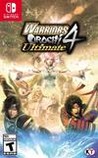 Summary:

Transcend the Power of the Gods, Take on Thousands in Battle!

New Characters Starting with Gaia, new heroes gather from multiple universes to join the fight. New Storyline and Sub-scenarios The battle has not ended... A new story and ending pursuing the truth of the world has been added.Transcend the Power of the Gods, Take on Thousands in Battle!

New Characters
Starting with Gaia, new heroes gather from multiple universes to join the fight.

New Storyline and Sub-scenarios
The battle has not ended... A new story and ending pursuing the truth of the world has been added. In addition, unique sub-scenarios will be available to reinforce the main story.

New Mode and Gameplay Experience
New features such as Infinity Mode and the Promotion system have been added. The enhanced gameplay allows players to grow their heroes to their ultimate potential!

The Ultimate in Musou Exhilaration!
Sacred Treasures can now be used by other characters allowing players to create unique and powerful teams, and with the new Musou Switch Combo feature the game will reach ultimate heights in exhilaration.

Improved Playability
Part of the UI and control settings have been improved along with additional features to make gameplay easier.

…

Expand
Developer:

Omega Force

Genre(s):

Action

,

Beat-'Em-Up

,

3D

# of players:

No Online Multiplayer

Cheats:

On GameFAQs

Rating:

T
Be warned, Musou fans: if you try Warriors Orochi 4 Ultimate your time will be sucked into an endless pit: more characters, a new ending, and more modes, weapons, magic and challenges, but with all the known problems: it's very similar to WO4 and it tends to be a little bit repetitive soon.

On the one hand, the base game itself is so good, and the extra stuff doesn't mess with that. On the other hand, the extra stuff doesn't do much for the overall experience.

Warriors Orochi IV Ultimate is so big and messy that I would never recommend it as an introduction to Mosou-style gaming. If, however, you beat Fire Emblem Warriors or Hyrule Warriors and thought, "Wait…that can't be it," you will not draw the same conclusion here. Not by a longshot.

If you are a fan of the Musou genre or just want to know more about it, Warriors Orochi 4 Ultimate is your game. Here you will find a huge amount of content to unlock and enjoy, a large number of conversations and weapons as well as some really interesting modes.

Warriors Orochi 4 was a solid, if uninspired, Musou game and this 'Ultimate' edition fleshes things out with some new characters and modes, significantly beefs up the story and tweaks the central gameplay here and there. However, the additions that have been made sometimes feel like the least amount of effort that was possible. The new playable characters, although fun, are pretty much slapped in without any fanfare, new weapons don't even have unique skins and Infinity Mode feels like a bit of a missed opportunity. Warriors Orochi 4 Ultimate is definitely an improvement over the vanilla version of the game – and absolutely the way to go if you're keen but have yet to pick it up – but it's also a rather disappointingly small one that comes at a pretty steep price for loyal fans who are forking out to upgrade from the base version.

Overall, Warriors Orochi 4 Ultimate is a mixed bag. On one hand, new features, like Infinity Mode and the new story scenarios, were great. However, the other additions feel as though they should have been added to the base game through a patch and not as DLC. It is worth mentioning that Warriors Orochi 4's Ultimate content is available through two different avenues. Players who had previously purchased the base game could upgrade to the Ultimate edition through DLC for a price. Newcomers, on the other hand, will now only be available to purchase the game as Warriors Orochi 4 Ultimate. For those getting into the series, the Ultimate edition is easily the definitive way to experience the game. To those who already owned the base game however, your money is best spent elsewhere.
Es un gran juego con una cantidad de personajes simplemente absurda pero hay que decir que la versión de switch la pudieron optimizar mejor

My french review below:
You can Follow me on Twitter : @NintendoLegacy1
Warriors Orochi 4 était déjà un très bon jeu. En toute logique, saMy french review below:
You can Follow me on Twitter : @NintendoLegacy1

Warriors Orochi 4 était déjà un très bon jeu. En toute logique, sa version définitive et améliorée Warriors Orochi 4 Ultimate suit le même chemin. Malgré son côté obscur pour bon nombre de joueurs, les jeux Musô méritent d'être découverts et appréciés. Dans ses mécaniques de gameplay et dans son nombre de personnages jouables tout simplement hallucinant, Warriors Orochi 4 Ultimate est sans doute l'aboutissement ultime du genre. Le jeu de base nous proposait déjà un contenu très généreux qui pouvait sans problème vous tenir en haleine pendant des dizaines d'heures de jeux. Cette version Ultimate pousse le curseur encore plus loin en y ajoutant de nouveaux personnages, dont notre Jeanne d'Arc nationale et Ryu Hayabusa de la série Ninja Gaiden, mais surtout le mode de jeu Infinite qui vous proposera un défi qui ne sera pas sans vous rappeler le meilleur arc des Chevaliers du Zodiaque…Un ajout de taille qui justifie à lui seuil de repasser à la caisse. Le studio Omega Force commence à bien maîtriser la Switch et techniquement cette version n'a pas à rougir de ses concurrentes. Laissez une chance à Warriors Orochi 4 Ultimate! Sa générosité et son contenu hallucinant ainsi que son gameplay nerveux et fun en font sans doute le meilleur jeu Musô à l'heure actuelle.

…

Expand

En primera debes de saber que es un Musou, atacas a miles de enemigos insignificantes y de vez en cuando a uno más grande o fuerte. Si has

En primera debes de saber que es un Musou, atacas a miles de enemigos insignificantes y de vez en cuando a uno más grande o fuerte. Si has probado Hyrule o Fire Emblem Warriors puede que interese pero la verdad deja mucho que desear aún así. Probablemente en el mercado asiático llama la atención por que está lleno de figuras de la historia y mito japonés y chino, pero para éste continente seguramente el 85% te sean desconocidos.

…

Expand